Makes much money, does Episode II
David Mumpower's Weekend Wrap-Up
May 17-19, 2002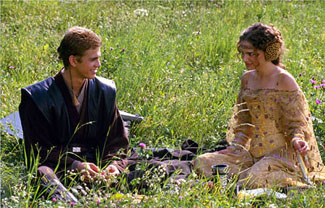 Three years to the day after George Lucas' triumphant return to theaters following a 16-year absence with the then-record-shattering Star Wars Episode I: The Phantom Menace, he again reclaims the box office throne today as Star Wars Episode II: Attack of the Clones debuts with an estimated $86.15 million for the weekend and $116.3 million for the four days. It's no exaggeration to say that the film's box-office performance will remain under the microscope for the next two months, as analysts determine how well theater chains do under Lucas' strict criteria for exhibiting the film, which opened on 3,161 screens for a venue average of $36,792.
While it bears noting that Episode II needed four days to do what Spider-Man was able to do in three, it's largely unfair to compare the film to the most spectacular opening box-office performance ever. Episode II has the second-largest four-day box-office total in history, easily surpassing Harry Potter and the Sorcerer's Stone, which made $96.9 million in its first four days, but still falling well short of Spider-Man, which tallied $125.9 million in that timeframe. In the process of achieving its current $116.3 million total, Episode II becomes the second-fastest film to reach $100 million, again behind Spider-Man, which managed the feat in three days. Additionally, if estimates hold, Clones should get the largest worldwide three-day weekend take in history.
More good news is that Episode II will surpass its $120 million budget within its first five days of release. When we factor in worldwide box office receipts of this unique global launch, the film has already easily matched its negative cost and everything from here on out is pure profit for the House that George Built. When comparing Episode II's performance with that of Episode I, the daily breakdown is slightly awkward, due to Episode I's Thursday being a significantly lower total than its record-shattering $28.4 million Wednesday and its $64.8 million three-day weekend. If we adjust for inflation and ignore the anomaly of the low Thursday total of $13.2 million, the film made $104.1 million, so Episode II is slightly ahead of the pace of its predecessor. If it performs as most films do, and equals or exceeds this weekend's performance over the four-day Memorial Day holiday, Episode II should reach the $200 million mark in 12 days. This would once again be the second-fewest number of days to that landmark.
<% sqlstr = "SELECT * FROM box WHERE" sqlstr = sqlstr + " movie like '%Clones%' OR" sqlstr = sqlstr + " movie like '%Spider-Man%' OR" sqlstr = sqlstr + " movie like '%Phantom Menace%' OR" sqlstr = sqlstr + " movie like '%Harry Potter%' OR" sqlstr = sqlstr + " movie like '%Lord of the Rings%' OR" sqlstr = sqlstr + " movie like '%Planet of the Apes%' OR" sqlstr = sqlstr + " movie like '%Mummy Returns, The%' OR" sqlstr = sqlstr + " movie like '%Rush Hour 2%' OR" sqlstr = sqlstr + " movie like '%Pearl Harbor%' OR" sqlstr = sqlstr + " movie like '%Shrek%' OR" sqlstr = sqlstr + " movie like '%Ice Age%' OR" sqlstr = sqlstr + " movie like '%Hannibal%' OR" sqlstr = sqlstr + " movie like '%Jurassic Park III%' OR" sqlstr = sqlstr + " movie like '%Tomb Raider%'" sqlstr = sqlstr + " ORDER BY open DESC" max = 100 header = "Recent Blockbuster Openings" tstyle = "release" skin = "bop" x = Drawtable(sqlstr,max,header,tstyle,skin) %>
Since Spider-Man has been mentioned almost as many times as Star Wars already in this column, it's only natural that comparisons be made between the two. It's valid to say that Spider-Man poses a unique threat to the Star Wars franchise. In 1977, Saturday Night Fever was the number two film of the year, with box office of $142.5 million. Star Wars more than doubled that in its original theatrical run, on its way to a current box office total of $461 million. The number-two film for 1980 was Superman II, which made $108.2 million. Empire Strikes Back again doubled that, on its way to a current total of $290.2 million. The same could be said of 1983, when number two Terms of Endearment made $108.4 million compared to Return of the Jedi, which now stands at $309.1 million. In 1999, The Sixth Sense had a phenomenal box-office run of $293.5 million, yet it was still easily outdistanced by Episode I, which made $431.1 million domestic. With Spider-Man almost $200 million ahead out of the gate, Episode II has a lot of work to do to ensure that it doesn't become the first Star Wars franchise film to not finish first for domestic box office in its year of release.
One advantage the film has over Spider-Man is that exhibitors are contractually obligated to display the film much longer than most blockbusters these days. Second and third prints will be shown in cineplexes beyond the first week, with the first print guaranteed to run for eight weeks, thereby ensuring Episode II will be a factor at the box office until August. Spider-Man, on the other hand, will soon begin losing some screens to the early summer blockbusters. Also, since many exhibitors balked at Lucas' constraints, Spider-Man had 1,500 more prints in its first two weeks than Episode II, allowing it significantly more opportunity to make money faster. In short, Spider-Man looks to have stolen some of the Star Wars franchise's thunder in the early going, but the race is a marathon, not a sprint, and it's too early to determine who will win in the long run. As has been historically the case with Star Wars films, reviews were mixed, with most critics wowed by the technical aspects but largely nonplussed by the film's central storyline, as is indicated by its Rotten Tomatoes Fresh rating of 55%.
Under any circumstance, Episode II's four-day performance, as well as its long-term success, will be largely judged against Episode I - a movie many wagging tongues considered to be a franchise killer - as much as it will be measured against Spider-Man. Thus far, it's winning that battle, and with A- CinemaScores and very positive word-of-mouth stemming from a crowd-pleasing end sequence, there is every indication that this film is headed for a position in the top ten of all-time box office. The only question is how high.
Holding very well in second place this weekend was Spider-Man, which shot up into the top 15 all-time, with current box-office receipts totaling a jaw-dropping $286.5 million. The comic-book flick from director Sam Raimi made an estimated $46 million this frame from 3,615 venues, for a per-screen average of $12,725. While some analysts had speculated Spider-Man would see a significant amount of business siphoned off by the presence of the George Lucas sequel, Spidey fell only 35.6% this weekend, which is right in line with last weekend's 38% decline in its sophomore frame and demonstrates that the film saw no negative impact from Star Wars.
To put its weekend performance into perspective, consider that Spider-Man has made more in its third weekend than The Scorpion King, a film that was number one for consecutive weekends in the two weeks prior to the web-slinger's debut, managed in its first three days. Spider-Man now has three of the top five weekend performances of 2002, along with Star Wars this weekend and Ice Age's $46.3 million opening March 15th.
Even more staggering is the fact that Spider-Man is poised to move all the way up to sixth place all-time by Memorial Day. It will have surpassed the phenomenal box-office performances of The Lord of the Rings: The Fellowship of the Ring and Harry Potter, themselves top-ten films in all-time domestic box office, in the next eight days. Also consider that those two films have been in theaters for the past six months, while Spider-Man will have been in theaters for three-and-a-half weeks.
Coming in third this weekend is Unfaithful. The latest Adrian Lyne directorial effort once again explores his favorite topic, human sexuality. Between Indecent Proposal, Flashdance and Fatal Attraction, Lyne's prior work based on this subject matter has earned almost $700 million worldwide. In hindsight, the $14.0 million performance of Unfaithful last weekend, combined with a strong second frame holdover of an estimated $10.32 million, isn't that shocking. Since Richard Gere is largely unable to carry films these days unless Julia Roberts co-stars, many analysts had dismissed Unfaithful as lacking in fresh subject matter and unlikely to last long in theaters filled with kids in Spider-Man and Jango Fett costumes. Its performance to date indicates that the adult market is often ignored, but if a quality product is offered, a film doesn't need star-power or buzz to find its audience. It just needs to promise a couple of hours of adult entertainment to people whose appetites are generally only being met in art-houses these days.
The Hugh Grant vehicle About a Boy opened in fourth place this weekend with an estimated $8.40 million. Much has been made of the juxtaposition created by the presence of very American directors the Weitz brothers, who achieved notoriety with the American Pie teen sex farce franchise. Wagging tongues could not wait to criticize the men who did the millennium update of Porky's in their attempt to go legitimate with an adaptation of a quirky British novel by Nick Hornby, yet its B+ CinemaScore and its spectacular 95% Fresh rating at Rotten Tomatoes indicate that they've succeeded beyond Universal's wildest dreams from a quality perspective. In fact, the studio has so much confidence in the film that they have plans to expand in a similar fashion to last year's breakout British hit Bridget Jones' Diary.
<% sqlstr = "SELECT * FROM box WHERE" sqlstr = sqlstr + " movie like '%Bridget Jones%' OR" sqlstr = sqlstr + " movie like '%Notting Hill%' OR" sqlstr = sqlstr + " movie like '%Four Weddings and a Funeral%' OR" sqlstr = sqlstr + " movie like '%American Pie%' OR" sqlstr = sqlstr + " movie like '%Mickey Blue Eyes%' OR" sqlstr = sqlstr + " movie like '%Extreme Measures%' OR" sqlstr = sqlstr + " movie like '%Sense and Sensibility%' OR" sqlstr = sqlstr + " movie like '%Nine Months%'" sqlstr = sqlstr + " ORDER BY open DESC" max = 100 header = "Hugh Grant/Weitz Brother Films" tstyle = "release" skin = "bop" x = Drawtable(sqlstr,max,header,tstyle,skin) %>
After a solid debut in third place last weekend, the DJ Qualls/Eddie Griffin comedy The New Guy settles into fifth place this frame. It made an estimated $6.5 million this weekend from 2,687 venues for a per-screen average of $2,419, and has a running box-office total of $17.3 million. Originally scheduled for release in May of 2001, the film had been put on the shelf by Sony and Revolution as they debated how to sell a movie they felt had potential appeal but were afraid would arrive in theaters DOA. All of the delays were definitely cause for concern, and critics uniformly loathed the movie, giving it a horrific Rotten Tomatoes Fresh rating of 8%. Oddly, The New Guy has been well-received by audiences, who gave the movie a B CinemaScore. Like National Lampoon's Van Wilder before it, the film has found a niche with the under-21 crowd and shows signs of becoming a sleeper hit on video.
Changing Lanes finished in sixth this week, holding strong with a weekend take of $3.1 million and a drop-off of only 18.8%. The stars of this sleeper hit, Samuel L. Jackson and Ben Affleck, are poised to have a tremendous year, with Affleck's Sum of All Fears out in two weeks and Jackson having a much more significant role in Attack of the Clones and a big part in the expected blockbuster xXx.
Falling to seventh place this week is Universal's would-be franchise, The Scorpion King, which made an estimated $2.73 million from 2,555 screens. Even with the Memorial Day period's expected box-office boost, The Rock's first attempt at carrying a film looks to fall short of the magical $100 million barrier. With a relatively slender budget for an action film at $60 million, and worldwide receipts already in excess of $125 million, the film is a definite money-maker for the studio, but absolutely not the blockbuster many analysts had predicted.
Another film holding very well this weekend is Disney's The Rookie, which finishes in eighth place with an estimated $1.97 million. Down a paltry 25% from its previous frame, this true baseball tale has quietly crossed the $70 million mark and should see an increase in business over the upcoming holiday. Not only has the film reinvigorated Dennis Quaid's career as a leading man, but it also provides another example that North Americans find tremendous comfort in family films at this time. That trend certainly looks to continue during the summer, with no fewer than ten titles from this genre scheduled between now and the end of August.
Murder by Numbers slips from seventh to ninth in its fifth week in release with a total of $1.72 million. If the film fails to top 28 Days' $37.0 million total, it will be the usually-reliable Sandra Bullock's least-successful wide release since 1996's In Love and War. She took a chance on a dramatic turn after her fan-friendly role in Miss Congeniality, and unfortunately it hasn't worked out. She'll be back on more familiar ground when chick-flick Divine Secrets of the Ya-Ya Sisterhood is released in a few weeks.
Battling its way up from eleventh place last weekend into the magical top ten this week is the wonderful IFC Films' romantic comedy My Big Fat Greek Wedding. Particularly noteworthy about the film's performance is its venue count. It has reached the top ten with an estimated $1.15 million despite being shown in only 274 locations. My Big Fat Greek Wedding's success, combined with Y Tu Mama Tambien's $10 million in ten weeks, emphatically demonstrates that IFC is a distributor on the rise.
Despite Shrek's monster opening to $42.4 million during this same period last year, box office for this weekend was up a massive 78.3%.
Next weekend is the always-explosive Memorial Day holiday, when we will see the debut of three films: The latest DreamWorks animated flick, Spirit: Stallion of the Cimarron; the Jennifer Lopez starring vehicle Enough; and Insomnia, which stars Al Pacino, Robin Williams and Hilary Swank, all of whom have won Academy Awards® in the last ten years. This particular film is also notable because it is rising director Christopher Nolan's first effort since his indie breakout hit, Memento.
Top 10 for Weekend of May 17-19

Rank

Film

Number of Sites

Change in Sites from Last

Estimated Gross ($)

Cumulative Gross ($)

1

Star Wars: Episode II: Attack of the Clones

3,161

new

86.15

116.3

2

Spider-Man

3,615

no change

46

286.5

3

Unfaithful

2,625

+8

10.32

29.8

4

About a Boy

1,207

new

8.4

8.4

5

The New Guy

2,687

no change

6.5

17.3

6

Changing Lanes

2,158

-352

3.1

61.6

7

The Scorpion King

2,555

-644

2.73

85

8

The Rookie

1,849

-268

1.97

70.8

9

Murder by Numbers

1,580

-536

1.72

30

10

My Big Fat Greek Wedding

274

+27

1.15

5.7