Cops and Horse Don't Have the Passion
David Mumpower's Weekend Wrap-Up
March 7, 2004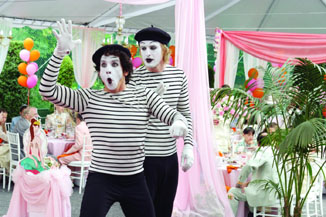 There were two stories worth tracking this weekend at the box office. The first involved which of the two big budget blockbusters, Hidalgo and Starsky and Hutch, would win bragging rights. The other was how badly each of them would get smoked by Mel Gibson's vision. As it turns out, the answer is that two films with combined budgets in excess of $160 million opened to less than what a $26 million project that no studio would touch less than six months ago made in its second weekend. And here you thought The Passion of the Christ was out of surprises.
A month ago, incendiary debates were occurring about the box office prospects of The Passion of the Christ. Major media commentators were arguing that there was only one built-in audience for this movie -- Christians. In hindsight, either that argument was inaccurate or the Christian audience is a much more impressive built-in fan base than previously acknowledged. High level meetings are almost certainly occurring to debate this very topic, as studio execs decide whether The Passion of the Christ is an impossible-to-duplicate phenomenon or the dawning of a new era of big-budget biblical storylines. The irrefutable fact is that we are witnessing the greatest box office shocker since James Cameron released a movie about a boat that clipped an iceberg.
To the surprise of absolutely no one after its debut week, The Passion of the Christ finished number one again this weekend. The only real debate involved the margin of victory. As it turns out, the answer is "a lot." Mel Gibson's depiction of the events surrounding the crucifixion of Jesus Christ earned another $51.4 million in its second frame, bringing its staggering box office total to $212.0 million. Even more impressively, the decline of 38.7% is one of the better ones for films of this box office level in recent memory. In point of fact, it almost exactly duplicates Spider-Man's 37.8% second weekend decline. It is not as strong a hold as Return of the King managed in December with a 30.3% decline, but if we ignore the mathematical tricks for a moment, the impressive feat is obvious. The Passion of the Christ's second weekend total of $51.4 million exceeds the $50.6 million Return of the King made in its second frame. You would have won a lot of money in Las Vegas if you had gotten someone to take action on that one a couple of weeks ago.
Now then, let's talk milestones. The Passion of the Christ is estimated to have blown past $200 million on Sunday, its 12th day of release. Ignore for a moment that its Sunday actuals are likely to come out much higher than its estimates again this week. Let's focus instead on what the film has already done. Spider-Man earned $200 million on its ninth day of release. That's a record that even Spider-Man 2 will have a hard time approaching in a few months. The Lord of the Rings: The Return of the King managed to do this in 11 days. It was helped along by the inflated weekday business of the holiday season. Mel Gibson's movie, which is stuck in the middle of the school year and has yet to have a government holiday inflate its totals, has become the third fastest movie to $200 million. It ties The Lord of the Rings: The Two Towers in this endeavor but again, the Peter Jackson film was inflated by the holiday season. The Passion of the Christ's performance is arguably the second most impressive ever in the race to $200 million.
As I mentioned in my two numbers analysis columns a week ago, The Passion of the Christ was going to overtake Crouching Tiger, Hidden Dragon for the most financially successful foreign language film of all-time. That was never in doubt. What is impressive, though, is what The Passion has done in twelve days. It has joined My Big Fat Greek Wedding on a very exclusive list. During the modern era of film (post-1980), out of all the films released between January and April, only these two releases have earned $200 million or more. It took the unknown Nia Vardalos movie more than 120 days to win its war of attrition and finally reach that landmark. Mel did it in less than two weeks. Obviously, it follows that The Passion has already become the all-time box office receipts earner for the month of February in addition to taking the biggest February opening title last week. What other landmarks are in its sights? The Matrix Reloaded currently has the record for total domestic receipts for an R-rated movie at $281.5 million. Eight days ago, that looked like a possibility but I chose not to mention it in my Saturday update. Barely a week later, it's a foregone conclusion.
Finally, if you want a silly landmark to track, Bruce Almighty is currently the most successful deity flick. Ironically, its box office opening of $85.7 million over Memorial Day weekend turned out to be a solid a precursor for how The Passion of the Christ would perform. Its final box office total of $242.6 million should be surpassed by Friday. Jim Carrey is the lesser of two Jims (after Caviezel).
There was no dishonor in second place this week, as nothing says retro-cool like David Soul and Paul Michael Glaser. How else are we to explain the $29.0 million opening of Starsky and Hutch this weekend? Okay, it might have something to do with the presence of Ben Stiller, Owen Wilson and Snoop Dogg. The former two, who apparently suffer through abandonment issues when they go too long without filming a movie together, saw the TV show adaptation nearly double what their last comedy duet, Zoolander made in its opening weekend, $15.5 million. The quirky humor of metrosexual models is apparently not as universally appealing as quick-witted cops with plaid shirts, striped pants and muscle cars. Starsky and Hutch's per-venue average of $9,105 is very solid. With regards to the film's audience reception, critics were on the fence about the movie. 59% of the votes at Rotten Tomatoes are positive with two thirds of the cream of the crop reviewers giving it the thumbs up. It looks to have better legs than the one week wonder, Along Came Polly, which audiences quickly realized was as awful as they thought it might be.
The movie's success is good news for Owen Wilson, who badly needed a hit. His last three movies, The Big Bounce, Shanghai Knights and I Spy, were widely considered disappointments, with all of them but the Jackie Chan film being out and out bombs. For Ben Stiller, he has parlayed the surprise success of Polly, which had a similar $32.5 million opening six weeks ago, into a potential breakout year. He still has the expected hit Dodgeball: A True Underdog Story, the Meet the Parents sequel and the shakier Envy (co-starring Jack Black) on his dossier for the year.
Finishing third is Viggo Mortensen's take on the middle eastern western, Hidalgo. Shot on a budget just slightly north of $100 million, the horsey movie hoped to capture audiences in the same way that Tobey Maguire did last year with Seabiscuit. Race track sprints must be more appealing to North American audiences than desert dust storm marathons, because Seabiscuit managed $20.9 million in 1,987 venues while Hidalgo could only bring in $19.6 million in 3,063 venues. The film's per-venue average of $6,399 is decent but unspectacular to boot. Considering the budget and tepid reception from critics (52% at Rotten Tomatoes, 46% from cream of the crop voters), this one has all the makings of being a bloodbath for the studio unless Hidalgo the movie proves to have as much endurance as Hidalgo the horse. The kind people at Disney are left hoping that Seabiscuit's $120 million box office total is indicative that horse racing aficionados are more likely to find a movie in later furlongs than during the opening stretch. Right now, it looks more likely that they are going to have put this mustang down.
50 First Dates finishes in fourth place this weekend with a solid $7.7 million. Not that Drew Barrymore's character, Lucy, would remember, but this represents a decline of 38.7% from last weekend, right in line with its fall last week of 38.5%. The Sandler film sits at $99.4 million, meaning that it will become the second release of 2004 to cross the $100 million barrier with Monday receipts (or possibly even Sunday actuals).
With one notable exception, the middle section of the top ten is comprised of Who Cares releases from recent weeks. Falling from third to fifth is Twisted, Ashley Judd's latest re-tread. It earned an estimated $5.0 million, down 43.8% from last week. Twisted has a running total of $16.4 million. I guess the new haircut wasn't enough to draw in the masses, Ashley.
Sixth place goes to Confessions of a Teenage Drama Queen, the closest thing to a hit on this list out of the films that don't involve Mel Gibson, Ben and Owen, Peter Jackson, Adam Sandler or lesbians. Lindsay Lohan's outing pulls in another $4 million this weekend, raising its total to $21.8 million. The 37% drop indicates this one will be hanging around the bottom of the charts for another couple of weeks.
The Lord of the Rings: The Return of the King celebrated its Academy Awards domination by getting a bump at the box office. The Peter Jackson epic finale is up a million bucks from last week with a $3.2 million total, good enough for seventh place. That's a 46% increase for those of you scoring at home. Of course, it helps a lot that the third film in the trilogy got a 791 venue increase from last week as a bunch of exhibitors tried to capitalize on the film's 11 for 11 sweep. Sitting at $368.3 million, Return of the King is now $27 million up on The Two Towers and $54 million up on Fellowship of the Ring. It has also become the first of the three movies to gain over a billion in worldwide receipts. Consider that in the process of accomplishing this feat, Return of the King has joined a very exclusive club with the only other member being Titanic. 11 Academy Awards and a billion in capital is not a bad way to conclude a trilogy. George Lucas, feel free to shock us all with a similar feat.
Dirty Dancing: Havana Nights limps in at number eight with $2.9 million. The 50.9% decline and running total of $10.0 million indicate that audiences still don't have any idea who Diego Luna is. What a pity. Here's hoping that his part in the Tom Hanks summer blockbuster, The Terminal, is big enough to get people to notice him. That one might make more on its first day of release than the Dirty Dancing re-make does in its entire domestic run.
Watching Kurt Russell beat up some commies with a hockey stick might sound like a Snake Plissken or Jack Burton outing, but it's not. The miracle on ice isn't proving to be as popular a subject as Disney's other recent true story based sports movies, but it does cruise up to $60 million this weekend while taking ninth place. Miracle earned $2.6 million in 1,654 venues for a per-venue average of $1,572. As you can see, the steam is out of the sails now, so it's about time for Disney to limp this one back to port (I decided to spare you guys a bunch of painful hockey references since I'm from Tennessee and don't really know many).
You can hide the women in ugly make-up and have them commit atrocity after atrocity, but North American audiences are never fooled. They always notice when there are girls kissing girls, especially when one of them is Charlize Theron. Monster earns another $2.3 million, bringing its total up to an impressive $30.1 million. Lost in the all the glory of Newmarket's success with The Passion of the Christ is that Monster has quietly passed Memento to become the company's most successful non-Mel movie. Factoring in the box office of Whale Rider, Newmarket's two 2003 releases have now doubled the total of the Guy Pearce buzz flick. For an indie trying to make a name for itself, this distributor is building quite an impressive resume of quality films which have also become solid box office performers. Three of their last five major releases (Spun and Real Women Have Curves being the other two) have gone over the $20 million mark to boot. They are without question the new Miramax.
Next weekend will see the debut of three new wide releases in the marketplace. Agent Cody Banks 2: Destination London will put Malcolm in the middle of London, armed only with the wit of Anthony Anderson. Meanwhile, David Mamet has decided that there simply are not enough shadowy secret government conspiracy movies these days, so he has created one in Spartan. The most anticipated one out of the bunch, though, is probably Secret Window. The reason why is simple: Johnny Depp. For information on these and all other upcoming releases, be sure to check out BOP's new and improved release schedule. We feel it's the most informative one on the web.
Top Ten for Weekend of March 5-7, 2004

Rank

Film

Number of Sites

Change in Sites from Last

Estimated Gross ($)

Cumulative Gross ($)

1

The Passion of the Christ

3,170

+127

51.4

212.0

2

Starsky and Hutch

3,185

New

29.1

29.1

3

Hidalgo

3,063

New

19.6

19.6

4

50 First Dates

3,040

-410

7.7

99.4

5

Twisted

2,704

+1

5.0

16.4

6

Confessions of a Teenage Drama Queen

2,180

-323

4.0

21.8

7

The Lord of the Rings: Return of the King

1,903

+791

3.2

368.3

8

Dirty Dancing: Havana Nights

2,042

No change

2.9

10.0

9

Miracle

1,654

-568

2.6

59.9

10

Monster

1,082

+114

2.3

30.1

11

Mystic River

1,051

-74

2.1

85.3

12

Barbershop 2: Back in Business

1,264

-260

1.8

60.0