The Glass House

Review by David Mumpower
September 17, 2001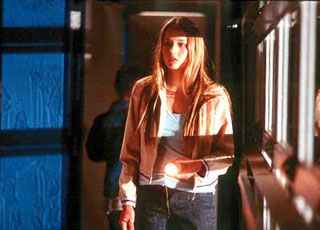 On paper, there's a lot to like about The Glass House. The cast is highlighted by several excellent character actors such as Bruce Dern, Rita Wilson, Michael O'Keefe (the legendary Danny Noonan from Caddyshack) and is front-lined by Diane Lane, Leelee Sobieski and the always-wonderful Stellan Skarsgård. Unfortunately, the parts are much, much greater than the sum here. This movie is a very obvious, straightforward entry in the teen thriller genre despite the talented ensemble cast, and its ending is a disgrace.
The film starts by showing us Ruby Baker, a fearless teen-ager. We know this because she's the only one at her theater not screaming during the scary movie that her friends have drug her out to watch. Glass House audiences know exactly how she feels. As her daily life is shown, we see her to be an ordinary, well-adjusted high-school kid living a pretty nice life with her loving family, so Thriller Movie Rule Number Seven clearly states her parents must randomly yet brutally die in a car wreck. Sure enough, the night of their 20th anniversary is also the night of their doom.
Enter the Glasses.
Skarsgård and Lane play a married couple who were friends of Ruby's parents and as such, they are chosen to be her and her brother Rhett's guardians despite the fact that there is an uncle back east in Boston who could take care of them. We know this because it's beaten over our heads in a scene just after the funeral, so anyone over the age of 11 who has ever seen a movie in this genre knows how Glass House will end before the film is even ten minutes old. This is not necessarily a bad thing, as the honest evaluation of the movie-going public is that paint-by-numbers movies often give the people what they want as long as the obvious plot points are done well. The key lies in the execution when an idea has been done many times before.
At first, the new guardians prove to be very decent folks who give kind words at the funeral procession and live in a dream home in Malibu (Barbie would be *so* jealous), but as is so often the case, the cracks in the foundation are revealed and Ruby starts to suspect the worst of her new parental figures. Skarsgård's Terry Glass seems to like staring at her in her bikini far too much (in his defense, she is pretty damn nubile) and Lane's Dr. Erin Glass appears to be abusing her ability to write drug prescriptions in order to do a lot of home medicating. In addition, the duo appears to be in a financial crunch that may or may not be caused by the arrival of their new tenants, but since Ruby is told by her trustee that she is worth $4 million, she begins to suspect foul play. A lot of it.
As you might imagine from such a generic and derivative plot, the movie hinges on the interaction between Sobieski and her new parents to succeed. I had high hopes going in that the combination of Lane and Skarsgård might indicate an unusually dramatic piece for the genre, but instead I walked out wishing that the usually-outstanding actors had been better utilized here. In fact, the Erin Glass character is almost totally wasted (she has virtually no key scenes) and while Terry Glass is given the opportunity to create some Hitchcockian tension at several points, there is always the underlying feeling that Skarsgård could have done more if he hadn't been shackled by such a weak script. He and Sobieski tease a dark chemistry but the seeds planted early on are not given proper time to grow. There is a look in his eye that indicates he wants to go for it and be genuinely terrifying but he just doesn't have the pieces in place here to really tear through his scenes. For an actor of his caliber, this must have been truly disheartening, and I walked away feeling that an opportunity had been missed.
The movie itself is not without strengths. Tension is kept throughout the first 85 minutes with an occasional blurring of the events to keep the audience guessing whether they're watching a Suspicion wannabe or a Shadow of a Doubt rip-off, but the film falls apart so completely in the final 20 minutes that it's difficult to walk out of the theater remembering the good parts. The over-the-top conclusion is so ridiculous and unbelievable that it will make many viewers wistfully long for the summer of 2001 and its comparatively wonderful climaxes in Jurassic Park III, Planet of the Apes and Tomb Raider. For a movie with a setting that has worked many times before (Flowers in the Attic, anyone?) and actors this talented, it's wildly disappointing to be left with work this mediocre and instantly forgettable.