John Carpenter's Ghosts of Mars

Review by David Mumpower
August 25, 2001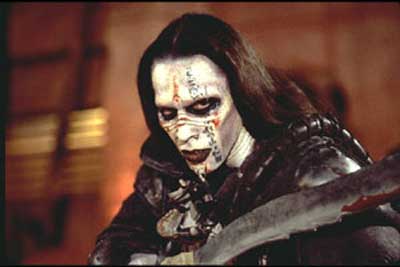 In the period between 1978 and 1988, few directors could match the body of work presented by John Carpenter. In that time frame, he created Halloween, The Fog, Escape from New York, The Thing, Christine, Starman, Big Trouble in Little China, Prince of Darkness and They Live. Due to the quality of these films, he has developed a large cult following of loyal viewers who consider him to be one of the most entertaining directors in Hollywood. Unfortunately for them, his work since then has been inconsistent, and his hibernation period between projects has grown much longer. It is for these reasons that the release of John Carpenter's Ghosts of Mars has been viewed as something of a mixed bag by his fan base. The good news that he's working on a project is somewhat overshadowed by the fact that a lot of his recent efforts haven't been worth the wait, and this dichotomy is what controlled my thoughts as I headed off to see his latest effort. In short, I entered the theater hoping to be entertained while secretly bracing for another John Carpenter's Vampires.
As luck would have it, I walked away quite pleased.
Ghosts of Mars is a moody sci-fi horror piece that works very well on the whole. Its star, Natasha Henstridge, launched her career in the same genre, sci-fi thriller, by portraying Sil, the equal-parts gorgeous and deadly alien, in Species. She comes full circle by playing the action hero in this film, a police officer assigned to bring a convict back home to be charged with multiple slayings. Henstridge's versatility as an actress has been largely underrated throughout her career, and this stems from the fact that she has generally been the best part of very bad films such as Adrenalin, Maximum Risk and Dog Park. In Ghosts of Mars, she is finally given a meaty part that allows her beguiling combination of porcelain-doll beauty and butch bad-girl attitude to be displayed in balance. Her character, Melanie Ballard, is dedicated enough to both her profession and her world views on right vs. wrong to ignore her perilous predicament and still attempt to carry out her duty to bring the suspect back to answer to the authorities, but she is also street smart enough to recognize when the circumstances change so much that a deal has to be made in order for the group to escape intact. Pitch Black has been referenced as a surface comparison for Ghosts of Mars, but while the reason given has been Ice Cube's character, Desolation Williams, and his similarity to Vin Diesel's Riddick, the more closely related characters are Radha Mitchell's Carolyn Fry in Pitch Black compared to Melanie Ballard in this title. Both of these women discover that the man they have been assigned to retrieve is in fact their best hope for survival and while I enjoyed Mitchell a great deal, Henstridge is more believable as a tough police officer with a mean streak.
Part of Henstridge's appeal to me stems from the fact that her character is given a gray texture very early on, as we discover she takes recreational drugs to pass the time between tours of duty. Flawed heroes are usually much more interesting than vanilla ones, and that's a point that John Carpenter has always understood better than most of his peers. In fact, both of his leads could be described in this manner, and the great chemistry they have together comes from this similar moral ambiguity. There is never a time in the film where there is complete trust between them, and their constant fear of betrayal is tangible even when it remains unspoken. Ice Cube proved in Three Kings that he has the chops to be a tremendous actor, and his tough-guy charisma is on full display here. Lines that would border on cheesy for most actors, such as, "I said I didn't kill nobody, not that I was innocent", work well for him, because he is so believable as a bad-ass. This quality is sorely needed in order to justify why the two would work together, even in the most gripping circumstances.
The film itself does a nice job of setting an eerie tone early on by building a mystery from the ground up. Rather than have the characters describe their peril through heavy-fisted dialogue, Carpenter instead creates understated tension that increases as the characters learn more and more about their predicament. There is the usual introduction to the central players and the initial display of Ballard's drug addiction, but rather than draw these scenes out for an extended period, the crew is quickly dumped on Mars. The speed of getting to the problem area greatly enhances the pacing of the film, as there is very little filler throughout. Once the police force reaches the outpost, all we are shown is a ghost town (no pun intended) where there should be a densely-populated mining community. Rather than give away the appearance of the villains immediately, a creepy style of foreboding similar to the one Carpenter used in Prince of Darkness is utilized. First we are shown empty stations where officers should be, then blood is discovered, followed by a corpse a few moments later. It's effective mood setting from an experienced director who recognizes the value of delayed gratification.
To further the tension, time is fractured throughout the story in order to pull away from intense moments and start to build tension again. The entire film is told in flashback, but rather than have a single perspective, Melanie often relays accounts told to her by other members, so the storyline occurs in multiple places simultaneously. While this is not groundbreaking by any stretch, after films like The Limey have taken the concept of fractured time to its natural extreme, the trick is nicely used for effect as another way to add to the element of creeping terror surrounding the crew. In fact, the movie is almost halfway through before Big Daddy Mars, the leader of the aliens, is shown for more than a brief glimpse. This character's appearance is proof that there is a fine line between science fiction alien and Marilyn Manson-style poser. Big Daddy's followers even take the grunge piercing trend to its logical conclusion by impaling themselves in multiple places using sharp objects that are left there for decorative purposes. Everything matches with cheek scissors, right?
The villain himself doesn't speak a human language and is only used sparingly throughout the film, as Carpenter purposefully vacillates between action and horror. Even during the combat sequences, Big Daddy Mars is still used almost as a Michael Myers-style character; he generally isn't involved in the hand-to-hand fighting but instead stalks the leads as if the instant he catches them, they will turn to dust at his very touch. This method is unusual for an action film and quite effective in practice. By my count, Melanie and Desolation physically encounter Big Daddy only three times in the entire movie, and these instances have heightened drama due to the build-up before the clashes. While the film might be forgotten soon after release, I hope that the villain's usage is remembered by some other director, because it's a very clever, effective design.
The rest of the characters in the film are clearly second-class citizens to Cube's and Henstridge's characters, but of particular note are Joanna Cassidy and Clea DuVall. Cassidy's Whitlock is like an older version of Ballard; she's been through her share of battles and is experienced enough to realize what's going on is still unique and dire. DuVall is playing one of the two rookies on the police force, and while this role is completely opposite the ones she has been playing to date in her young career, she shows she has the acting chops for it. I found her mix of green yet fast-learning rookie soldier to be enjoyable, and was much more impressed by her performance as an action hero than by those of Jason Statham (of Snatch/Lock, Stock and Two Smoking Barrels fame) and especially Pam Grier, whose role is barely more than a forgettable cameo. Make no mistake about it though, the film lives or dies based on your opinion of the performances of Cube and Henstridge.
John Carpenter's Ghosts of Mars is not the best work of the director's career by any stretch, but the movie does offer insight into what made him such an unconventional yet popular director in the early '80s. I'm not certain this film will appeal to people who aren't already fans of his style of moviemaking, but for members of his rabid fan base, it definitely delivers the goods.