Weekend Forecast for
January 16-18, 2004
By David Mumpower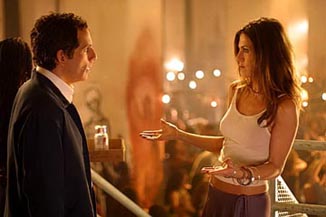 Three new films are released this weekend for the sole purpose of reminding movie goers why January is called the post-holiday dumping ground. There is a 2 Fast 2 Furious rip-off (and how sad is THAT?), an already cancelled Disney animated show brought to the big screen for no particular reason, and a movie that makes Ben Stiller and Jennifer Aniston fans want to hang their heads in shame. On the plus side, the New England/Indianapolis football game should be good, so the weekend won't be a total loss.

Along Came Polly, the biggest release this weekend, co-stars a ferret, heavy volumes of toilet paper, and an indescribably hairy, sweaty, shirtless man. So, if odd pets, scatological humor and monkey men/strong arguments for evolution are your cup of tea, you're in luck. If, on the other hand, you have taste, you can turn your nose up at this on your way to hit the arthouses. Pick Lost in Translation, people! Don't let the terrorists win!

Stiller, who was last ignored in Duplex, has struggled mightily in the past year. Envy, the third film in his No Pride, There's a Mortgage to Pay triumvirate of comic horror, was pushed into 2004 after the trailer for it was unleashed on unsuspecting movie audiences a few months ago. After nonspecific events (I assume a class action suit from the North American public) led to Envy's delay/rumored STV release, Along Came Polly quickly replaced it as the worst ad campaign in recent memory. I don't want to exaggerate the unpleasantness of a 60-second commercial spot, but I have seriously considered taking out a restraining order against the trailer. It won't be safe to watch network TV again until the film is out of theaters.

Working in Along Came Polly's favor is a sweetly naive culture who might have somehow missed the advertising. Those poor fools will be sucked in by a title suspiciously similar to another Stiller film, There's Something about Mary. Say a prayer for those less fortunate movie goers this weekend. In the immortal words of Bob Geldof, tonight, thank God it's them instead of you.

The other positive Stiller's latest flick has going for it is the presence of scribe John Hamburg. In addition to directing some of the funniest episodes of the Fox buzz show, Undeclared, Hamburg is the writer of two of Stiller's better films, Zoolander and Meet the Parents. The hope would then be that this is another Zoolander/Galaxy Quest scenario where the marketing department has no idea how to sell such an unusual film. Like with those two releases, a decision might have been made to reduce the film to the lowest common denominator in the ads rather than try to sell the quirk. As a fan of Stiller, I need to believe this no matter how unlikely it might be.

More good news is that 2,984 vendors couldn't find a better film to exhibit this weekend, so Along Came Polly will have a solid opportunity to do some decent business over the holiday-inflated four-day period celebrating Martin Luther King Jr.'s birthday. Sunday sales will be up slightly, and that will allow Polly to just sneak over the $15 million barrier for the three-day weekend.

The other major release for adults this weekend is something called Torque. Ostensibly starring The Ring's Martin Henderson as an extreme biker, the film's buzz performance actually belongs to the villain, Ice Cube. The rapper cum thespian impressed so much in the dailies that he wound up getting the lead role in the xXx sequel for his effort. With Barbershop and the Friday franchise already demonstrating his box office draw, Cube is quickly becoming a player in Hollywood. Even so, he isn't going to fool many of his fans into thinking this is anything other than a garbage release a la Grind but with a better pedigree and more impressive special effects. Exhibited in 2,463 venues, Torque is destined for an $11 million weekend, a quick exit from theaters, and a lot of late night showings on Spike TV.

The kiddies are not excluded as former ABC Saturday morning Disney production Teacher's Pet receives a theatrical release. While the show has already been removed from the Saturday schedule, it remains a fixture of Disney Toon. Even better, the early reviews of the big screen version have been universally positive. This story of a boy and his talking dog and their school adventures is a wonderful choice for families searching for new choices in the post-holiday movie wasteland. It is not going to light the box office on fire by any stretch, but a respectable $7 million is not out of the question before Teacher's Pet makes a killing on home video.

On a column related note, many of you have wondered about the absence of Reagen Sulewski the past couple of weeks. We are happy to report that Reagen has returned from his trip to Dubai, and he will back in the saddle again just in time for the release of Ashton Kutcher's next movie. Lucky him.
Forecast: Weekend of January 16-18, 2004

Rank

Film

Number of Sites

Change in Sites from Last

Estimated Gross ($)

1

Along Came Polly

2,984

New

15.1

2

Torque

2,463

New

11.2

3

The Lord of the Rings: Return of the King

3,003

-529

9.9

4

Big Fish

2,514

+108

9.8

5

Disney's Teacher's Pet

2,027

New

7.0

6

Cheaper by the Dozen

3,025

-213

6.0

7

Cold Mountain

2,802

New

5.8

8

Something's Gotta Give

2,502

-374

5.6

9

My Baby's Daddy

1,448

+1

3.7

10

The Last Samurai

1,403

-498

2.9