One Film to Rule Them All
David Mumpower's Weekend Wrap-Up
December 30, 2001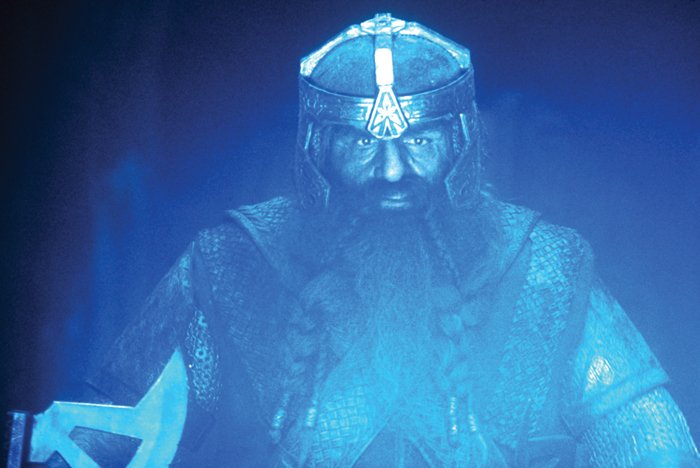 New Line Cinemas took a monumental risk approximately three years ago and it has finally started paying off at the box office in the past ten days as The Fellowship of the Ring, the first film in the Lord of the Rings trilogy, shattered December box office totals across the board. Last weekend, Fellowship bested Ocean's 11's recent opening weekend record by taking in $45.3 million Friday-Sunday and $73.1 million in its first 5 days. Rather than slow down after this strong initial performance, the film has seen spectacular, steady business this week and now has a cumulative total of $154.5 million in 12 days. Its weekend total of an estimated $37.4 million was easily enough for first place in the crowded holiday marketplace and the title looks to cross the $200 million threshold as early as next weekend.
In addition to the spectacular box office performance of LOTR, the franchise title's launch has already achieved every possible goal a new release could desire. It has the highest rating of any non-independent film at rottentomatoes.com with 99 positive reviews versus only five negatives ones for an astonishing 95% score. Also, the reception from early audience viewers was phenomenal with the movie receiving an A average from Cinemascore. Finally, it has been lauded several times during the end-of-year awards season and is currently considered a frontrunner for a Best Picture nod. This will be tracked in much greater detail in the new Awards section of BOP, which will debut on our website tomorrow.
Suffice it to say that the launch of the first film in the trilogy has achieved the best case scenario for New Line and has gone so well that the studio is even considering a move of The Twin Towers into Summer 2002. The only potential stumbling block according to Entertainment Weekly is the number of special effects sequences still incomplete. If that hurdle may be cleared, we could see the second film in the trilogy six months sooner than originally expected. Keep checking the Release Schedule at BOP for further details on this breaking story. Until then, New Line will have to "settle" for becoming the first studio to ever have two $200 million films in the same year (though two branches of Disney, Pixar and Buena Vista, had $200 million films in 1999 with Toy Story 2 and The Sixth Sense). If we look at the chart below, we see a ton of good news for New Line in 2001 and they start off 2002 with a bang thanks to anticipated first quarter solid performers Blade 2 and All About the Benjamins. It's a proud day for New Line execs.

<% sqlstr = "SELECT * FROM box WHERE movie like '%blow%' OR movie like '%15 minutes%' OR movie like '%bones%' " sqlstr = sqlstr + " OR movie like '%lord of the rings%' OR movie like '%hedwig%' OR movie like '%rush hour 2%' OR movie like '%town and country%' ORDER BY open DESC" max = 100 header = "Recent New Line Releases" tstyle = "release" skin = "bop" x = Drawtable(sqlstr,max,header,tstyle,skin) %>

Finishing in second place this weekend with an estimated $17.4 million is Ocean's 11, the mega-star powered feature from Steven Soderbergh. It's not at all surprising to see a film with Brad Pitt, Julia Roberts, Matt Damon and George Clooney hold up so well over the holiday period and the title is poised to finish with domestic receipts in the area of $175 million. Currently, its standing total is $128.1 million and Warner Bros. must be thrilled that Soderbergh chose them for this production while Miramax must be ecstatic about the potential of his next title, Full Frontal, since his last three films have all blown past the $100 million mark. Since the box office disappointment of the critically lauded Out of Sight, the director has been as much of a sure thing as there is in Hollywood these days and his ability to attract talent to his projects is never better represented than in Ocean's 11.

<% sqlstr = "SELECT * FROM box WHERE movie like '%limey%' OR movie like '%erin brockovich%' OR movie like '%ocean''s%' " sqlstr = sqlstr + " OR movie like '%out of sight%' OR movie like 'traffic' ORDER BY open DESC" max = 100 header = "Steven Soderbergh Films" tstyle = "release" skin = "bop" x = Drawtable(sqlstr,max,header,tstyle,skin) %>

Debuting in third place this weekend is Ali, the Will Smith tour de force biopic about the champion boxer whose life is as epic in scope as anyone's this century. Long rumored to be enamored by the role, Smith completely dedicated himself to the performance once he accepted it, gaining weight and appropriate muscle sculpture in order to better reflect the body of one of the smallest heavyweight champions in the modern era. Smith's role attracted heavy Oscar buzz long before the film's release and the box office performance to date indicates a heavy interest in the life of the champion and in Will's portrayal of him. The choice of this role was particularly important for the superstar actor since it has been eight years since he last took on a part that wasn't largely action or comedy in nature. While that is a lifetime ago for his career, his performance in Six Degrees of Separation was considered a revelation at the time and many were disappointed that only Stockard Channing received an Oscar nomination when it was Smith's role upon which the film was predicated.
Seeing a box office draw return to his dramatic roots is often catnip to the academy so Ali's long-term success will hinge upon Smith and potential dark horses John Voigt and Michael Mann receiving Oscar recognition. Until then, it appears that the title had heavy demand early on judging from its $10 million opening day performance on Christmas compared with the estimated $15.3 million it made this weekend. Its box office tally stands at $35.3 million so Ali is not going to be a financial disaster for Sony by any stretch but unless the title gets a boost from Oscar consideration, it looks to end up with receipts well short of the $105 million budget.
Finishing in fourth place with an estimated $15.0 million is the animated family film Jimmy Neutron: Boy Genius. The Paramount release is the surprise of the December schedule thus far with receipts to date of $42.2 million. Much like Stuart Little in 1999 and Emperor's New Groove in 2000, Jimmy Neutron has discovered that the family film niche market is much more receptive during the holiday season. The child prodigy's movie again demonstrates the surprising drawing power of Nickelodeon licenses and is good news for Paramount, the studio responsible for this movie and the film in fifth place, Vanilla Sky. Their Tom Cruise/Cameron Crowe-helmed title made an estimated $11.5 million this weekend, bringing its box office total to $66.5 million. The movie is not going to be anywhere near as successful as their last joint project, Jerry Maguire, which grossed $153.6 million in domestic release. Having pointed out the obvious, it bears noting that Vanilla Sky is an unusually intellectual film dealing with identity and its subject matter has proved confusing for critics and audiences alike. This has led to a cinemascore of D- and a pathetic Rotten Tomatoes score of 36%; therefore, the fact that the film has shown solid legs and is probably going to wind up near the important $100 million plateau is a huge positive for the studio. It's not a blockbuster but Vanilla Sky is a hit.
Climbing back up to sixth this week is the current number one film of 2001, Harry Potter and the Sorcerer's Stone. While tomorrow does signify the end of the year, releases from 2001 will continue to attain box office receipts in 2002 that are generally counted for the previous year's box office. This is not always the case and explains why Titanic is not listed as the number one film of 1997 in some publications but the general rule of thumb is that we keep score into the new year. With this in mind, there definitely exists the possibility that LOTR could surpass Potter for the number one spot but as of right now, it appears that the young wizardly creation of J. K. Rowling has successfully won the 2001 campaign. Finding new life during the Christmas holiday, Potter actually increased 61% from last weekend and made more in the last seven days than it did during its fourth week of release. For this to happen in its sixth week is highly unusual and the movie will definitely clear the $300 million mark now. Its current tally is $286.1 million; moreover, the film has surpassed Home Alone for 12th place on the all-time domestic box office charts and will blow by Return of the Jedi and Empire Strikes Back for the tenth position during the next week. If Potter manages to reach $313 million, it will overtake The Lion King for seventh place but Forrest Gump's $329.7 million is probably out of reach for sixth. I have complete confidence that Warner Brothers will happily accept being seventh all-time.
In seventh this week is the other new wide release for Christmas week, Kate and Leopold. The Miramax movie was pushed from December 21st to December 25th in a last minute attempt to give this niche romantic title a bit more breathing room with middling results. The film made an estimated $9.5 million with a poor $3,863 per screen average, the third lowest of any film in the top ten. Since its Tuesday release, the film has accumulated $17.1 million. Miramax is left hoping that the film will demonstrate solid legs as is usually the case with female-centric romantic movies but even if this occurs, it's unlikely to recoup its budget. This is particularly damaging to Meg Ryan, who still has not recovered from the media assault she received in the wake of her failing last year and her fling with Russell Crowe. With Proof of Life, the film where her troubles began, being a box office failure and Kate and Leopold in danger of a similar fate, Ms. Ryan's agent needs to start finding a script for a new romantic comedy with Tom Hanks asap.
Debuting in limited release is the Universal Studios title A Beautiful Mind, another Oscar hopeful that some have argued is the current frontrunner for Best Picture. Starring reigning Best Actor Russell Crowe, ABM tells the story of a mathematical genius who is used by the government for the purposes of code breaking. With his sanity tenuous and his paranoia extreme, the man, John Nash, struggles in dealing with his surrounding environment but goes on to win the Nobel Prize. It's a powerful basis for a story and Crowe's performance is being described as better than in Gladiator, the film for which he was awarded the Best Actor crown. Debuting in platform release in 525 venues, A Beautiful Mind performed very well with an estimated $7.2 million and an excellent per screen average of $13,785. The title will quickly expand into wide release next weekend so we will be discussing it a lot more then and probably for the next three months until the Academy Awards are held.
Finishing ninth this week is the mega-blockbuster Monsters, Inc. Making an estimated $6.5 million, the Pixar production distributed by Disney actually saw an increase of 71% from the previous weekend, a performance that even succeeds Potter's improvement. Monsters has now accumulated $236.3 million in its two months of release and still has an outside chance of surpassing Shrek's $267 million total; however, that's a best case scenario with $255-$260 million a more likely final tally, still making the release Pixar's most successful. It should reach this achievement at some point in the next two weeks when it passes Toy Story 2's $245.8 million. As we can see, there are a lot of box office milestones to be reached in the first few days of 2002.
The Majestic captured the tenth spot by the slimmest of margins, with a 15% increase from last weekend for a $5.65 million total, allowing the Jim Carrey starring vehicle to stay just ahead of Joe Somebody's $5.58 million. With a per screen average of $2,391, The Majestic sits at $15.77 million after two weekends. Warner Bros. has to be disappointed in this film's box office performance, particularly considering that it has no chance of recuperating its $68 million budget. December has not been kind to Carrey with this film being his second setback after Man on the Moon in 1999. It appears that the Best Actor nod from the Academy will elude him once again.
Several films opened in limited release this weekend, some of them limited runs for Oscar consideration. I Am Sam features Sean Penn as a mentally challenged man who is fighting for custody of his daughter. This New Line title averaged $19,000 on two screens for a total of $38,000. Lions Gate's Monster's Ball, starring Billy Bob Thornton and Halle Berry, opened in seven venues to a total of $107,000 and a per screen average of $15,286. Since both Thornton and Berry have received Best Actor/Actress nods from the National Board of Review and the film itself sits atop Roger Ebert's best of 2001 list, Monster's Ball is a film to keep on radar. Robert Altman's Gosford Park, which is also getting quite a bit of attention in the various awards circles, took in $241,458 on nine screens for a very respectable per screen average of $26,829. Sony released Ridley Scott's Black Hawk Down on four screens for a one-week engagement for Academy Awards consideration and it performed admirably. Already nominated for several AFI awards, Black Hawk Down had the best per screen average of any film this weekend with $45,500 and a weekend total of $182,000. Its wide release is scheduled for January 18th.
Due for wide release next weekend is Gary Sinise's sci-fi thriller Imposter, currently slated for approximately 1,500 screens.

Top 12 for Weekend of December 28-30, 2001

Rank

Film

Number of Sites

Change in Sites from Last

Estimated Gross ($)

Cumulative Gross ($)

1

Fellowship of the Ring

3,359

No change

37.35

154.52

2

Ocean's 11

3,075

No change

17.36

128.19

3

Ali

2,446

No change

15.30

35.30

4

Jimmy Neutron: Boy Genius

3,151

12

15.00

42.17

5

Vanilla Sky

2,744

No change

11.50

66.54

6

Harry Potter and the Sorcerer's Stone

3,186

-125

11.46

286.11

7

Kate and Leopold

2,459

10

9.50

17.10

8

A Beautiful Mind

525

1

7.24

13.17

9

Monsters, Inc.

1,701

-396

6.50

236.26

10

The Majestic

2,361

No change

5.65

15.77

11

Joe Somebody

2,516

+10

5.58

13.64

12

How High

1,271

+5

5.18

17.73