Second Ring Rules Them All
David Mumpower's Weekend Wrap-Up
December 27-29, 2002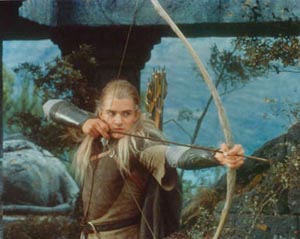 Sequels are supposed to make less than the originals. You know it, I know it and Hollywood knows it. Someone needs to tell Peter Jackson, though.
So far, The Lord of the Rings: The Two Towers, his follow-up to Fellowship of the Ring, is absolutely torching its predecessor's box office performance and shattering December record after record along the way. The second movie in The Lord of the Rings trilogy already owned the single day and opening weekend records for December. Now it has not only become easily the best second weekend total ever for a December release but has surpassed the opening weekend of its precursor in the series. The hobbits now possess the top three December weekend performances ever.
Oh yeah, and Tom Hanks, Leonardo DiCaprio and Steven Spielberg have a new film out this week too.
The Two Towers accumulated an astonishing $48.9 million from 3,622 theaters this weekend for a jaw-dropping second frame per-venue average of $13,506. We have been tracking the progress of the film all week at BOP, so you already know that the daily numbers for the second piece of Peter Jackson's vision rival and generally exceed those of other recent tentpole releases.
Let's take a moment to put the film's 12-day total of $200.1 million in perspective. The antecedent to The Two Towers, The Fellowship of the Ring, managed an impressive $156.3 million in that time frame. So, the successor has surpassed the original's pace by 28% after 12 days. Comparing it to Star Wars Episode One's $191.4 million and Episode Two's $201.3 million, Two Towers is well ahead of the first prequel's pace and will definitely catch up with Episode Two's total on day 13, when Ep Two stood at $204.85 million.
As for how The Two Towers compares to this year's big dog, Spider-Man, consider this. After 12 days, Spidey was sitting pretty at $232.8 million. That's a total 16% beyond even the spectacular performance of the Sequel Hobbits. Despite this lead, TTT can actually approach Spider-Man's 19-day total of $292.7 million if TTT can manage to pull in $12-$13 million a day over the next seven days. With New Year's Day falling in the middle of the week, the hobbits (along with every other film in release) will see continued box office inflation through next Sunday, so while the numbers above are probably not realistic expectations, they are within the realm of possibility. Another landmark to keep in the back of your head is Spidey's making $300 million in just 22 days. Six months ago, that seemed to be a mind boggling performance and an unreachable pace for anything else, yet The Two Towers has a chance to pull off the same feat. At the very least, it should fall only a handful of days short of this mark; furthermore, the discussion about whether TTT can surpass FOTR is no longer a question of if but instead when.
We stand on the brink of something truly historic in the realm of box office. Until last year, we had never witnessed two films reaching $300 million in the same year. With the first Potter and FOTR flicks last year and Spider-Man and Episode II in 2002, it has now happened in consecutive years. But more amazing is the fact that if The Two Towers gains enough Academy Award attention to linger in theaters through March, we could conceivably have two $400 million performers released in the same year. The other target to be watching out for is Jurassic Park's $357 million. If TTT surpasses that amount, 2002 will have provided movie-goers with two of the top six movies of all-time. This is going to be the story of the next week along with the first quarter of 2003. Under any circumstance, The Two Towers and Spidey have already managed to make the second Potter and Lucas films feel like an afterthought.
<% sqlstr = "SELECT * FROM box WHERE" sqlstr = sqlstr + " movie like '%Two Towers%' OR" sqlstr = sqlstr + " movie like '%Fellowship of the Ring%' OR" sqlstr = sqlstr + " movie like '%Spider-Man%' OR" sqlstr = sqlstr + " movie like '%Phantom Menace%' OR" sqlstr = sqlstr + " movie like '%Chamber of Secrets%' OR" sqlstr = sqlstr + " movie like '%Attack of the Clones%'" sqlstr = sqlstr + " ORDER BY open DESC" max = 100 header = "Recent Tentpole Releases" tstyle = "release" skin = "bop" x = Drawtable(sqlstr,max,header,tstyle,skin) %>

One concern regarding the performance of The Two Towers is that it is the only film in the top ten this week which performed worse than last weekend. With a lot of people taking vacation time over the holidays, both Friday and Sunday box office are inflated. This two week period is the busiest time of the year at the cineplex, and that's why you'll notice that rather than seeing films depreciate from last weekend, the normal behavior, they have instead shown an increase from last frame. Eight of the nine productions which were already in release behaved in this fashion.
Finishing a distant second this weekend is the blockbuster DreamWorks production Catch Me If You Can. Normally, a Steven Spielberg movie starring Leo DiCaprio and a strong supporting performance from Tom Hanks would be a surefire box office champion, but those pesky hobbits sure seem to get in the way of everything. Catch Me grossed a still-impressive $30.0 million this weekend and $48.6 million over the Christmas holiday five-day period. Its opening weekend total represents a per-theater average of $9,518 from 3,156 locations. As the only large opening, it was the only film with any real chance to unseat New Line's monster, but as we can see, it wound up being the film playing catch up.
If we evaluate Catch Me on its own rather than as a comparison, the performance is much more impressive. It has the sixth largest December opening and with a fan-freakin-tastic Rotten Tomatoes score of 96% combined with a Cinemascore average of A minus, Leo and Tom are proving to be, if anything, a more popular duo than Tom and Newman were. Already with $48.6 million in the bank, Spielberg's latest flick should fly past the $100 million barrier, possibly as soon as next Sunday if it continues to hold up as well as it has thus far. With the combination of the box office power of this movie and the awards season praise for Gangs of New York, it's also safe to say that Dicaprio has re-invented himself as an A-list performer. He was always unfairly rebuked for having the audacity to be the male lead in the most successful movie of all time, but now that he has demonstrated both quality and quintessential bankability, the question mark beside his name may be safely erased for the time being.
<% sqlstr = "SELECT * FROM box WHERE" sqlstr = sqlstr + " movie like '%Road to Perdition%' OR" sqlstr = sqlstr + " movie like '%Cast Away%' OR" sqlstr = sqlstr + " movie like '%Green Mile%' OR" sqlstr = sqlstr + " movie like '%You''ve Got Mail%' OR" sqlstr = sqlstr + " movie like '%Saving Private Ryan%' OR" sqlstr = sqlstr + " movie like '%Apollo 13%' OR" sqlstr = sqlstr + " movie like '%Philadelphia%' OR" sqlstr = sqlstr + " movie like '%Sleepless in Seattle%' OR" sqlstr = sqlstr + " movie like '%Forrest Gump%' OR" sqlstr = sqlstr + " movie like '%Titanic%' OR" sqlstr = sqlstr + " movie like '%Beach, The%' OR" sqlstr = sqlstr + " movie like '%Gangs of New York%' OR" sqlstr = sqlstr + " movie like '%Minority Report%' OR" sqlstr = sqlstr + " movie like '%A.I.%' OR" sqlstr = sqlstr + " movie like '%Lost World%' OR" sqlstr = sqlstr + " movie like '%Schindler''s List%' OR" sqlstr = sqlstr + " movie like '%Jurassic Park%' OR" sqlstr = sqlstr + " movie like '%Toy Story%'" sqlstr = sqlstr + " ORDER BY open DESC" max = 100 header = "Recent Tom Hanks, Leonardo DiCaprio and Steven Spielberg Movies" tstyle = "release" skin = "bop" x = Drawtable(sqlstr,max,header,tstyle,skin) %>

Dropping one spot to third this week is the Sandra Bullock/Hugh Grant trifle, Two Weeks Notice. As expected, the romantic comedy demonstrated phenomenal legs over the first half of the holiday two-week period; this point was emphatically driven home by the movie's 13% increase in box office in weekend two. This behavior is a recurring theme for the rest of the top ten. After an estimated $16.1 million weekend from 2,755 venues (a per-venue average of $5,844), Two Weeks Notice has accrued $43.6 million with another strong week of box office yet to come. The $100 million mark certainly appears attainable, especially if it shows the strong January holdover appeal of Bullock's last December release, Miss Congeniality, which took in an extra $40 million after the seasonal box office cornucopia had ended.
Finishing in fourth place was the other solid romcom performer of the season, Maid in Manhattan. Its estimated weekend take of $13.0 million signifies an increase of 21% from last weekend. Still ultra-wide in 2,938 venues, the movie had a per-venue average of $4,425 and now stands at $57.4 million. While it's too soon to say for certain, J-Lo appears to have the edge over Hugh and Sandy for the title of Top Seasonal Romance. This is despite the presence of recently rehabilitated Red Dragon mass murderer Ray Fiennes, who is something of a tough sell as a love interest, all things considered.
Fifth spot is held down by Gangs of New York, or, as you might remember them from the 1980s, Men with Bad Hats. The violent crime epic, which was delayed for a full year by Miramax due to concerns about Martin Scorsese's original cut of the film, continues to struggle at the box office. Gangs made an estimated $11.2 million this frame from 2,170 venues for a per-venue average of $5,161 and an increase from last weekend of 18%; its total now stands at $30.1 million after ten days. Against a reported budget of $98 million, this seems like an Enron-esque financial predicament though Miramax has stressed on multiple occasions that $50 million is their break-even mark. It remains to be seen if the film can get enough from the New Year's holiday period and awards season momentum to overcome its current difficulties but I'm inclined to believe that $50 million is attainable.
Drumline falls one slot to sixth place this weekend with an estimated $8.4 million, up an impressive 18% from last weekend. The feel-good hit of December continues to show that it's not the size of the screen count but rather how one uses it that matters. Despite having the smallest venue count of any top ten contender, Drumline has now acquired box office in the amount of $36.9 million and is poised to have a long shelf life on video and dvd. I hate to resort to using cliches, but this one truly is a real crowd pleaser.
The Wild Thornberrys Movie fell to seventh place but managed to acquire some respectability as the film no longer looks like a Doug/Hey Arnold!/Powerpuff Girls level box office failure. It is certainly no Rugrats but with an 23% uptick from last weekend and $7.4 million more in the bank, the film has reached a no-longer-humiliating total of $18.5 million. I'm not saying Paramount is pulling out the party favors and tequila shots or anything since it did have a still-seemingly far-off budget of $35 million, but they have at least cauterized the wound.
Climbing back up a spot to eighth place this week is everyone's favorite nerdly wizard, Harry Potter. Still fairly wide in 2,505 theaters, Chamber of Secrets accumulated $6.5 million in receipts for a per-venue average of $2,595. While certainly not as successful as the first film in the series, Potter 2 has now crossed the $240 million barrier and should show further life in the coming seven days as its 49% rise from last weekend's total is the largest in the top ten. The holidays are always good to Mr. Potter.
In ninth spot is the Rob Schneider disappointment The Hot Chick; it made an estimated $4.8 million from 2,246 venues for a per-venue average of $2,137. Even with a 6% rise from last frame and the Christmas box office money train carrying the industry, this film still sits at a weak $22.2 million. A bomb is a bomb is a bomb.
Rounding out the top ten this weekend is Die Another Day, the most successful film in the long and storied history of the Ian Fleming spy thriller franchise. With another $4.5 million, Bond rose 10% from its last outing. Its running tally is $146.8 million and it should be able to ride the New Year's box office money train well beyond $150 million before exiting theaters and assuming its place in the heavy cycle of the WTBS movie rotation for the next quarter century.
The weekend after Christmas in 2001 saw two lackluster debuts, Kate & Leopold and Ali. The period was dominated by the second weekend of Fellowship of the Ring, so there is serious deja vu occurring right now. 2002's top ten grossed an estimated $150.8 million, which is an increase of 10% from 2001's $136.9 million. We will again be doing daily box office analysis from the team of Walid Habboub, Tim Briody, David Parker and myself throughout the coming week, so make certain to check back each day for further updates on the biggest two-week period of the box office year.
Top 12 for Weekend of December 27-29

Rank

Film

Number of Sites

Change in Sites from Last

Estimated Gross ($)

Cumulative Gross ($)

1

The Lord of the Rings: The Two Towers

3,622

No Change

48.9

200.1

2

Catch Me If You Can

3,156

New

30.0

48.6

3

Two Weeks Notice

2,755

No Change

16.1

43.6

4

Maid in Manhattan

2,938

+72

13.0

57.4

5

Gangs of New York

2,190

+686

11.2

30.1

6

Drumline

1,668

-169

8.4

36.9

7

The Wild Thornberrys Movie

3,012

No Change

7.4

18.5

8

Harry Potter and the Chamber of Secrets

2,505

-245

6.5

240.3

9

The Hot Chick

2,246

+29

4.8

22.2

10

Die Another Day

1,875

-200

4.5

146.8

11

Star Trek: Nemesis

2,642

-69

4.1

33.9

12

The Santa Clause 2

1,511

-190

2.3

135.7