Rush Hour 2 Shatters August Record
David Mumpower's Weekend Wrap-Up
August 3-5, 2001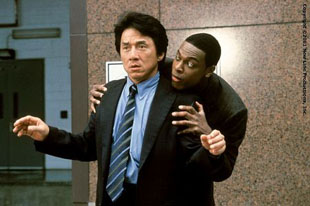 Jackie Chan plus Chris Tucker equals box-office gold. Again.
Rush Hour 2 continued the unprecedented run of blockbuster openings this week as it grossed $67.41 million, obliterating the record for best August opening. Coming on the heels of the biggest non-holiday weekend opening ever by Planet of the Apes last week, the Rush Hour sequel combines with it for the first consecutive $60 million openings in the history of the movie industry. Keep in mind that we are only one week past the point when Jurassic Park III combined with Planet of the Apes for the first consecutive $50 million openings, so the feat is all the more impressive when placed in perspective. The Chris Tucker/Jackie Chan buddy flick is the fourth-highest opener of all time, yet only the third biggest of 2001 to date.

<% sqlstr = "SELECT * FROM box WHERE movie like '%Star Wars: E%' OR movie like 'Pearl Harbor' OR movie like 'Lost World, The' " sqlstr = sqlstr + " OR movie like '%Planet Of the%' OR movie like '%Hannibal%' OR movie like '%Mummy Returns%' OR movie like 'Rush Hour 2' ORDER BY open DESC" max = 100 header = "Top Seven Openers of All Time" tstyle = "release" skin = "bop" x = Drawtable(sqlstr,max,header,tstyle,skin) %>

Even more impressive for Rush Hour 2 is its per-screen average of $21,619, which places it third among the movies on the list above, trailing only The Lost World: Jurassic Park II and Star Wars: Episode One. Due to a boycott by the nation's largest circuit, Regal Cinemas, over the negotiation of film rental terms prior to release, Rush Hour 2 had a deflated number of venues exhibiting the title. It's impossible to predict if there was any negative effect on opening weekend box office due to this boycott, but the one clear conclusion we can draw is that Regal Cinemas damaged its own revenues much more dramatically than those of Rush Hour 2 by passing on New Line's biggest film ever. In addition, they now are left in the position where their hard-line stance leaves them without Lord of the Rings distribution rights a full six months prior to release. In short, New Line won the first skirmish in this battle with a first-round knockout.
As impressive as Hannibal's $58 million February opening was relative to the previous February record of $34.7 million by Scream 3, this weekend's performance dwarfs it. The August debut of Rush Hour 2 is so dominant that it exceeds the combined previous two largest openings for the month, The Sixth Sense and Hollow Man, by over $13 million. The key to the success of this title is the chemistry of its stars, Tucker and Chan, combined with a very natural idea for a sequel. Rather than try to accomplish something new here, they merely reversed the fish-out-of-water concept and put Tucker's character in Hong Kong, as opposed to the first film's premise, where Chan's character was brought to California. Audiences were clearly interested in seeing the comedic stylings of Tucker offset in such a fashion. The A average CinemaScores for the film indicate that crowds did not leave theaters disappointed, so the film looks to have better legs than either tent-pole release of the last two weekends.
The Rush Hour franchise now holds the best opening record for both September and August, and shows that audiences will still come out en masse for a film concept they've seen many times before if it is marketed well and has just enough uniqueness to afford new set-ups to the same action sequences, explosions and jokes. Rush Hour 2's marketing was absolutely perfect from this perspective, as the trailers included-the interaction audiences loved in the first film, enhanced by scenes featuring up-and coming star Zhang Ziyi as the villain, hilariously assaulting Tucker's character. A crowd-pleaser in every sense of the word, straight down to the infamous closing credits outtakes of Jackie Chan, Rush Hour 2 looks to have tremendous appeal in the international market as well and could end up being one of the most profitable feature films of the year. In addition, the $20 million paycheck for Tucker and the $15 million paycheck for Chan, which earned headlines at the time the film was announced, certainly look like money well spent with today's estimates.
While New Line has spent the body of 2001 anticipating the December launch of the first of the Lord of the Rings films, it has struggled with its five previous productions this year. The timing of Rush Hour 2 is all the better for them, as they put the memories of disappointing films such as 15 Minutes and Town and Country behind them. They can now look forward to a potential record-shattering December debut on the heels of a record-shattering August one, which would indicate a phenomenal year for the studio.

<% sqlstr = "SELECT * FROM box WHERE movie like 'Blow' OR movie like '15 Minutes' OR movie like '%Town and Country%' " sqlstr = sqlstr + " OR movie like '%Rush Hour 2%' OR movie like '%Sugar and Spice%' OR movie like '%Thirteen Days%' ORDER BY open DESC" max = 100 header = "Recent New Line Releases" tstyle = "release" skin = "bop" x = Drawtable(sqlstr,max,header,tstyle,skin) %>

Planet of the Apes finished second, with a second weekend tally of $27.54 million, a decline of 60% from its jaw-dropping debut of $68.5 million. On Friday, it became the tenth 2001 release to crack the $100 million barrier, and declined only slightly more in its second weekend than the year's previous $50 million openers, Jurassic Park III (55.7%), Hannibal (48.8%), Pearl Harbor (50.0%) and The Mummy Returns (50.5%), did in their second frames. As we can see from this information, it's perfectly reasonable to expect a $50 million-plus opener to have such a steep decline as this blockbuster did. Over the next couple of weeks, we can better analyze whether Planet of the Ape's shaky word-of-mouth will prevent it from reaching the magical $200 million plateau. Its current box office of $123.74 million in ten days amply demonstrates mammoth initial demand for this release.
An argument could be made that the real surprise of the weekend came in the form of the number three title, The Princess Diaries, a G-rated film whose biggest star is the immortal Julie Andrews. Launching in 2,537 venues, the movie pulled in $22.86 million over the weekend. While this amount might not appear impressive when unfairly compared to Rush Hour 2, it's important to note that this is the sixth-largest opening ever for the month of August. In addition, this total easily surpasses the $20.3 million Legally Blonde did its first weekend and, in fact, the $22.86 million would have been enough for first place in two of the four July weekends. In short, the opening is staggering relative to expectations. The numbers should also have Disney execs smiling for the first time in a good while, after a very disappointing summer which found Atlantis, crazy/beautiful and Pearl Harbor producing box office that performed under expectations.
Cheaply made and warmly received, The Princess Diaries is the perfect cure for the Mouse Blues. It exceeded the opening box-office receipts of previous live-action hits such as George of the Jungle, Inspector Gadget and the Parent Trap and, like each of those films, should have the usual legs of Disney family fare. It's a hit and a much-needed, well-timed one at that.

<% sqlstr = "SELECT * FROM box WHERE movie like 'Pearl Harbor' OR movie like '%Atlantis%' OR movie like '%crazy/beautiful%' " sqlstr = sqlstr + " OR movie like '%Inspector%' OR movie like '%Parent Trap%' OR movie like '%George of the Jungle%' " sqlstr = sqlstr + " OR movie like '%Princess Diaries%' ORDER BY open DESC" max = 100 header = "Recent Disney Releases" tstyle = "release" skin = "bop" x = Drawtable(sqlstr,max,header,tstyle,skin) %>

Falling from second to fourth this weekend was Jurassic Park III, with a total of $12.72 million. This is a decline of 45.6%, and the film has now grossed $147.0 million on its way to approximately $175 million domestic. While the first five days have accounted for over half of the business to date for the film, it has still shown enough holding power to become one of the top five releases for the summer. This feat is most impressive considering the fact that A.I., the project Steven Spielberg did instead of Jurassic Park III, looks to finish with $85 million in domestic box-office receipts. The franchise has demonstrated it can exist without its creator in a most emphatic fashion.
In fifth place, we find America's Sweethearts. Showing disappointing legs for a romantic comedy, the film again declined significantly in its third weekend, at the rate of 47.8%. It stands at $74.69 million after 17 days and remains a likely contender for $100 million, but probably won't make much more if it does reach that level. Coming on the heels of the moderate performance of The Mexican, Julia Roberts continues to flex her box-office muscle, but it's clear that audiences are less interested in her 2001 performances than her 2000 ones. Fortunately, Ocean's 11 looms on the horizon, and it's hard to envision that film being anything less than a blockbuster.
Debuting in sixth place this week is the disappointing Original Sin. While MGM has been on a recent hot streak with Legally Blonde and Hannibal, there is only so much a studio can do with a mediocre production. Angelina Jolie, fresh off the $130 million blockbuster Tomb Raider, simply did not have the pull to make movie-goers flock to theaters for a run-of-the-mill, jealous lover's revenge plot. As with most August mediocrity, the movie will be gone and forgotten by the end of the month, and her rising star will be unblemished by the flick. Antonio Banderas, also coming off of a $100-million hit in Spy Kids, is similarly safe from blame here. In fact, don't be surprised if next week's re-release of Spy Kids Special Edition surpasses the second weekend total of Original Sin. Under any circumstance, both stars have guaranteed blockbuster sequels on the horizon due to their spring/summer offerings, and with MGM's recent successes, the studio and the stars couldn't have picked a better time for a blip on the radar. Original Sin's $6.40 million opening produces a no-harm no-foul situation all around, with a likely box office total of $25 million or less.

<% sqlstr = "SELECT * FROM box WHERE movie like '%Spy Kids%' OR movie like 'Tomb Raider' OR movie like '%Legally Blonde%' " sqlstr = sqlstr + " OR movie like '%Hannibal%' OR movie like '%Original Sin%' ORDER BY open DESC" max = 100 header = "Jolie, Banderas and MGM data" tstyle = "release" skin = "bop" x = Drawtable(sqlstr,max,header,tstyle,skin) %>

Legally Blonde continues to impress in seventh place this week. With a weekend total of $5.85 million and current domestic receipts in excess of $71 million, this winner has MGM laughing all the way to the bank. While the movie looks to fall short of the magical $100 million barrier, it is going to stand as one of the biggest sleepers of the summer, and marks Reese Witherspoon's ascension into the top tier of Hollywood starlets. It shall be interesting to see how well she follows up on this smash.
The Score continues to follow in the footsteps of Legally Blonde, as it has done since they both debuted. This weekend sees it land in eighth place with $4.86 million, bringing its current total to $57.17 million. Robert DeNiro has recently shown that he is a bigger box-office draw in comedies than in dramas, due to the successes of Analyze This and Meet the Parents compared to the disappointments of Great Expectations, Men of Honor, 15 Minutes and Ronin. Having this film surpass the latter totals must be gratifying to one of the greatest actors of the last three decades.
<% sqlstr = "SELECT * FROM box WHERE movie like '%Analyze This%' OR movie like 'Meet the Parents' OR movie like '%Great Expectations%' " sqlstr = sqlstr + " OR movie like '%Men of Honor%' OR movie like '%15 Minutes%' OR movie like '%Ronin%' " sqlstr = sqlstr + " OR movie like 'Score, The' ORDER BY open DESC" max = 100 header = "Robert DeNiro's recent films" tstyle = "release" skin = "bop" x = Drawtable(sqlstr,max,header,tstyle,skin) %>

Rounding out the top ten are a duo of talking animals flicks, Dr. Dolittle 2 in ninth place and Cats and Dogs in tenth. The films made $2.27 and $2.21 million respectively. Dolittle became the ninth film to join the $100 million club last week (current total: $106.17 million) and Cats & Dogs remains a contender for that list as well, with box office receipts of $86.71 million. Family films like this have a tendency to hang around forever, so don't be surprised if Cats & Dogs does make that milestone.
Business on the whole was spectacular at cinemas across the country this weekend, as the historically-bland first weekend of August offered some exceptional movie options this year as opposed to 2000. As such, we saw a record-setting top 12 combine for box-office receipts in excess of $163 million. The previous non-holiday record was $147 million for the weekend of November 17-19, 2000, which featured the launch of How the Grinch Stole Christmas. The combination of the recent release of an unprecedented three consecutive $50-million openers and the strong debut of The Princess Diaries helped exhibitors across the country celebrate historic box-office receipts. The $163.02 million for the top 12 the first weekend of August is an increase of 37.8% from last year's $118.2 million. Analysts have always recognized that better film quality/quantity leads to bigger box-office receipts, but the results this weekend drove this point home with emphasis.
Top 12 for Weekend of August 3 - 5

Rank

Film

Number of Sites

Change in Sites from Last

Estimated Gross ($)

Cumulative Gross ($)

1

Rush Hour 2

3,118

New

67.41

67.41

2

Planet of the Apes

3,530

+30

27.54

123.74

3

The Princess Diaries

2,537

New

22.86

22.86

4

Jurassic Park III

3,462

+23

12.72

147.02

5

America's Sweethearts

3,011

No Change

8.04

74.69

6

Original Sin

2,194

New

6.40

6.40

7

Legally Blonde

2,536

-189

5.85

71.36

8

The Score

2,211

No Change

4.86

57.17

9

Dr. Dolittle 2

1,681

-507

2.27

106.17

10

Cats and Dogs

2,122

-694

2.21

86.71

11

The Fast and the Furious

1,620

-765

2.13

136.97

12

Scary Movie 2

1,312

-867

1.18

69.95