Move Over, Gigli
David Mumpower's Weekend Wrap-Up
August 22-24, 2003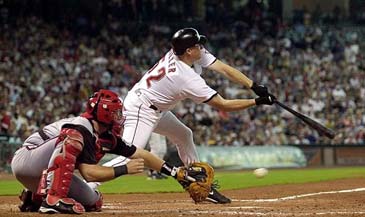 This is the way the summer season at the box office ends. Not with a bang but a whimper. In the baseball vernacular, it was three strikes and you're out for the new releases this weekend as box office failures came in three convenient sizes: Small, Medium and Large. In the end, two serial killers wound up in the winner's circle but even that was a Pyrrhic victory at best.
Freddy vs. Jason is the number one film again this week, accruing $13.5 million from 3,014 locations for a per venue average of $4,463. The iconic horror production becomes the first pure slasher flick since Scream 3 in February of 2000 to spend more than one weekend at the top of the charts. The same reason that this feat doesn't happen often also explains why Freddy vs. Jason is down a troubling 62.9% from last frame. Horror movies are the extreme example of opening weekend rush, so most of the box office wages are earned in the first few days. Don't go feeling too sorry for New Line Cinema, though, as the two franchise serial slayers have now earned $61.5 million after ten days of release. Considering the frugal budget of $25 million and relatively modest marketing expenses, studio execs have already broken out the cigars and party favors. When we factor in the potential gold mine awaiting this title when it's released on DVD, there is no time like the present to start hitting up your friendly New Line exec/drinking buddy for a loan.
S.W.A.T. is the maid of honor rather than the bride for a second straight weekend. The Josh Charles action flick which I'm told also has Colin Farell in it earned $10.8 million from 3,204 locations. With a per venue average of $3,371, S.W.A.T. fell 40.3% this weekend, indicating that the bloom is off the rose. With a negative cost of roughly $105 million, this production is relying heavily on overseas receipts to carry it in the coming days. And, in case you're wondering who Josh Charles is, he's a BOP fave who starred on Sports Night. If that's not good enough for you, he has dated Jennifer Connelly and you haven't.
Freaky Friday continues to escape the recent summer dynamic of ultra-frontloading as the mother and daughter hug-fest ties with Open Range for third position in its third weekend of release. It acquired $9.4 million to bring its current total to $74.5 million while falling only 30.3% from last time out. Disney seems to be the only studio consistently able to buck the exhibitor's nightmare scenario dominating the industry today. With a hefty percentage of weekend grosses taken by the studio, cineplexes need a movie to have a decent amount of staying power in order to offset the imbalanced financial concerns of their studio agreements. As regular readers of John Hamann's column and the rest of BOP know, this is exactly the opposite of the current climate in the marketplace. Only a handful of summer films have bucked this trend, and three of those (Freaky Friday, Finding Nemo, and Pirates of the Caribbean: The Curse of the Black Pearl) are Disney releases. That gives the studio tremendous bargaining leverage heading into the all-important November/December holiday season.
Third place is once again the domain of Kevin Costner as Open Range becomes one of the aforementioned handful of films showing legs this summer. The $9.4 million tally represents a decline of only 33.2% from opening weekend, and the movie's total stands at $29.2 million after ten days. With no quality adult productions on the immediate horizon, Open Range is poised to be a mainstay in theaters throughout September, meaning that this production looks to be a surprise hit. And, oh yeah, it's also distributed by Disney.
The first of the three opening weekend failures is The Medallion. The three-day total of a weak $8.2 million is more than enough to give Jackie Chan a "Bad day! Bad day! Bad day!" With even Rumble in the Bronx, a film released back when he was still a relative unknown in North America, earning $9.9 million in its first frame, The Medallion immediately becomes Chan's biggest box office failure here. He has had a trio of lesser performers in the past, but those films, Mr. Nice Guy, Twin Dragons and Legend of Drunken Master, all garnered North American release well after their world-wide releases. With regards to movies receiving relatively simultaneous release across the world, The Medallion was only able to do roughly half of what The Tuxedo, Chan's prior roughest outing, managed. The Rotten Tomatoes score of 22% is indicative of a movie that isn't long for theatrical release. Having seen the film, that rating is 22% too high.
Continuing the weekend box office trend of everything staying where it is, Pirates of the Caribbean: The Curse of the Black Pearl repeated its sixth place finish from last weekend. Dropping an impressive 20.4% from last weekend, the $7.3 million tally of Pirates indicates that it's more likely to move back up the charts rather than down over Labor Day weekend. Sitting at a scintillating $261.0 million, Captain Jack Sparrow's masterpiece shows no signs of sailing into the box office sunset in coming days.
Moving up a spot to seventh place this weekend is Seabiscuit, which fell only 21.7% with a $6.3 million frame. The horseracing epic secured its attempt at the $100 million landmark with a strong effort down the stretch and got a nose up on Universal's other wide release, American Wedding, with this unexpected show of strength. Seabiscuit's per venue average of exactly $2,500.00 coming on the heels of last weekend's per venue average of exactly $3,285.00 makes one naturally suspicious that the books might have been cooked a bit. No matter the methodology, Labor Day will put this one over the top for $100 million, making it one of the most successful sports movies of all time.
A disappointing eighth place finish goes to Uptown Girls. Considering the primarily female demographic, many analysts (myself included) were speculating decent legs for the Brittany Murphy/Dakota Fanny buddy pic. This was not to be, though, as Uptown Girls managed only $5.6 million from 2,495 locations. That's a startling decline of 50.4% from opening weekend, indicating that the $22.3 million ten-day tally is about all its distributor, MGM, is going to get out of this one.
American Wedding continues to honeymoon in the top ten with a ninth place finish this weekend. Its $5.5 million frame brings its box office total to $90.6 million, meaning it will be the other Universal film to cross $100 million in the coming days. But American Wedding will achieve this feat well after Seabiscuit, and is going to finish behind its cohort in domestic receipts.
After spending the body of the summer testing the adage that there's no such thing as bad publicity, Ashton Kutcher demonstrated the true value of a dozen consecutive Us Magazine cover photos this week as My Boss's Daughter bombed. Making only $5.0 million from 2,201 venues, the tenth place finish and $2,272 per venue average indicates how oversaturated Kelso has become in the months since Just Married became a surprise hit. The Demi/Ashton break-up clock will be striking midnight any second now as Demi moves on to leech off the next big thing. BOP's money is on either The Rock, Vin Diesel or Keira Knightley. The performance of the film is of course no real surprise, as its fate was sealed the instant Tara Reid was cast. Driving the point home about how awful this production is on every conceivable level, critics Punk'd Kutcher with a Rotten Tomatoes score of 15%. More unsettling is the fact that only 13 of them could even be bothered to show up to see the film in the first place.
And while the performances of The Medallion and My Boss's Daughter are pathetic, they couldn't hold a torch to Marci X. Using the same themes as another 2003 release, Marci X is an ethnic mismatch comedy starring Lisa Kudrow. Its performance is the polar opposite of Bringing Down the House, though. BOP assume the x-factor is Eugene Levy. How bad was this cautionary tale about the dangers of casting Friends in movies? It made $865,000 from 1,200 venues, a per location average of $721. Ben Affleck and Jennifer Lopez are probably calling Lisa Kudrow right now to offer thanks for taking some of the heat off. In addition to the other bad news, Marci X could manage only a 16th place finish, barely holding off limited releases like Dirty Pretty Things, which made $727,000 in nearly 1,000 fewer venues.
With the combination of bad debuts and a weak set of holdovers, total box office for the top ten is down 36% from last weekend. The $81.0 million in receipts does reflect a spike of 13.4% from last year's late August doldrums, though. There isn't much hope on the horizon either with only one new entry next weekend. Assuming my attempted injunction is denied in U.S. district court, Jeepers Creepers 2 will be released over the Labor Day holiday weekend. The glass half-full perspective here is that it can't possibly be worse than the original.
Top Ten for Weekend of August 22-24, 2003

Rank

Film

Number of Sites

Change in Sites from Last

Estimated Gross ($)

Cumulative Gross ($)

1

Freddy vs. Jason

3,014

No change

13.5

61.5

2

S.W.A.T.

3,204

-16

10.8

88.1

3

Open Range

2,163

+88

9.4

29.2

3

Freaky Friday

3,058

+79

9.4

74.5

5

The Medallion

2,648

New

8.2

8.2

6

Pirates of the Caribbean: The Curse of the Black Pearl

2,404

-306

7.3

261.0

7

Seabiscuit

2,534

+72

6.3

93.1

8

Uptown Girls

2,495

No change

5.6

22.3

9

American Wedding

2,467

-518

5.5

90.7

10

My Boss's Daughter

2,201

New

5.0

5.0

11

Spy Kids 3-D: Game Over

2,429

-574

3.0

102.5

12

Bad Boys II

1,202

-583

2.1

132.4