Freddy and Jason Slay the Competition
David Mumpower's Weekend Wrap-Up
August 15-17, 2003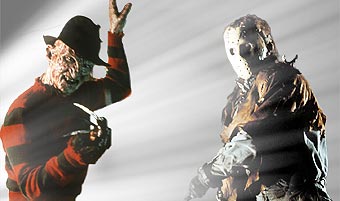 Not since chocolate was first introduced to peanut butter have two disparate entities blended together as successfully as serial killer icons Jason Voorhees and Freddy Krueger did this weekend. The face-off between the two behemoths of 1980s horror franchising dominated this weekend's box office, leaving two instantly forgettable movies, Grind and Uptown Girls, and one overly long but unexpectedly successful western, Open Range, in the dust.
The prizefight between the two horror legends would have made for a fine pay-per-view event at the MGM Grand but instead, the match-up of Freddy vs. Jason was contested in 3,014 venues across North America. We don't need Mills Lane to decide or Michael Buffer to announce that the big winner in their long rumored showdown is none other than New Line Cinema. Their frugally-budgeted teen slasher flick made for approximately $25 million earned a staggering $36.4 million in its first three days. That sound you hear is Alien vs. Predator being rushed into production as we speak, and there will be several other presumed dead franchises carefully studying Freddy vs. Jason's performance as well as its marketing plan in the coming days.
Competing execs will be perusing all the data in order to figure out how to possibly accomplish this same impressive feat with their own character licenses. New Line suits are themselves also already well on their way to deciding how to follow up this success with a sequel. The staff of this particular Bruce Campbell-loving web site you are currently reading is ALL for the rumored addition of Ash to the Freddy and Jason dynamic. The reality, though, is that director Ronny Yu's other horror success, Chucky, probably makes for the most natural addition to the mix since he already has a comfort level and demonstrable talent with the Chucky character from his prior exceptional black comedy effort, Bride of Chucky.
BOP also politely suggests taking a look at Jason Dean's column about other 1980s heel icons for suggestions. Evil karate super-patriot John Kreese vs. invincible boxer Ivan Drago is an idea whose time has come. Don't be so quick to laugh, either. There are pitch meetings occurring as we speak where ideas no more ludicrous than this are being considered. Franchise re-launch is one of the cornerstones of corporate studio success, and there is no disputing the fact that the success of the Freddy vs. Jason concept of throwing two franchise anchors into one movie is a long-forgotten cornerstone of early Hollywood. Everyone just needed a polite reminder of the halcyon days of Abbott and Costello's post-World War II encounters with mummies, lycanthropes and Boris Karloff. Now that there is data to support the possible success, Warner Bros. suits are having to re-consider the possibility that facing Superman off against Batman might be the best way to re-vitalize a character that is simply too vanilla for jaded movie audiences looking for more. The element of surprise offered by an ending where there isn't a surefire winner doesn't seem like a novel concept on paper, but in the current market of generic sequel after generic sequel, it's what passes for intrigue.
More relative to the here and now, though, is how impressive Freddy vs. Jason's box office performance this weekend turned out to be. The $36.4 million total was tallied in only 3,014 venues, giving the twin killer flick a sublime per location average of $12,077. To put the three-day total into perspective, consider this. The presumed dead franchises used to open well…back in the early to mid-1980s. Since then, the going had been considerably tougher. Combining the opening weekends of the last three Freddy Krueger films together, they tallied $27.8 million while the last five Jason Voorhees outings opened to a sum of $35.5 million. Perhaps fittingly, the last outing in each series made $6.66 million with the Freddy release, New Nightmare, coming in 1994 and Jason X having been dead on arrival in April of 2002.
Even if we allow for ticket price inflation, the most successful venture in Jason's history, Friday the 13th: The Final Chapter, opened to only $19.3 million. The Nightmare on Elm Street films, which started off much slower than the Friday the 13th ones, had built their video fan-base up by their fourth outing, Nightmare on Elm Street: The Dream Master. This film opened to $12.83 million, slightly less than the biggest opening weekend release for the franchise, the sixth outing of Freddy's Dead: The Final Nightmare (ha!). This 1991 production earned $12.97 million in actual dollars, but the 1988 outing's ticket price inflation allowance makes it slightly more successful with $18.1 million as opposed to $17.9 million. What do all the boring numbers mean? Freddy vs. Jason's opening weekend performance of $36.4 million is so unexpectedly massive that it came within a million dollars of equaling the $37.4 million combined total of the biggest openings in each franchise previously. Now just imagine if we put Harry Potter on the Titanic.
For those of you interested in the box office history of the Nightmare on Elm Street and Friday the 13th franchises, here is some exhaustive data on the subject.

<% sqlstr = "SELECT * FROM box WHERE" sqlstr = sqlstr + " movie like '%Nightmare on Elm Street%' OR" sqlstr = sqlstr + " movie like '%Freddy''s Dead%' OR" sqlstr = sqlstr + " movie like '%New Nightmare%' OR" sqlstr = sqlstr + " movie like '%Freddy vs. Jason%'" sqlstr = sqlstr + " ORDER BY date ASC" max = 100 header = "Nightmare on Elm Street Films" tstyle = "release" skin = "bop" x = Drawtable(sqlstr,max,header,tstyle,skin) %>

<% sqlstr = "SELECT * FROM box WHERE" sqlstr = sqlstr + " movie like '%Freddy vs. Jason%' OR" sqlstr = sqlstr + " movie like '%Friday the 13th%' OR" sqlstr = sqlstr + " movie like '%Jason X%' OR" sqlstr = sqlstr + " movie like '%Jason Goes to Hell%'" sqlstr = sqlstr + " ORDER BY date ASC" max = 100 header = "Friday the 13th Films" tstyle = "release" skin = "bop" x = Drawtable(sqlstr,max,header,tstyle,skin) %>

Coming in second this week is S.W.A.T., the latest entry into the Summer 2003 One and Done Sweepstakes. The Colin Farrell ultra-cop movie dropped 50% in its second frame, winding up with $18.6 million and a running total of $70.1 million. After gaining 18 venues from last weekend, the film's 3,220 exhibitions saw a still solid per location average of $5,776. S.W.A.T. already pulled off its most shocking trick last weekend when it out-performed Farrell's release from last summer, Minority Report, which had Tom Cruise above the title to theoretically drive ticket sales. With Phone Booth, The Recruit and Daredevil all making at least $46 million, it's safe to say that The Human Eyebrow has finally begun to justify all of the hype surrounding him.
The surprising third place entrant this weekend is Kevin Costner in Open Range. Coming on the heels of a decade of savage press that makes Gigli look to be a media darling by comparison, Costner decided the best way to improve his career was to literally rub some dirt on it and get back in the game of directing. Excluding the barely seen Texas Rangers, the marketplace hadn't seen a western in some time, and the pedigree of Oscar winners Costner and Robert Duvall and two-time Best Actress nominee Annette Benning proved enticing to older movie audiences across the country. Exhibited in only 2,075 venues, Open Range had a very impressive weekend per venue average of $6,795. More good news is that with a 74% fresh rating from Rotten Tomatoes and some unexpected though unrealistic Oscar buzz, Open Range should have very good legs in a summer landscape where only Nemo, Jack Sparrow, and Mini-Coopers have been able to show any sort of staying power.
Falling from second to fourth place this weekend is the delightful Freaky Friday. While critics are right to jab at Disney for completely whoring their catalogue in order to keep dominating the box office, no one can argue that the strategy is not successful. Jamie Lee Curtis' first big hit since True Lies (you think she'll vote for Ahnuld?) continues to click with mothers and daughters across the country. Freaky Friday fell 41% in its second weekend with $13.1 million from 2,979 theaters. Its venue average of $4,397 indicates it has slipped a bit but with $57.9 million already in the bank and most kids still out of school for another week, the movie should be looking at a minimum of $80 million in its domestic run. The real money is in this one's DVD release, though.
Debuting in fifth place is the harshly reviewed Uptown Girls. Many critics were unable to get beyond their random loathing of Brittany Murphy in order to judge the film for what it is, but movie-going audiences showed up in unexpected force for it. The movie made $11.2 million in 2,495 venues for a middling per-location average of $4,489. With 56 out of 65 critics at Rotten Tomatoes giving the film a thumbs down (several of them offering up head-scratching zero star scores), Uptown Girls will have to rely on the charms of Dakota Fanning and Murphy in order to build word-of-mouth as the dreck of August overwhelms theater chains.
Pirates of the Caribbean: The Curse of the Black Pearl falls two places this week, but it continues to be the success story of 2003. Jack Sparrow's film fell only 35% this weekend, and it continues to be a summer weekday monolith. Since it was unsurprising for a Pixar film to break out, the shock remains fresh as Pirates made another $8.5 million this weekend to reach $247.9 million and close in on The Matrix Reloaded for second place in domestic box office this summer. Even Jerry Bruckheimer wouldn't have made that bet coming into the season, but his pet project is within $30 million of achieving this miracle.
Finishing in seventh and eight place are a couple of Universal releases, American Wedding and Seabiscuit. Most media sources have been falling over themselves to declare eighth place finisher Seabiscuit a hit and seventh place entry American Wedding a miss this season but the reality is that the order is reversed. Unconscionably budgeted at $86 million, Seabiscuit's run is nearly over where it stands at $83.0 million after falling another 32% with $8.1 million this weekend. It will wind up somewhere around $100 million, with the only mystery remaining about whether it finishes above or below the landmark. Considering the lack of overseas appeal intrinsic to all sports movies and the hefty marketing budget spent on this product, it's going to exit theaters in the hole despite all the pre-release (and now long forgotten) Oscar buzz. Oppose that to American Wedding, which was made for a relatively frugal $55 million. Unfairly compared to the breakout hit American Pie 2, American Wedding's $8.2 million weekend tally brings its total to $80.6 million. With the overseas drawing power of the franchise behind it, this film was the cheaper of the two Summer 2003 releases to create and will wind up making over twice as much money worldwide. Don't believe the hype.
The ninth place resident this week is Spy Kids 3-D: Game Over, a film which has given Sylvester Stallone false hope that his career might not be over. The third film in the franchise earned $5.2 million from a still ultra-wide 3,003 venues for a per-location average of $1,732. Its total now stands at $96.8 million with the $100 million threshold ready to be crossed by Friday. Spy Kids 3-D doesn't have enough steam to surpass the original, but it is already up an impressive 13% from Spy Kids 2: Island of Lost Dreams. Robert Rodriguez has definitely locked up his position as most financially savvy producer/director in Hollywood with this performance as he once again needed less than $40 million to obtain exponentially more.
Rounding out the top ten is Bad Boys II, the Kill 'Em All Cause They Ain't American buddy flick. It added an additional $3.2 million to the coffers, bringing its grand total to $128.9 million. Many will argue that this number is disappointing considering the above the title names involved, and I am inclined to agree with them for now. It does bear noting, though, that the original film made over half of its money in overseas receipts, so Bad Boys II might yet make a saving throw against Summer 2003 Sequelitis. Of course, we'd feel better about its worldwide prospects if the movie weren't so patriotic in scope.
Winding up outside the top ten in 12th position is the other new opener of the weekend, Grind. It was able to earn only $2.6 million from 2,253 venues for an abominable per-location average of $1,153. As a huge fan of Adam Brody from his work on Gilmore Girls, I have a person bias here, which makes me quite disappointed about the film's dead-on-arrival performance. The reality, though, is that this is yet another failed attempt to achieve box office success using the X-Games strategy, and it's about time to accept that this idea, like communism, just doesn't work. Sk8tr bois would rather watch skater wipeout videos than show up at a theater to watch 90 minutes of dude speak. They get plenty enough of that at home.
Thanks to the power of slayage and an unusually deep top five, overall box office for the top ten earned a sizzling $126.7 million, up 32.6% from the same weekend in 2002. It's also up 1.4% from last weekend, which was also very strong. Next week won't be pretty, though, as the generic Jackie Chan action stunt fest The Medallion anchors the box office. The other two releases, Marci X and The Boss's Daughter, both appear to be candidates for the next leg of the Grind/Gigli quickest sprint out of theaters race.
Top Ten for Weekend of August 15-17, 2003

Rank

Film

Number of Sites

Change in Sites from Last

Estimated Gross ($)

Cumulative Gross ($)

1

Freddy vs. Jason

3,014

New

36.4

36.4

2

S.W.A.T.

3,220

+18

18.6

70.1

3

Open Range

2,075

New

14.1

14.1

4

Freaky Friday

2,979

+25

13.1

57.9

5

Uptown Girls

2,495

New

11.2

11.2

6

Pirates of the Caribbean: The Curse of the Black Pearl

2,710

-460

8.5

247.9

7

American Wedding

2,985

-210

8.2

80.6

8

Seabiscuit

2,462

+34

8.1

83.0

9

Spy Kids 3-D: Game Over

3,003

-385

5.2

96.8

10

Bad Boys II

1,785

-664

3.2

128.9

11

Lara Croft: Tomb Raider: The Cradle of Life

1,926

-1,110

2.8

59.1

12

Grind

2,253

New

2.6

2.6