Hanks & Co. Take Long Road;
MIBII Sneaks By
By David Mumpower
July 13, 2002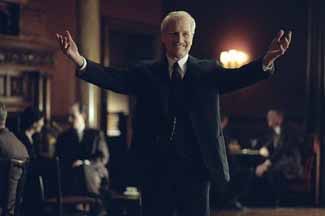 Four new and distinctly different releases flooded the marketplace this weekend, but the Men in Black managed to hold off all challengers and repeat as king of the hill on Friday. Barring an unexpectedly strong Saturday spike for Road to Perdition, the sequel should manage to become the first film since The Sum of All Fears to hold the number one position for two consecutive weeks.
Actually, the biggest surprise at the weekend box office didn't even come from Friday numbers. Instead, it was obvious when Variety reported that Road to Perdition would be exhibited in 1,797 venues that this film was in it for the long haul rather than the typical summer pattern of get in, open big, and disappear faster than soap in the shower. With the brave decision from DreamWorks to deflate Road's opening weekend and strengthen its staying power, along with the moderate performance of this weekend's other three new releases, Men in Black II will be able to hold its position at the top despite a heady drop from last Friday's numbers.
Men in Black II
Men in Black II was the top grossing film yesterday, taking in $7.82 million, which represents a significant drop of 61% from last Friday's total. It does bear noting that last week's number was inflated by the holiday; therefore, the steep Friday-to-Friday decline is not as alarming as some we've seen in the past. MIIB should recover somewhat on Saturday and Sunday and wind up with a 52% decline for the weekend and box office of right at $25 million.
Road to Perdition
For Road to Perdition, the news is very good. The Tom Hanks/Paul Newman drama will fall short of winning the weekend but it will easily have the best per venue average of any wide release. Road made $6.61 million on Friday from its 1,797 venues and looks to become only the eighth film to make over $20 million on fewer than 2,000 screens in its opening weekend. An interesting side note here is that of those eight, five (Lethal Weapon 2, Contact, Forrest Gump, Blair Witch Project and Road to Perdition) are July releases. Road to Perdition is the first film to accomplish this feat since Remember the Titans did it nearly two years ago.
With word-of-mouth on the movie looking to be very good, based on the overwhelmingly positive reviews and A- CinemaScore, Road to Perdition is poised to become the late-summer buzz film DreamWorks anticipated. Don't be surprised if its drop next week is similar to that of The Sixth Sense, particularly as it will be adding screens.
Reign of Fire
Finishing in a disappointing third place on Friday was Disney's Reign of Fire. When venue counts this Thursday confirmed the unexpectedly low screen totals for Road to Perdition, some analysts speculated that the way was paved for the dragons to rule the weekend. It simply was not to be, as Reign of Fire opened to a solid but not spectacular $5.80 million. The film probably had the benefit on Friday of fanboy rush, so we expect a low internal multiplier to propel the actioner to a weekend total of $16 million.
Halloween: Resurrection
Opening in fourth place was the oft-delayed Halloween: Resurrection, which used a fun concept and strong last-minute marketing push to attain a better opening than franchise nemesis Jason X. As is the case with virtually every horror film, Halloween's first-day box office will be its best, so after a fairly nice moment in the sun, we can expect Michael Myers to fade back into oblivion and make room for the other evil Mike Myers in a couple of weeks.
The Crocodile Hunter: Collision Course
Animal-assaulting madman Steve Irwin's movie Crocodile Hunter: Collision Course finished in sixth place on Friday with a lukewarm $2.92 million. There are warring factions in determining a multiplier for the film, as fans of the show are likely to rush out opening day, but from there it should perform similarly to a family film. Splitting the difference would give Croc Hunter a Friday-to-Sunday multiplier of 2.9 and a weekend tally of $8.5 million. The gravest enemy of the reptile world outperformed pseudo-Crocodile Hunter Paul Hogan's too little, too late sequel Crocodile Dundee in Los Angeles, which had a Friday total of $2.44 million and eventual weekend total of $7.71 million. While this round goes to Irwin, the only real way to settle the snakeskin grudge match once and for all is on Celebrity Death Match. Crikey.
Notable Holdovers
Obviously, 40% of the top ten is new, so there aren't really many notable holdovers to discuss. One of last weekend's openers, The Powerpuff Girls Movie, has already fallen out of the top ten, leaving us with Like Mike as the only remaining new film from last weekend meriting mention. The charming family film fell a reasonable 41% from Friday-to-Friday, which was the smallest drop amongst the top films, while the Adam Sandler comedy Mr. Deeds slipped 45%. Weekend estimates should leave The Bourne Identity, which fell 48%, poised to crack the $100 million mark by midweek.
Friday-to-Friday Drop-Offs

Film

Fri-Fri Depreciation

Estimated 3-Day Weekend Depreciation

Men in Black II

-61%

-52%

Mr. Deeds

-45%

-40%

Like Mike

-41%

-36%

Lilo & Stitch

-49%

-41%

Minority Report

-54%

-50%

The Bourne Identity

-48%

-45%
Extrapolated Estimates for the Top Ten

Projected
Rank

Film

Estimated 3-Day Gross (M$)

Total Gross by Sunday (M$)

1

Men in Black 2

25.0

133.4

2

Road to Perdition

21.5

21.5

3

Reign of Fire

16.0

16.0

4

Halloween

12.3

12.3

5

Mr. Deeds

11.0

94.1

6

The Crocodile Hunter: Collision Course

8.5

8.5

7

Like Mike

7.8

32.8

8

Lilo & Stitch

7.5

117.9

9

Minority Report

6.3

108.2

10

The Bourne Identity

5.0

98.3
Internal multiplier = A comparison of Friday's numbers to the rest of the weekend. So if Road to Perdition makes $5.1 million on Friday and $17.8 million for the whole weekend, then its internal multiplier is 3.5 ($17.8 million / $5.1 million = 3.5). Analysts use this number in reverse to predict weekend numbers from Friday's numbers.