Beyond the Slimy Wall: Warlock
By Stephanie Star Smith
October 8, 2003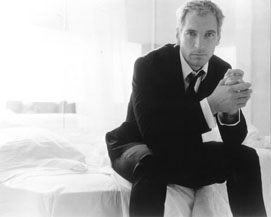 We here at BOP are an eclectic group, and our tastes in movies run from the serious cinephiles to the foreign-film aficionados to niche film lovers. Thus was born the idea for this weekly column, devoted to horror films of all shapes and sizes, but concentrating on those B- and C-grade films that mainstream reviewers disdain, but are the bread-and-butter of every spook movie lover's viewing. So come with me as we venture beyond the slimy wall, uncovering the treasures - and burying the time-wasting bombs - that await those who dare to love the scare.
Warlock
A 17th-century warlock, facing execution for his crimes, escapes through a time portal into the 20th century, intent on finding the Grand Grimoire, an ancient tome that contains the true name of God and using it to undo creation, and only the determined witch-hunter who brought him to justice and a waitress who accidentally stumbles into their centuries-old battle stand in his way.
Yeah, on paper, it sounds like your typical fish-out-of-water tale with occult trappings, but don't let the synopsis fool you. Warlock is that rare amalgam of intriguing story idea, well-written script and excellent acting. With Julian Sands as the eponymous sorcerer and Richard E Grant as his nemesis, Redferne, Warlock boasts a talented cast whom one could readily accept would convince a modern girl that such things are warlocks and spells and methods for traveling across time are real.
Probably the best thing about Warlock - aside from Redferne, who I'll discuss in a moment - is that you can't really figure out the plot in the first five minutes, even though you get the basics of what the Warlock intends within the first 20. David Twohy's script provides just enough twists and turns to lead you onward without becoming so complicated that you need a roadmap to follow along. Yes, it's good versus evil, and yes, good will most certainly triumph, but boy, does it take its own sweet time doing so, and there are not a few points where you're not entirely sure that this time, just maybe, evil will snatch victory from the jaws of defeat after all.
But the thing that invites repeat viewings, at least for me, is Redferne. This is the first film I can recall seeing Richard E Grant in, and while he's been in many a higher-profile film since, this is still, in my opinion, his best role to date. Redferne, single-minded though he is, also is an endearing, memorable character who finds his way into the audiences' hearts almost as quickly as he does the beleaguered Kassandra, the aforementioned waitress who is initially an unwilling participant in Redferne's centuries-old crusade. Even without the intelligent script, Redferne would make the film more than worth twice the price of admission.
Like many a successful film, regardless of its stature, Warlock spawned two sequels, only the first of which is worth even one viewing. But Warlock is worth catching more than once, and if you don't feel like trotting out to your local Blockbuster, never fear; you can catch Warlock during one of its periodic runs on cable. And I highly recommend you invest the just-over-90 minutes to discover this hidden gem.
I see by the shadows falling from my bust of Pallus that our time is up. Until next time, then, when we will once again venture Beyond the Slimy Wall.