Classic Film Review: Top Hat
By Stephanie Star Smith
November 28, 2002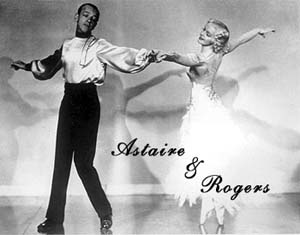 Fred Astaire and Ginger Rogers.
Just the names conjure up a magical world of sophistication, where all the women wear long, flowing gowns, all the men wear tails, the music is dreamy, the conversation is witty, and everybody lives happily ever after.
Astaire and Rogers only made nine films together (Flying Down to Rio doesn't really count, in my opinion, as very little was seen of the famous duo) and Astaire danced with many other actresses throughout his long career, but in the minds of audiences, it has always been Fred and Ginger. And this, their third film together (see my above caveat), is one of their greats.
The story is inconsequential and largely an excuse for Astaire and Rogers to dance. Astaire plays Jerry Travers, a famous American song-and-dance man who is doing a series of shows in London for producer Horace Hardwick (the delightful Edward Everett Horton, one of the People of Character recently lauded by our own Chris Hyde). While demonstrating his newest step to Hardwick one night in his hotel room, he disturbs the guest sleeping on the floor below, Dale Tremont, played by Ginger. The two are immediately attracted to each other, but in true musical-comedy fashion, Dale mistakenly believes Jerry is actually Horace, who is the husband of her dear friend and traveling companion, Madge. Dale takes issue with "Horace's" attempts to woo her and seeks to end his attentions by marrying another, but Fate eventually intervenes to reunite the pair, clear up the misunderstandings, and allow true love to triumph.
As I said, it's all really just an excuse for some classic songs and dance routines, but being a musical comedy, there are also plenty of laughs along the way. And even though the ending is never in doubt, it's a lot of fun to watch Fred trying to woo Ginger who, in spite of her better judgment, finds it hard to resist such sincere efforts from a debonair young man.
So why should modern audiences care?
Well, Moulin Rouge! certainly demonstrated that 21st century moviegoers will accept the artifice of the musical if it's done well. And while one could hardly call Moulin Rouge! a musical comedy - the strange-sounding musical tragedy seems more appropriate - one could make a valid argument that audiences aren't necessarily averse to any particular film style; only poorly-made pictures.
There's also the chance to watch Fred Astaire dance. The oft-told story holds that after Astaire's first screen test, one studio exec wrote, "Can't sing, can't act. Can dance a little". That last might be considered one of the classic understatements of all time. To watch Fred Astaire dance is to watch someone for whom dancing comes as easily as walking does to the rest of us. It seems so much a part of his personality and physicality that when the music starts and Astaire starts dancing, it seems the most natural thing in the world. It is sheer bliss to watch.
Ginger Rogers was every bit his equal. More than any other partner Astaire had in films, Ginger danced with almost the same effortless quality as Astaire. And they were a match in other ways, too. In fact, audiences of the '30s and '40s believed Fred and Ginger must be married, or at least romantically involved, off-screen, so unaffected and genuine was their on-screen chemistry.
Add to the joy of watching one of the great - if not the greatest - dance teams of all time in their prime is the wonderful score of the film, which includes such standards as Top Hat, White Tie and Tails and the song that became almost a theme for Astaire, Cheek to Cheek. That's a boatload of entertainment packed into just over an hour-and-a-half right there.
But it all boils down to watching the great Fred Astaire dance, both solo and with his greatest partner, Ginger Rogers. This is the core of the film, and the best reason to seek it out on cable or DVD.