Classic Film Review:
The Producers
By Stephanie Star Smith
February 5, 2002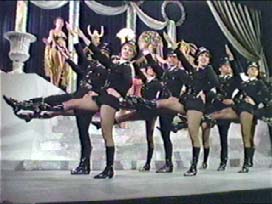 "Springtime for Hitler and Germany, winter for Poland and France."
If you're not already laughing at that line, then you've never seen Mel Brooks' brilliant tale of a get-rich-quick scheme gone horribly wrong.
Having made his reputation as a writer on Sid Caesar's landmark Your Show of Shows - and best known to audiences of the '50s as the 3,000-Year-Old Man in that classic series of sketches - Brooks made the move to the silver screen in 1968. The Producers was the first film he wrote and directed, and what an amazing debut it is.
The great Zero Mostel tops the cast as Broadway producer Max Bialystock, who has a way with the ladies, especially if they're rich and...shall we say, mature. Max spends his days charming his blue-haired paramours into "investing" in his upcoming production. Not such a bad thing, except that Max hasn't produced anything, much less anything successful, in years, and doesn't even have a project in pre-production. In fact, Max uses the money to support himself in style, and to wine-and-dine
other
potential "investors". A bit shady, perhaps, but still not a federal offense.
Until Max's nebbishy accountant, Leo Bloom (Gene Wilder in his first starring role), audits the books, that is. Turns out Max has oversubscribed his next "production" by about 1,000%. Which is a federal offense. A fact that sends poor Leo into an apoplectic fit, certain that Max will go to jail, and Leo along with him for not catching it sooner. In order to prevent the poor schmiel from turning himself - and by extension, Max - in, Bialystock reveals his plan to produce a spectacular flop, a show that will close in one night and never break even, much less turn a profit. Reluctantly, Bloom agrees to join forces with Max, and Bialystock and Bloom Theatrical Productions is born, and a wicked, hilarious farce is firmly underway.
So what's the hook for the 21st-century moviegoer?
I could wax lyrical about the comic genius of the late, great Zero Mostel; I could sing the praises of Gene Wilder, and point out how working with Brooks created a synergy that enhanced the talents of both; I could wax eloquent on Dick Shawn's hysterical portrayal of the spaced-out hippie who secures the title role in the flop-to-be. And all of these are excellent reasons to watch The Producers.
But it's really all about Springtime for Hitler.
Mel Brooks has been quoted as saying his goal in life is to make Hitler a laughing-stock. And his first go at it is undoubtedly his best to date. Bialystock and Bloom's Holy Grail, this love letter to the Fuhrer is the sure-fire flop that will not only get them out of legal hot water, but make them rich to boot. And even if I wanted to spoil the fun of seeing it for the first time, words cannot adequately describe the train-wreck that is the opening musical number. Suffice to say it's everything you could possibly imagine and then some. What happens before and after is funny, but Springtime for Hitler's Busby Berkeley-style opener is comedy gold. That Brooks achieves such a perfect comedic moment in his first film is astonishing. The fact that the rest of the film serves as perfect complement to Springtime for Hitler, and that the apex is nothing without the set-up and aftermath, is indicative of Mel Brooks' genius.
It's a funny, amazing film from start to finish, a dazzling debut from an already-assured filmmaker just hitting his comedy stride.