Classic Film Review:
A Christmas Story
By Stephanie Star Smith
December 25, 2002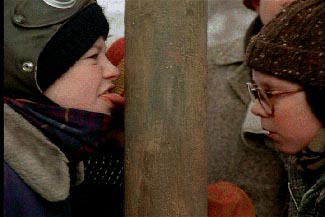 The holiday season. A time for remembering loved ones, for following old family traditions, for listening to carols, for watching classic films. It's a Wonderful Life. A Christmas Carol. Miracle on 34th Street. A Christmas Story.
What's that last one again?
Yes, this gentle look at a child's Christmas adventures in the suburbs of 1940s Cleveland has quietly stepped into the ranks of time-honored Christmas classics. The tale of eight-year-old Ralphie Parker's quest to receive a Red Ryder carbine-action Daisy air rifle with a compass in the stock for Christmas has become a holiday tradition for many, and its fond look at growing up in middle America in the post-World War II era stands as one of the truest depictions of childhood ever recorded on film.
A Christmas Story is based on humorist Jean Shepherd's book In God We Trust, All Others Pay Cash. Legend has it the film nearly didn't get released at all, until Darren McGavin, who stars as Ralphie's furnace-fighting father, stepped forward. He reportedly believed in the film to such a degree that he put up his own money to get prints made and the film distributed. A Christmas Story was hardly a blockbuster at the box office, but over the years, McGavin's faith in the film has been repaid by the growing number of people who look forward to seeing its annual Christmas TV showings.
So what makes this movie on a par with A Christmas Carol and It's a Wonderful Life as a holiday classic?
Probably one of the best recommendations for A Christmas Story is that it's heartwarming without being syrupy or maudlin. Bob Clark - whose work in the Porky's films would hardly have led one to believe he could produce such mature fare - helped turn Jean Shepherd's childhood memories into a humorous, realistic look at what it's like to be a child at Christmas. Instead of some Goody Two-Shoes who's impossibly sweet and well-behaved, we get bullies, dreamers, kids who sometimes use words they shouldn't, and all the extremely-important minutiae to which anyone who's ever been a child can relate.
Jean Shepherd also serves as the film's narrator, and a charming one at that. Narration to a film can often be tiresome; one wonders why it's not just shown rather than discussed. But in this case, the narration complements what's happening on-screen, giving one the sort of insight into characters and situations normally reserved for novels.
But perhaps the most important thing about A Christmas Story is that it doesn't forget it's a funny film about kids and families. Real kids, not precocious prodigies that act like adults, but kids. Kids who have to deal with adults who, to their minds, don't know what it's like to be eight years old and have to deal with all the trials and tribulations of life in the schoolyard. Kids who are concerned about avoiding the local bully so they can get home and hear their favorite radio show, about finding just the right way to ask for their heart's desire so that come Christmas morning, the present of their dreams is under the tree. Kids who plan and dream and play and exist in a world where adults no longer belong, but that we all recognize as a place we once were. And families that aren't picture-perfect, with Mom wearing pearls and Dad knowing everything and the home always spotless and no one ever fights or disagrees, but families who deal with life and living the best they can, and who continue to love each other, regardless of what life dishes out.
A Christmas Story manages to be real and funny and charming and sweet, without becoming saccharine or sanctimonious or losing sight of the need to entertain the audience. I can't think of a better way to usher in your Christmas than by spending a couple hours finding out if Ralphie can convince the adults around him that getting his coveted Red Ryder carbine-action Daisy air rifle with a compass in the stock won't lead to him shooting his eye out.