About a Boy

Review by Ash Wakeman
April 22, 2002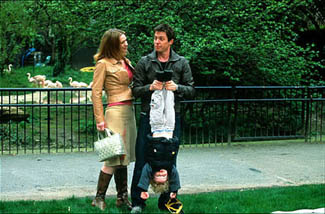 It's very easy to walk into About a Boy under the assumption that you're about to watch a traditional British romantic comedy (or rom-com if you will). Even having read the brilliant Nick Hornby book on which it was fairly faithfully based, the temptation to rewrite it in your mind as you are finding your seat is still there. This is primarily because of the presence of perennial rom-com favorite Hugh Grant. The association between Grant and romantic comedies is so strong that it's hard to shake.
About a Boy is not a rom-com, although there is a little romance in it. It is a character study. In this case, the character being studied is Will Freeman, a wealthy slacker in his late 30s with no desire whatsoever to grow up or take on the responsibilities of an adult. Hornby's Freeman is a great literary character, and the film was destined to live or die on how well Grant managed to bring his creation to life. Luckily, he does not disappoint; far from it, in fact. Grant is perfect as the lazy loner and his performance lifts the entire film. Gone is the floppy hair and trademark upper-class stammer, replaced instead with a disarming natural charm and honesty that makes you instantly forgive his selfish and caddish behavior. In the past, I've seen comparisons between Hugh and that other great British Grant, Cary. This is the first film where I ever felt these comparisons to be justified.
While this is Grant's film and Will is clearly the central character, the catalyst for change in his life and the source of the film's core story is his relationship with outcast schoolboy Marcus, played by relative newcomer Nicholas Hoult. Like Grant, Hoult is well-cast and brings his literary counterpart to the screen suitably. While his comic timing may not be on par with Grant's, he also brings a natural charm to the role, and I would be surprised if we were not to see more of him in the future.
The rest of the main cast is filled out by the always-brilliant Toni Colette as Marcus' barking-mad mother, and Rachel Weisz, adding a little "rom" to the "com" in the latter half of the film. While both handle their roles well, it is Colette who really shines (although to be fair, she does have a lot more screen time and a more interesting role), lifting the film whenever she is on screen. In what is a fairly light-hearted comedy, she has the difficult task of playing a more tragic figure and having to switch between the two, something she does perfectly and with seeming ease.
The Weitz brothers (of American Pie fame) have done a sterling job of bringing the novel to the screen. This in itself is a bit of a departure, as previous Working Title/Hugh Grant comedies (Bridget Jones, Notting Hill, Four Weddings and a Funeral) have all been directed by British directors. It would have been easy for them to overcompensate for this by splicing the Tower Bridge or a red phone-box into every second shot, but instead About a Boy comes across as being a great deal less self-consciously British than its predecessors. As such, it is refreshing to see a British film that is getting on with telling a story rather than worrying about pandering to Anglophiles across the Atlantic. In fact, I don't recall seeing a single recognizable London landmark in the entire film, which must be a first.
Like the last Hornby book-to-screen adaptation, High Fidelity, some changes have been made from the source material. In this case, said changes are chronological rather than geographical. Setting the film now, rather then when the book was written, was probably a good idea, but unfortunately there were some necessary sacrifices for this to work. This results in the loss of a fairly major subplot, a big decrease in screen time for a supporting character, and a different climax than that of the book. While this was a shame (for personal reasons, the jettisoned subplot meant a lot to me), it was probably for the best. (As an aside, I just realized that there is a link, no doubt intentional, between the jettisoned subplot and the book/film's title that I'd never noticed before). The new climax works just as well, if not better, than its literary counterpart. I must admit that there was a moment of dread when the fear that an otherwise enjoyable movie was going to be ruined by a disturbingly sweet and sickly ending wrapped its icy fingers around my cold, cynical heart. But a quick change of pace a split-second before it went too far resulted in groans being replaced by laughs and a sigh of relief from the more cynical in the audience.
I suspect About a Boy is going to be marketed as "the best British comedy since Bridget Jones' Diary"; however, this is not true. It is a much better film than Bridget Jones, both in terms of narrative and comedy. While only occasionally laugh-out-loud funny, it is definitely grin-and-smirk-continuously funny, and in my opinion is the best British comedy since A Fish Called Wanda (high praise, indeed). More importantly, it does justice to a great novel, which in itself is both a rarity and a relief.
A quick mention should be made of the soundtrack. This is the work of Mancunian folk rocker Darren Gough, perhaps better known to many as Badly-Drawn Boy. It is excellent and you should go buy it. That is all.