The Bop 25 of Summer
With summer comes warm weather, ice cream, bikinis and iced mochaccinos. But for movie fans, the 2003 summer brings kung fu, sharp claws, undersea adventures and a giant green monster of a man. As studios look forward to what will undoubtedly be the biggest summer in box office history, we at BOP have decided to rank the summer films to which we are most looking forward. This list of 25 is ranked in order and reflects what films we are most excited to see.
The tallying process gave us a clear winner for the summer as one movie beyond all has us foaming at the mouth. The rest of the top 25 mostly reflects the big event films that we perceive as being of good quality while at the same time revealing our eclectic tendencies. One thing that is certain is that this summer is the summer of sequels, as ten of our top 25 are sequels, with some high-profile sequels not even making our list. As is to be expected from summer time, the movies are heavily skewed to the sci-fi action adventure genre with comic book-based films receiving a large chunk of moviegoers' attention. Comedies take a back seat to all the guns and explosions this summer, even though the mix has one comedy that has the potential of being the biggest laugher ever.
25) Tomb Raider 2: The Cradle of Life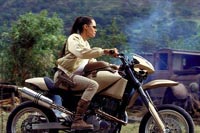 This sequel to the surprise 2001 hit promises more of the same sex appeal and over-the-top action that the first Lara Croft feature gave us. Angelina Jolie reprises her role as adventurer Lara Croft, whose latest adventure has her on an epic search for The Cradle of Life. The success of the first film, while surprising, was clearly inevitable to us after we saw the first frame of the first teaser trailer. Cradle of Life brings back the sultry Jolie in her sexiest bad girl role and it's easy to see that if you liked the first film, you will most likely love this one. With Twister and Speed director Jan De Bont, and Jolie still recovering from her bad break up with ex-husband Billy Bob Thornton during the shoot, the action should be better than ever.
24) Spy Kids 3-D: Game Over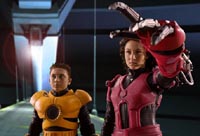 This summer sees the release of the third film of the popular Spy Kids series, Spy Kids 3-D: Game Over. As you probably guessed by the title, there will be some high definition 3-D scenes in the film. You don't even have to bring your own geeky 3-D glasses, they will be provided for you at the theater.
The story of the film sounds a little like a remake of Tron. The Cortez youngsters, Juni (Daryl Sabara) and Carmen (Alexa Vega), are charged with stopping the evil Toymaker (Sylvester Stallone), who wants to control the youth of the world by using a video game he has created. But in order to take him down, Juni and Carmen must enter the virtual world of the game, where they battle racing road warriors and even surf on boiling lava.
Spy Kids and Spy Kids 2: The Island of Lost Dreams did very well at the box office - grossing $112.7 million and $85.6 million, respectively. Talented writer/director Robert Rodriguez has reunited almost the entire cast from the first two films, which is kind of a rarity in film sequels. The entire Cortez family (Sabara, Vega, Antonio Banderas, Carla Gugino, Holland Taylor, and Ricardo Montalban) is back as well as a great supporting cast (Cheech Marin, Danny Trejo, Steve Buscemi, and Alan Cumming). Rodriguez took a lot of care when he brought us the first two films and it showed in the finished product. Hopefully, we'll be given another treat this time around.
23) The In-Laws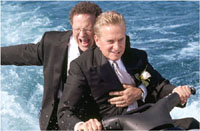 The daughter of a nebbish podiatrist is about to marry the son of a well-to-do WASP. The father of the bride, realizing he hasn't met the groom's father, invites the man to dinner. The podiatrist comes away thinking the groom's father is nuts. Unbeknownst to all and sundry, however, the groom's father is a CIA agent who begins to see the advantage of using the unsuspecting podiatrist as a front for his current mission. Before you can say "buddy comedy," the two in-laws-to-be are involved in a plot that takes them to South America, where they try to make it to the wedding on time and avoid getting killed in the process.
If you saw the original 1979 film, you know that it had a funny story and a strong cast. That film starred Peter Falk as the CIA agent and Alan Arkin as the innocent front (a dentist in the original). This time around, we've got Michael Douglas as the CIA agent and Albert Brooks as the nebbish podiatrist (we can all breathe a sigh of relief that Billy Crystal, originally slated to play the podiatrist, opted for Analyze That instead).
Many people were surprised to find that Michael Douglas could actually be intentionally funny when he appeared on Will and Grace last year. This sounds like just the kind of role that will give this little-seen side of his character a chance to flourish. And with Albert Brooks, arguably one of the funniest actors in film today, as Douglas' safety net...well, it just takes your breath away thinking about it.
Let's just hope Michael Douglas doesn't pull a Leslie Nielsen and run his new-found comedy talents into the ground.
22) Legally Blonde 2: Red, White and Blonde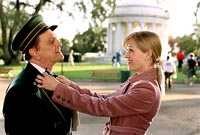 The always-adorable Reese Witherspoon steps back into the pink Prada pumps of Elle Woods in the sequel to 2001's surprise hit, Legally Blonde. This time, Woods is taking on the big shots of Washington, D.C. in an attempt to win - wouldn't you know it - better rights for animals. Along with Witherspoon, returning cast members include Luke Wilson as Elle's fiancé and Jennifer Coolidge as Paulette, Elle's socially awkward yet loveable manicurist. Joining the fun are two Hollywood veterans making a return to the big screen after several years off - Sally Field, who plays a Congresswoman, and Bob Newhart as Witherspoon's mentor in the capitol. If this film is anything like its predecessor, it is a guaranteed fun time at the movies. The original movie was probably a lot funnier than it deserved to be, in large part because it took the idea of simply being an enjoyable flick and ran with it. The sequel looks to do much of the same.
21) Bad Boys II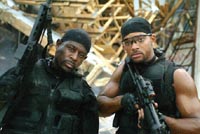 Hot July evenings, cool comfortable movie theater, hot buttered popcorn and an icy cold soda…IT'S TIME FOR SOME ACTION! Michael Bay, Jerry Bruckheimer, Will Smith and Martin Lawrence team up to reprise 1995's Bad Boys with the release of the simply titled Bad Boys II.
Now, we will be the first to admit that the original was fun but mediocre. It's a great "Saturday-afternoon-nothing-better-to-do" film and not much more than that. The original film was a half-assed attempt at a Lethal Weapon franchise, with Lawrence and Smith having decent but painfully predictable banter. So why would we care about this film?
A Ferrari, the Miami Causeway, a chase sequence, a car carrier, tumbling automobiles... 'nuff said.
That alone gets our $8.00 this July because, hell, we want to see the CGI rendering of a really cool concept chase. The bad guys are in/on a car carrier and are dropping automobiles off the back to stop Will and Martin from catching them. When we first saw this trailer a few months ago, we were hooting and hollering and squirming in our seats. This action is exactly the stuff that has been missing from summer. We're talking Tango and Cash action, Predator action, Rambo II action.
Not be completely pessimistic, we do see a few glimpses of brightness in the trailer beyond unadulterated adrenaline. Smith and Lawrence have done a lot of work since 1995; eight years is a lot of time to develop one's acting chops. Joey "Pants" Pantoliano is back again and he is already cracking wise and cracking us up in the trailer. We are also talking about Michael "The Rock, Armageddon, and Pearl Harbor since then" Bay. Bad Boys was Bay's first feature film directing gig and he has also matured immensely (or devolved depending on your point of view).
This film is just what summer was made for: May is Matrix and X-Men 2, June is Hulk, and July is Bad Boys II. Even if it sucks, at least it wasn't pretending that it was something more than mid-July popcorn fare at its heart.
Click here to read selections 20-16.
Click here to read selections 15-11.
Click here to read selections 10-6.
Click here to read selections 5-1.

Click here for an alphabetical list of all selections.