The BOP 25 of the Holidays 2003: 25-21
As the weather cools, the box office makes another run through its holiday season. In between the usual holiday fare and Oscar contenders, we will see the conclusions of two blockbuster trilogies. A sprinkling of family films, epics and some great smaller projects round out the menu.
So what are we looking forward to? The following are the films opening in November and December that we at Box Office Prophets are most anticipating.
Ashton Kutcher's last two movies were My Boss's Daughter and Just Married. Steve Martin's last two films were Novocaine and Bringing Down the House. Hilary Duff's last two movies were Agent Cody Banks and The Lizzie McGuire Movie. Suffice it to say that Hilary Duff is way ahead on points right now, a Pyrrhic victory at best. The combined talents of these three artists is an intriguing proposition, though. Kutcher's work on That '70s Show and Punk'd demonstrates a charisma that hasn't been matched yet in his cinematic outings, and Steve Martin remains the gold standard for comedy no matter how many times his movies make BOP cry. For her part, Duff has shown an unexpected amount of pizzazz, and is clearly much more than a generic actor riding the Disney marketing machine to fame. And Bonnie Hunt is in this, too. Did we mention how much we love Bonnie Hunt? Sure, we could be setting ourselves up for tremendous disappointment as this will probably be yet another toothless re-make. The five-year delay in production certainly isn't the best of signs. Even so, with this many funny people cast in a movie about a family double the size of the Brady Bunch, we remain stubbornly hopeful that it might not suck. And even if it does, there's still Bonnie Hunt.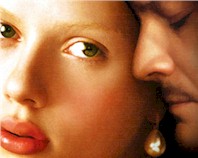 A possible end-of-year awards contender, The Girl With a Pearl Earring is a unique film based on a book by Tracy Chevalier. Suffice it to say that the movie is almost entirely based around a real-life painting by Johannes Vermeer, and Chevalier's imaginings surrounding its inspiration. In this story, the artist's muse is a young girl named Griet, who is portrayed by Scarlett Johansson. We've fallen in love with this terrific ingénue after she caught our attention in films like Ghost World and Lost in Translation, and hopefully, pairing her with one of Britain's great under-appreciated actors in Colin Firth will be as terrific a May-December match as her work with Bill Murray was. Along with the two main stars, there's also a stellar supporting cast that includes Tom Wilkinson (In the Bedroom), Cillian Murphy (28 Days Later), and youngster Alakina Mann (The Others). The Girl With a Pearl Earring is the truest example of art providing insight, and though it's only likely to see a limited release, it's definitely on our must-see list.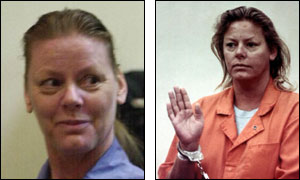 The strange tale of Aileen Wuornos, a lesbian ex-prostitute serial killer, would seemingly lie a fair distance from your standard Hollywood holiday fare. However, Newmarket Films seems to be hoping to sneak this one into Oscar competition (one would assume for the acting awards) and so they're getting it in just under the wire on the day after Christmas with some limited screenings in NY, LA and SF. In any event, the movie stars Charlize Theron in the true story of a hardened femme fatale who summarily offed some seven truck drivin' men during the late 1980s and early 1990s in sunny Florida. Reportedly Theron gained some 20 pounds and utilized lots of prosthetic makeup to more closely resemble the notorious murdereress, and if you compare pictures of the two women it should become manifestly clear that some extensive work would in fact be necessary for there to be any likeness at all. (Perhaps it's in the makeup effects department where they're hoping to garner a statue). With a solid supporting cast that includes Bubba Baker, Bruce Dern and Christina Ricci (as Wuorno's sapphic sidekick), this one looks like a potentially promising debut for first-time feature director Patty Jenkins.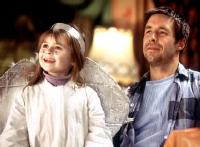 Though the film has been in the can over a year as the studio has tried to figure out the best strategy to release it (moving it from holiday season last year to spring this year and ultimately to this coming holiday season), it has retained a positive buzz despite the release date shuffle that often spells trouble. The main reason is that instead of simply shelving the film, Fox Searchlight has been giving it exposure at film festivals, allowing audiences to see the film. Jim Sheridan directs his first feature since 1997's The Boxer with this film about a family of Irish immigrants in New York. The main draw is Samantha Morton, who is one of the better actresses working today. She was able to pull off two fantastic performances last year in two vastly different films (Minority Report and Morvern Callar). The old adage of being willing to watch a particular actor is obvious hyperbole, but if anyone could make a string of seven digit numbers compelling, Samantha Morton is that person, so pairing her up with an Oscar nominated director and writer is really a no-brainer.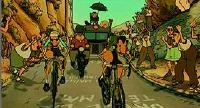 Last year, Japan's Hayao Miyazaki had a dark horse Academy Award nominee (and surprise winner) in the marvelous Spirited Away. This year, it looks to be French director Sylvain Chomet who will have the critics and animation insiders buzzing, as his Triplets of Belleville offers up a unique style and ambitious story that involves the Tour de France, a mysterious kidnapping, famous dance hall singers from the 1930s, and a dog named Bruno. This very musical affair has only the barest of dialogue-driven scenes and as such, should be a delicious visual feast for the eyes. After playing at Cannes and winning the Special Jury Prize at the 2003 Copenhagen International Film Festival, word-of-mouth surrounding the picture is fantastic, causing this little sleeper to capture our fancies.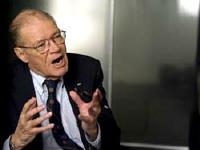 Noted documentarian Errol Morris steps into the political arena with his new project, using 20 hours of interviews with former JFK and LBJ Defense Secretary Robert McNamara as the basic material for this film. McNamara has had many influential jobs during the course of his adult life (he was head of the World Bank for some 13 years following his United States government employment), but the main thrust of this movie centers on his involvement with that controversial touchstone of the 1960s, the Vietnam war. In addition to the main talks with McNamara, Morris has also woven together interviews with other figures from the time as well as existing historic footage to create what is sure to be a fascinating look at one of the defining American events of the latter half of the twentieth century. Minimalist composer Philip Glass, who also scored Morris' previous works The Thin Blue Line and A Brief History of Time, returns to provide the musical background.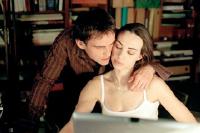 Frenchwoman Marina de Van to this point in her career has been mainly known domestically for her association with director Francois Ozon, often working with him in the capacity of writer. (She collaborated with the filmmaker on 8 Women and Under the Sand, both of which had limited domestic releases here in North America.) For this one, she works both in front of and behind the camera, acting as the star in a film that she herself also directed. She plays a character named Esther, a successful businesswoman who suffers an ugly leg wound just as she is about to make a big career move. The injury begins to exert a strange fascination for her, however, and she begins to enter an obsessively strange world of auto-cannibalism and masochistic wound exploration. Festival reviews of this one have pointedly tended to mention frequent abrupt audience walkouts, so one suspects that the gore involved will not appeal to those with delicate constitutions. You have been warned.




Click here to read selections 20-16.
Click here to read selections 15-11.
Click here to read selections 10-6.
Click here to read selections 5-1.
Click here to see an alphabetical listing of all selections.