The BOP 20 of Fall 2003: 20-16
The kids are going back to school, the evenings are becoming a little cooler, and football is back. It's fall. In the past these months have traditionally been considered something of a dumping ground for movies; filler time between the summer blockbusters and the holiday season. That perception has been changing rapidly in recent years as the studios realized that they need not take any months off, and they can have a box office hit any month of the year. That's a good thing for moviegoers. There is still a slight overall change in the overall makeup of the release schedule. There tends to be more adult fare, Halloween brings with it its share of horror movies, and the first real award contenders test the waters, but there are also a good share of action movies, sequels, and big names. While looking at the movies coming out between September 1st and October 31st, we were able to find plenty of movies that got us excited; enough that we had some difficulty in limiting our list to 20 anticipated films. But you have to draw the line somewhere, so we present our 2003 BOP 20 Fall List of movies that get us excited. Some are big studio, big hype films, others are limited release movies that maybe you've never heard of. What they have in common is that all of them are likely to get our $8 at the local movie theater.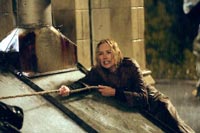 With a vibe somewhere between What Lies Beneath and the Amityville Horror, Cold Creek Manor looks to be a creepy movie for grown-ups. Dennis Quaid had a fantastic year in 2002 with critically acclaimed starring roles in The Rookie and Far from Heaven, and the hope is that he'll have another winner here. The only downfall is the presence of Sharon Stone, but in spine-chilling movies like these, it's usually the story and the atmosphere that make the difference. Director Mike Figgis is nothing if not creative (though his successes are hit and miss), making Cold Creek Manor one of the more intriguing fall entries.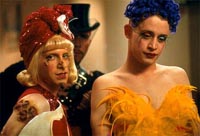 Macaulay Culkin as a cross-dressing, drug-addicted murderer -- what's not to like? Actually, there's far more to anticipate about this limited release than seeing Culkin playing such a far-out role. Party Monster is based on a true story, and the creative team behind this fictionalized version of murder in the club kids scene of the early '90s is the same as the one behind the documentary of the same name. The documentary contained some amazingly candid conversations with the eponymous creature, Michael Alig, and the opportunity to build on that foundation while taking some dramatic license is likely what prompted the second feature. The examination of how the need to belong and be popular can sometimes drive a fragile mentality over the abyss into madness was a fascinating aspect of the documentary, and the greater exploration afforded by taking the fictionalized route makes this an intriguing project quite different from most of the fare one generally finds even during the more adult-themed fall. Party Monster will not only be one to seek out during its theatrical run, but will likely spawn some awards attention as well. And if nothing else, there's always that chance to see Culkin playing out on-screen the fate of many a child star before him, one he has so far managed to avoid himself, perhaps by slaying personal demons in roles such as this one.


Your body is a wonderland. It most certainly is if you're John Holmes, the man attached to the most famous penis in the history of penises. Wonderland is apparently less about the rise of John Holmes as a porn star and more about his fall, fueled largely by his addiction to cocaine and culminating with his involvement in a quadruple homicide. Holmes' life was partially the inspiration for Paul Thomas Anderson's Boogie Nights and has been covered in the documentary WADD: The Life and Times of John C. Holmes, which played the festival circuit, but there is no doubt that there is room for another look at this fascinating life. We also admit to a bit of a rubbernecking here. The descent into hell is always more interesting than the rise to fame, so while a full biopic of his life might not pique our interest so much, the promise of a more in-depth look at his downfall has us intrigued. When you add to that a strong and deep supporting cast, this is one package we want to check out -- and you've got to love the fact that the director's name is James Cox.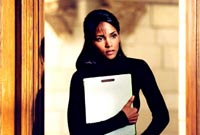 Dark Castle Entertainment is one of the most intriguing production companies in business today. Founded by the daughter of legendary horror producer William Castle, the plan was to recreate his showcase spectacles using modern special effects to fulfill his vision of true audience participation. With The House on Haunted Hill and Thir13en Ghosts, they managed a couple of stylish updates. Then, a slight change was made to the business model as Ghost Ship, a 1950s Vernon Sewell film, was done instead of a Castle classic. Now, they have totally redirected focus with Gothika, an original production of psychological horror. And we can't wait. The premise for this film is exceptional. A psychologist (played by Storm herself, Halle Berry) at a mental facility finds herself incarcerated there. She has no memory of the acts for which she has been prosecuted, including the slaying of her husband. As the pieces of the puzzle begin to fit together, Berry's character realizes she is the puppet of a vengeance demon. Trapped in a prison of madness, her wits are the only defense against this otherworldly spiritual force. The film also has a pedigree, as its co-stars are Charles S. Dutton, bad behavior poster boy Robert Downey, Jr. and the reigning goddess of love, Penelope Cruz. While BOP is always going to be up and atom for any Dark Castle production, we'd be lying if we didn't say that the presence of breast exhibitionist extraordinaire Berry and Latina temptress Cruz doesn't give the project some extra oomph.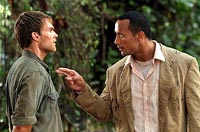 The Rock gets his ass kicked by midgets. What, you need more? With Ahnuld seemingly more interested in politics (and not worth watching anymore unless he plays a cyborg from the future anyway) and Sylvester Stallone missing in action, we are in dire need of an honest-to-goodness big bad action hero. While the gravelly voiced Vin Diesel will do in a pinch, we prefer to put our money behind Dwayne "The Rock" Johnson. In this case, he plays the people's bounty hunter, who is looking to do one last job before retiring by heading into the Amazon to snag a criminal (Seann William Scott). When it turns out that Stifler, or whatever Scott's character's name is, is actually an adventurer in search of treasure, the mismatched pair teams up together. Though the premise seems very standard and overused, don't let that deter you. This movie looks like a lot of fun. The pairing of Johnson and Scott seems to have good chemistry and there seems to be plenty of high-octane hijinks to revitalize the tired action comedy buddy film road movie genre.


Click here to read selections 15-11.
Click here to read selections 10-6.
Click here to read selections 5-1.

Click here for an alphabetical list of all selections.