Touchez pas au Grisbi
By Chris Hyde
January 28, 2004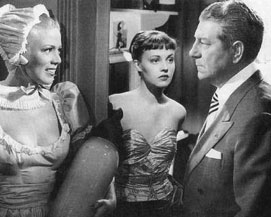 Rialto Pictures continues their stunningly perfect run of sparkling reissues with the great Jean Gabin in a Jacques Becker gangster film.
In its more than a century of existence, the French film industry has produced many actors of great talent and high stature -- but there is one star whose ursine presence still looms largest of all, even to the present day. That man is Jean Gabin, the center of countless motion pictures directed by some of the most revered names in movie history: Claude Autant-Lara, Marcel Carne, Max Ophuls, Julien Duvivier and Jean Renoir, among others. This brilliant actor's charisma is such that he dominates and grounds just about any scene that he appears in, with his hulking frame and expressive face inevitably the axis of attention for the camera. After becoming widely famous in the '30s, however, Gabin actually found his celebrity somewhat tarnished in the postwar period and by the early '50s was even thought by some to be more or less washed up.
All of this made him ideal for the lead role as a world-weary crime figure in a 1954 film by Jacques Becker called Touchez pas au Grisbi (Don't Touch the Loot). Here Gabin plays Max, a tough guy who's just pulled off a gold robbery that he hopes will be his last job. He's done the ripoff with his old friend Riton (Rene Dary), a staunch ally who unfortunately has a thing for young nightclub dame Josy (played by the beautiful Jeanne Moreau). When Riton's affair with Josy is threatened by her teasing about his lack of means, he foolishly lets her in on the secret of the thievery and the aging hoods' perfect scheme begins to unravel. This being thoroughly a gangster milieu, it should come as no surprise that the twist cues her no-good boyfriend to the deal and he subsequently starts some nasty machinations in order to purloin the goods for himself.
In the hands of many a noir director, this sort of scenario would become the setting for much shady double dealing and hazy labyrinths of lies. But Becker is far less interested in the duplicitous ways of men than in showing us the resigned humanity of his aging characters. The plot unfurls at a stately, measured pace as Gabin aims to set things right for himself and his friends amongst a Gallic setting of cafes, hotels and nightclubs. The filmmaker coolly immerses us in an underworld filled with larceny and drug running, and yet what is most notable in the character's interactions is not so much their societal underhandedness but instead their touching devotion to each other. The "honor among thieves" trope may be an old one, but with the generous and able eye of Becker observing these swindlers, the story transcends that cliché and elevates itself into a smart and sympathetic tale of old pals trapped by their own virtuous fraternity.
There is one scene in the film that is particularly evocative of the players' fate. After Max has discovered that there are people around who want to swipe their stuff, he and Riton take it on the lam and hole up in a hotel so that their pursuers will be unable to find them. The venerable pair then slowly go through their mundane daily rituals inside a fairly lengthy set piece wherein one can almost feel the crushing weight of existence that bears down upon them in their declining years. Nothing much truly happens in this scene but the simplest things of all - the two old warhorses eat a little bread, they break out their pajamas, and they brush their tired teeth. But though there is virtually no action during the five or so minutes that this portion of Touchez pas au Grisbi takes up, in the hands of the two great actors who dramatize it there is an immense amount of emotion conveyed. Feelings of loss, of sadness, of the enervating fatigue that these two have had brought upon them by their lives are here expressed perfectly with the smallest of gestures. It's a tour de force of both acting and direction, and the true genius of this scene lies in its near artlessness and the modesty of the means with which it is brought off.
The economic instants of naturalness that make this work so well are indicative of the kind of restraint that marks Becker's style throughout the film. At times, the filmmaker's approach seems almost baldly pure, as he handles his actors and settings in a straightforward way that never obfuscates his motives - or those of his characters. Wedded ideally to this approach is the eminent dramatic work of his star, Jean Gabin. Few of the performances given during the course of his outstanding career possess this much depth and demonstrate his nearly limitless skill in such a fitting manner. Perhaps it was just the fact that the part of Max matched up so well with where Gabin's career happened to be when this film was made, but for whatever reason it's a remarkable effort that stands out in a life that certainly had many memorable moments.
Final note should be made here on the gorgeous black and white cinematography of Pierre Montazel, which lends a stark and sophisticated look to every single shot of Touchez pas au Grisbi. Also always worth a mention is the spectacular work of Rialto Pictures in restoring the movie to nearly pristine form. Regular readers of this space may already be tiring of this writer constantly extolling the virtues of this operation, but there's just no denying the immense value of this company when it comes to bringing back classics for cinephiles. Rialto's archival work would be important no matter what old chestnuts they decided to lavish their time on, but as their choices seem to always involve an esteemed celluloid heirloom, one has to praise their discriminating sense of taste as well as their technical skill. So my apologies if you've gotten sick of the endless platitudes here for the stellar restorations done by this crew, but their output is so wonderful I sure wouldn't expect the kudos to stop anytime soon. Most especially with Eyes Without A Face due in these parts just next month.