Soledad Miranda
By Chris Hyde
September 23, 2003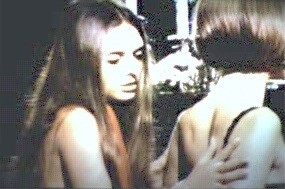 The medium of celluloid acts as preservative for those unfortunate actors and actresses who are tragically cut down in their prime--through the magic of film, their form remains fixed forever. Soledad Miranda is one such luminary who left the earth too quickly, but whose work endures as shadows on the screen.
Born in Spain in 1943, the young Miranda's Portuguese parents gave her the birth name of Soledad Redon Bueno, a moniker that translates as good solitude. From early on in her life, young Soledad showed an affinity for show business, participating in local Spanish talent contests from the time she was about eight. She also entered the film business at the tender age of 16, appearing as a ballet dancer in the 1960 motion picture La Bella Mimi. Additionally, around the same time there was a brief sighting of the actress in the Jess Franco vehicle La Reina del Tabarin, beginning a collaboration with that prolific director that was eventually to garner her much acclaim in some circles.
Early in the '60s the actress showed up in all sorts of productions, from monster movies like The Sound of Horror (whose cast also contains future Hammer film star Ingrid Pitt), sword-and-sandal features (Ursus) and spaghetti westerns (Sugar Colt). She would also work during this time with Sid Pink, a noted American producer who had moved to Europe to make films. Pink is perhaps best known for his pioneering efforts with 3-D and the Danish dinosaur flick Reptilicus, but he would use Miranda in a small part in the medieval romp El Valle de las Espadas as well as in a somewhat meatier role as a carny's daughter in the 1964 suspenser Fuego (also known as Pyro).
None of this piecemeal work actually managed to allow Soledad Miranda to break through into real fame, however, and for a brief time she left film work to marry a Portuguese racecar driver. They quickly had a daughter together -- but it seems that the screen bug had well and truly bitten the young wife, as she returned to the world of movies after only a brief hiatus. For her comeback she once again teamed up with genre helmsman Jess Franco, picking up a key role in his El Conde Dracula, a retelling of the famous Bram Stoker novel. The production had a fantastic cast (with Christopher Lee in the title role as well as Herbert Lom, Klaus Kinski and Maria Rohm) but did not really live up to its potential, perhaps due in part to the many troubles the feature ran into during filming.
Just shortly after this, director Franco entered into a contract to create a series of erotically charged thrillers for some European producers. He offered Soledad Miranda the lead roles in these three films, and she accepted although she had not previously worked in such prurient fare. She did, however, insist that her real name only be used on the prints made for the Spanish market (where they would be heavily censored) and that a pseudonym be utilized for the features that would appear in other markets. Accepting this condition, Franco created a stage name for the actress by taking one part from the sobriquet of the trashy novelist who wrote Valley of the Dolls and mixing it with another culled from the tag of a famous Hungarian-born film producer/director who was responsible for work such as The Thief of Baghdad. Thus, for this portion of her career Soledad Miranda would be known as Susann Korda, a name she would use for the rest of her life.
With his usual peculiar method of shooting, Franco would work on all three of the initial Susann Korda films simultaneously. Two of these films have not as yet resurfaced for video, though their release is imminent: both Sex Charade and Nightmares Come at Night are slated for release by Media Blasters sometime in November of this year. The other film in this trio, Eugenie de Sade, has already returned in digital form and truly shows off this spectacularly beautiful actress in the best possible light. This sleazy Sadean flashback tale allows Miranda to shine in a hip '60s milieu and to breezily demonstrate the offbeat charm that makes her so alluring. Garbed in absurd pop candy colored fashions, Miranda continually exudes a hypnotic quality that rivets the viewer's attention even inside these garishly semipsychedelic surroundings; her jet black eyes seemingly obscure nothing as they pierce the transparent space between actress and audience. Quite possibly this is the actress' most accomplished work, and as such it should not be missed by any who wish to experience the beguiling enchantment of this fascinating woman.
Following the making of these films, Franco raised money from a West German source to direct another three movies with this budding starlet during the year 1971. These were a Euro-spy outing with Howard Vernon (The Devil Came From Akasava), a revealing remake of the director's The Diabolical Doctor Z (She Killed in Ecstasy), and Vampyros Lesbos, a sexy shocker that has perhaps become Miranda's most lasting legacy. This latter production features Soledad as a rich stripper in Istanbul who lures nightclub patrons to her secluded island lair for erotic and vampiric ends. To the accompaniment of a fabulous soundtrack, this movie demonstrates the actress' fantastic talent, most particularly in the dancing scenes where Miranda works with almost feral intensity. While these scenes surely indicate that her background in dance served her quite well onscreen, they also exude a ferocious quality that has characteristics that transcend the mere surface sexiness. There is something about Miranda's performance here that feels like she is poised on the brink of something bigger, her skills as an actress set to bust out of that diminutive frame and explode into full fledged stardom. Though it was not the last of her work with Franco, this is the film where her talent seems really ripe for the breakout, and her performance in this instance is one of the most powerful of her career.
But alas, just after Vampyros Lesbos had its premiere fate was to intervene to cut this young woman's life tragically short. One day in late 1971, Franco visited her in Lisbon with a West German producer who was set to offer her a two-year contract to appear as the star in some movies with fairly sumptuous budgets. The following day, even as the lawyers began to write up the paperwork that would help assure her continued success in the world of film, Soledad Miranda was killed in an automobile accident near the Portuguese capital. This sad turn of events thus ended the dreams of the young girl who had begun a career of show business with youthful talent-contest flamenco dancing and who had risen so far as to become one of the most memorable actresses in the horror cinema of the '60s and '70s.
The dismal disaster that ended Soledad Miranda's all too brief life was devastating both for director Jess Franco as well as for fans that had come to love the actress' mysterious and almost unfathomable depths. That this loss occurred just as it seemed that her career was set to take off is truly a cruel twist, and now we'll unfortunately never know what sort of wonderful work she may have unveiled in those never made films. If there's any consolation at all in this morose happenstance, it's that at least there remains an extant body of work through which we can all continue to celebrate the life of this unique and skilled woman whose beauty and flair have few onscreen genre equals. So while we'll acknowledge the unfairness of the Fates who can take away such a vibrant performer in the very prime of her life, let's not waste too much energy shaking our fist at those wispy clouds that envelop us all; instead let's just be thankful that there still exists a means to experience the shimmering brilliance that was Soledad Miranda. For while her life was certainly ended far too abruptly in a horrible tangle of glass and steel, her creations still manage to live on today, echoing on down through the years through the unique immortality of film.