Quai des Orfèvres
By Chris Hyde
April 29, 2003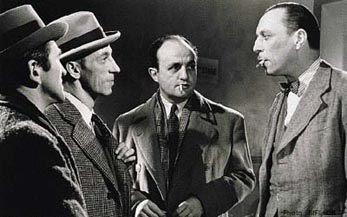 There are precious few places in North America where repertory cinema has survived the ravages of the VCR, but there are still at least enough theaters left to allow some celluloid restorations of film classics. Thankfully, what this means is that Rialto Pictures each year brings back a film or two that prove to be cinematic revelations.
This year's model is Henri-Georges Clouzot's 1947 crime drama Quai des Orfèvres. The director is one of France's greatest exports, a man with a misanthropic eye who created some of the finest works in postwar European cinema. Perhaps best known for Diabolique, a scintillating thriller with Simone Signoret that was remade by Hollywood in the 1990s, Clouzot helmed some 18 films, most of which cast a withering, cynical gaze at human endeavors. For this writer the best film the man ever made will always be Le Salaire de la Peur (The Wages of Fear), an almost unbearably suspenseful tale of a group of lowlife scum driving trucks dangerously loaded with nitroglycerine across a fetid South American jungle. (Tinseltown also latched onto this project, with William Friedkin retelling the story in a more concise - though somewhat less satisfying - form in the 1977 Sorcerer).
The setting of Quai des Orfèvres is certainly less exotic than the steaming jungles of Clouzot's masterpiece, but in many ways the characters are victims of their fate much like the hapless truck drivers of that earlier venture. The story revolves around an ambitious nightclub singer (Suzy Delaire) and her oft times jealous husband Maurice (Bernard Blier) in the music hall world of post WWII France. The chanteuse, Jenny Lamour, is looking to escape the tawdry atmosphere of the nightclubs and hopes to make it big in films, so she dallies with a rich man named Brignon whom she hopes she can cajole into giving her a big break. He, of course, would like to give her a bit more than mere money, and so when the husband tumbles to that he angrily threatens the man with death. This eventually looks pretty bad when the loaded old coot turns up dead one day, and so a police detective (brilliantly played by Louis Jouvet) appears to try and sort out just who was responsible. There's no shortage of suspects, though, for in addition to the married couple, there's also a female photographer friend of the pair who may have had her very own love triangle reasons for wanting to rub out the victim. Add in some scruffy bit players in a city that teems with people of dubious motivation and the result is a mystery that the police inspector will have to go some to unravel completely.
Known for his scathing pessimism, Clouzot is here actually in a much better mood than in many of his other projects. Though there is no shortage of commentary on the darker sides of human nature, the film lacks the hopelessness of some of his other efforts such as his 1947 film The Raven. Here, though the characters are undoubtedly operating in the sort of moral murk that also pervades many of the crime films to emerge in the late 1940s, there's a bit of optimism that tints the proceedings. Perhaps the initial postwar period gave the director's assessment of human nature something of a positive boost, for while this film is no let-a-smile-be-your-umbrella undertaking there's incontestably a bit more positivism in this film than is characteristic in the filmmaker's work.
Still, the slightly brighter tone doesn't stop the director from continually using framing devices that help amplify the trapped nature of the characters. People are often shot with grills, bars and other cagelike intrusions caught in the frame between them and the camera, emphasizing the imprisonment that is but a footstep away. At times this symbolism is slightly overwrought, but Clouzot's steady hand keeps it from becoming so pervasive that it overwhelms the action. Instead it merely reflects the plot's evolution, as each of the characters seen squeezed by iron in the camera frame might easily end up incarcerated by the end of the story. Clouzot also keeps you guessing throughout as to the ultimate denouement of the story; this is a great triumph in storytelling, as the audience is actually given a lot of back story that the police detective doesn't know and yet the outcome remains a mystery until the very end.
Additionally, there's an interesting undercurrent of class warfare that goes on during the course of the film. Jenny Lamour desperately wants to make it big; the rich old man is utterly decadent and sleazy; pointed note is made about the criminals dressing in far better clothes than the police who chase them. This is never overtly political or didactic, but it's a sure bet that the filmmaker understood fully what he was doing with the constant offhand remarks that belie people's status in society. Sly, sardonic asides that definitively root the characters within their particular social milieu are undoubtedly meant to bring attention to the conflicts inherent in a classed society, and Clouzot demonstrates his immense talent in handling this angle without allowing it to become heavy handed. The filmmaker is far too skilled to simply make bald statements about any particular group; instead flaws and more admirable traits are mixed among the classes, with each at different times exhibiting the dual nature of humanity's ways. Overall, Quai des Orfèvres is a spectacular bit of postwar French filmmaking that evinces many of the same characteristics that typify what was to become known as film noir. Beautifully presented here in a gorgeous new print struck by the dedicated folks at Rialto Pictures (the same company responsible for last year's brilliant rerelease of Pepe le Moko, the film is a black and white film lover's contrasted dream. Crime film aficionados who happen to be fortunate enough to live in a city where older movies like these should keep an open eye for this gem if it should happen to appear at their local classic film emporium. And those who are not so blessed need not despair overmuch - the equally attentive folks at Criterion have slated the film for release to DVD on May 27th. Rest assured, in any form the film is a great one, a darkly nuanced and deliciously entertaining outing by one of France's greatest filmmakers. Be sure not to miss it.