Les Yeux Sans Visage
By Chris Hyde
March 4, 2004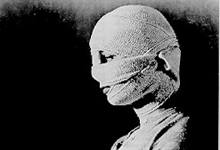 Georges Franju's 1962 mix of art and horror still stands today as one of the most haunting genre pieces ever made.
One of the most interesting personalities in the rich history of French cinema, filmmaker Franju would be a notable character even if his career had ended immediately after helping Henri Langlois establish the storied Cinematheque Francaise in 1937. But in the wake of World War Two this man moved beyond the archival world, with his first directorial work being a series of unique documentaries that he would helm beginning in 1949. Eschewing the realist approach of much of this type of film, Franju's portraits of "truth" come complete with an utterly subjective edge and a unique poetic eye. Following the nine nonfiction projects that he would make through the fifties, the director then switched over completely into the world of fiction film, where he would essentially remain for the rest of his career. Interestingly, though undoubtedly a great influence for many of the celluloid artists who would found the film movement known as the Nouvelle Vague, Franju himself would reject association with any such group­ -- a position that has left him in a bit of a historic limbo when it comes to assessing his career.
Also contributing to the somewhat mysterious nature of his output for those of us in North America is the sad lack of availability of the director's films here. As of this late date, not a single one of Franju's films has been released to DVD in Region 1 and their videocassette predecessors are also pretty scant in number. Hopefully this pitiful oversight won't continue for all too long, and with the appearance in cinemas of a brand new 35 mm print of his most famous piece we should at least be safe in assuming that there ought to be a digital version of his most famous movie on shelves sometime relatively soon. While that won't completely remedy the neglect to which this artist has been subjected thus far on this side of the Atlantic, with luck it will serve as a starting point for recognizing his brilliant talent and having more of his creative product hit the marketplace.
Operating nominally as a straight up horror tale, Les Yeux sans visage (Eyes Without A Face) is in actuality a whole lot more. The film plays out almost as a Franju tribute to the German expressionism of the 1920's, with occasional nods to the surrealist cinema that followed in its wake. One overt note of this is the presence of cinematographer Eugen Shuftan, who is known for his prewar German work­most notably some special visual effects in Fritz Lang's Metropolis. (Shuftan would also win an Oscar for his fantastic black and white camerawork in Robert Rossen's gem on pool playing, 1961's The Hustler). In the main, though, this aspect of Franju's film is felt in the generally off kilter atmosphere served up throughout each scene of the movie; every characteristic, from the lighting to the sets to the sound, reflects the seminal influence of one of cinema history's most famous pioneering movements.
The plot of Les Yeux san visage centers on a disfigured nymph named Christiane (Edith Scob) and her coldly brilliant plastic surgeon father Professor Genessier (Pierre Brasseur). As the girl has been injured in an accident that he himself has caused, this head of household is willing to go to almost any lengths to restore his progeny's face to its former beauty. Aided by his dedicated assistant and lover Louise (Alida Valli), the doctor then kidnaps young women similar in appearance to his daughter and attempts to use their facial skin to reconstruct her damaged countenance. They even go so far as to fake Christiane's death, leaving the pair free to do their experiments without the threat of police inquiry. They do leave a loose end or two, however: for one, Christiane's mourning boyfriend is still available to nose around a bit. And for another, the marred young woman herself seems rather unsure of the methods and motives being used by her dear devoted father.
While the genre elements that make up the plot of Les Yeux sans visage seem to be the usual mad scientist trappings of a standard screamfest, in execution the film adds up to much more than the sum of its bodily parts. The detached eye of Franju observes his characters from a distance, giving the tale a much more insidiously creepy air than most horror hackwork. The ensemble work of the cast is at a very high level as well, with the three principals all turning in very accomplished performances: Brasseur's doctor is maniacal, but in a coolly remote manner; Valli's obsessed assistant is played with an almost hypnotized immersion; and Scob's Christiane ethereally floats through scenes with a birdlike and waifish demeanor. Since much of this latter role is played with a mask on or with her face turned away from the camera, one might think it would be difficult for the actress to get across the range of emotions necessary to create sympathy for Christiane­but in fact her presence is such that the pain and confusion seep right through her shrouded guise.
But though the acting here is certainly of peak quality, it's Franju's assembling of all the elements of Les Yeux sans visage that truly makes it all cohere. The filmmaker judiciously parcels out image and sound to lyrically express the sad components of his tragic story, combining many pieces to eerie effect. There's Maurice Jarre's creaky carnival waltz of the soundtrack, Shuftan's stark photography and lighting, some solid makeup effects and the dank dungeonlike feel of August Capelier's production design to recommend this one. But it's the overarching hand of the filmmaker that handles all these parts in such a way that the film ends up a great triumph; every expressive moment comes charged with emotion that binds the audience to the events onscreen. The final product is such a success that the potential political implications of the story can even be set aside when assessing its impact­ -- for while it's not hard to stretch the message of the movie into a kind of parallel for Nazism and its aftermath, in the end the film stands so well on its own that this metaphoric assumption is ultimately unnecessary.
Les Yeux sans visage is, then, at last a sharply artistic and spookily elegiac example of horror cinema at its very finest. The new prints struck by Rialto Pictures for this repertory run are additionally up to their usual high standards, and here's hoping they'll be used for a spiffy Criterion DVD at some point down the road. If fortune smiles, perhaps such a release will lead to more of this sometimes overlooked Gallic master of celluloid's material being released in analog and digital format. This writer for one would simply love to see any of that early documentary work that has gotten very little exposure in North America, most particularly the slaughterhouse picture Les Sang des Betes (Blood of the Beasts). But the true plum that's ripe for an unearthing is Judex, Franju's 1963 ode to early French film pioneer Louis Feuillade. Were Rialto and Criterion to team up to get that seminal work a North American airing, it would sure go a long way towards the overdue acknowledgment of the director as being one of the most interesting personages of French film in the 20th century. For the time being, however, the new prints of his most renowned project do help to fill part of that void quite nicely. So do yourself a favor­if this one should come to your town, don't let your chance to see it go by. You'll hate yourself if you do.