Come Drink with Me
January 1, 2003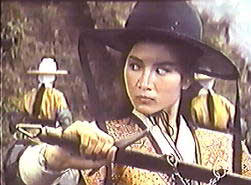 Just recently, the martial arts film Crouching Tiger, Hidden Dragon became a surprise international hit. But many who bought tickets for that movie may not realize that Cheng Pei-Pei, the actress who played Jade Fox, was in her youth a star in the kind of wu xia films that inspired this modern update. Now, with the spectacular new Region 3 DVD release of the seminal 1966 King Hu film Come Drink With Me, interested fans have a chance to see one great work that Ang Lee both borrowed from and was influenced by.
One of the most important films in the development of the martial arts motion picture, this King Hu epic is only one of a slew of titles now being brought to DVD by Hong Kong's Celestial Pictures. Though for now available only in Region 3 editions, starting in December the company began to reissue the back catalog of the historic Shaw Brothers studio in this format, and will continue to do so at the rate of approximately 20-30 titles a month for the foreseeable future. During its heyday from the 1960s through the 1980s, the company produced an amazing number of quality films in many genres, including comedy, musical, martial arts, opera and drama.
While influential with their productions in a multiplicity of areas, the Shaw Brothers are perhaps best known for the mark they left on the evolution of the fighting film. By the late 1960s, the studio had developed a lean but atmospheric style that would completely revolutionize the way that Asian martial arts films were made. While personages like the great director Chang Cheh and others were certainly instrumental in changing kung fu films, it remains the director of the present film under discussion who looms largest among them. Additionally, though he would end up leaving the studio to start his own production company and thus would not direct for the Shaws for long, King Hu's only outing with Cheng Pei-Pei for the company stands today as a singular example of what can be accomplished in the genre.
As pointed out by Hong Kong film expert Bey Logan in one of the DVD's interviews, the plot of Come Drink With Me is not unlike that of your average 1960s spaghetti western. Cheng Pei Pei plays Golden Swallow, a double sword-carrying heroine who has come to free her brother from a group of unscrupulous bandits led by the leering Jade Faced Tiger (Chen Hung Lieh). This villainous band is hoping to trade the official captive they hold for a leader of their own whom the government has, but it becomes obvious fairly early on that Cheng Pei Pei has little interest in cutting any deal whatsoever. In a teahouse scene that any viewer of Crouching Tiger should instantly recognize, Golden Swallow proceeds to demonstrate her ferocious skills while sending these ruthless cutthroats a message of her own.
Also introduced during this classic set piece is the drunken hero Fan Ta Pei (Yuen Hua) who will aid Golden Swallow throughout the film. This stumbling beggar turns out to have skills far beyond what his wine besotted demeanor might indicate, and in fact this type of character would eventually become very popular in Hong Kong films - most notably in Jackie Chan's later Drunken Master. In any case, through a series of events and with a musical interlude or two (in which child actor and future martial arts star Yuen Biao can be spotted) the inebriated fool proves himself to be an ally to the cause of Cheng Pei-Pei's character. However, while Fan Ta Pei is undoubtedly interested in helping Golden Swallow rid the land of these brutal miscreants, there is also another major battle of his own that needs to be confronted along the way.
While there is certainly enough story here to keep things interesting, the movie is truly driven by the brilliance of its actors and the breathtaking style of the action scenes as directed by King Hu. Yuen Hua very capably carries off his role (supposedly aided by much imbibing of wine prior to shooting), and the cast of actors who play the scruffy thieves and killers simply ooze evil from every pore. But head and shoulders above the excellent work of the male members of the film's ensemble is the performance of the lovely Cheng Pei Pei; her stern, thoughtful demeanor is coupled with a fluid fighting grace that anchors every scene in which she appears. Trained as a ballet dancer, the actress shines with an almost delicate elegance as she calmly dispatches enemies with her two swords during the fighting sequences. In the quieter scenes, however, she projects a radiant inner power that grounds the entire enterprise, giving the movie a steady center around which to revolve.
While much of the movie's success can be credited to the talents of its stunning lead actress, the importance of the man behind the camera also cannot be underestimated. With his own background as a painter, King Hu brings an artistic sense to his mise-en-scene; the later studio scenes that take place at Fan Ta Pei's domicile have a painterly air that suffuses the surroundings with an almost hypernatural sensibility. But the simple tone of these more restrained scenes pales in comparison to the attention-grabbing theatrics of the fight sequences. Utilizing mid to long shots that are of a far more lengthy duration than those seen in much martial arts work, the fight scenes are filmed so as to most impressively show off the skills of the performers. Additionally, in a break from previous Chinese martial arts filmic tradition, the director often puts his cameras in motion to impart a stylish vibrancy to these clashes. But Hu never just moves the camera for the sake of moving the camera, as his tracking shots are designed not only to look good but also to draw the viewer into the action of these spirited scenes.
With its measured action scenes, great performances and dramatic plot, Come Drink With Me easily stands as one of the best martial arts films ever made. Luckily, Celestial has done the film justice with this DVD release, as the transfer looks just great. The colors are very sharp (it certainly looks much better than Tai Seng's all region release of Hu's A Touch of Zen, though given the cheapness of that disc it might be a worthwhile purchase for readers who are unable to watch R3 DVD's but would like to see the filmmaker's work) and the contrast is fine. Some nice extras have been included on the disk; aside from the usual previews, filmographies and promotional materials there are a series of interviews given that enhance the viewer's experience of the movie. While Yuen Ha's is in Chinese, those of Cheng Pei Pei, Marsha Yuen (the lead's daughter, now also an actress), critic Paul Fonoroff and Bey Logan are all in English. Additionally, there's a nice audio commentary track with Logan, Yuen and Cheng Pei Pei that is entertaining despite the poor volume levels of the recording early on in the track.
Overall, then, Celestial Pictures has done audiences a great service here in bringing back this wonderful film in a form that befits its stature as one of the finest Hong Kong swordplay movies ever made. Given the runaway success of Crouching Tiger, viewers should consider themselves quite fortunate to now have the opportunity to see the woman who played Jade Fox in her prime, as Cheng Pei Pei's performance in this film is simply without peer. Taken in tandem with the phenomenal list of other great Shaw Brothers movies that the company will be releasing over the next year, these Region 3 releases are as good a reason as any for those interested in Eastern films to find a region free viewing solution for their home. For at least as far as this reviewer is concerned, the release of Come Drink With Me and the rest of the Shaw catalog from the vaults ranks as the single most exciting DVD event of 2002. Personally, I can't wait for 2003.