Le Corbeau
By Chris Hyde
February 24, 2004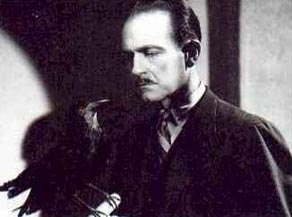 Le Corbeau (The Raven), Henri-Georges Clouzot's controversial wartime portrait of a town held in thrall by its own pettiness and jealousy returns in a new Criterion DVD.
Long known as France's cinematic master of misanthropy, Gallic filmmaker Clouzot actually started his career working for a production company in occupied France (Continental Studios) that the Germans helmed. In the postwar period, this led to charges by some on the left that the director was a collaborator, and for a while the film was banned in its home nation and its stars were even briefly imprisoned. But this project also found few supporters on the right; from that corner Le Corbeau was heartily denounced for its venomous portrait of French society and was derided for its immorality and nihilism. Now, from the perspective of many decades, a new digital transfer allows modern audiences to discover just what the film consisted of that could push so many buttons all across the political spectrum. And the shortest answer that comes back is: a true masterpiece.
Inspired by a real story in Tulle, France in 1917 wherein a villager tormented his community through a series of unsigned and slanderous letters, Le Corbeau uses a similar anonymous poison pen scenario as the basis for its script -- though it maintains an apparently contemporaneous setting for its action. In a small town in the French countryside, someone who identifies himself or herself only as "The Raven" begins to send malicious missives to the locale's inhabitants. These envelopes come by the dozens, leaving their mark on a complete cross section of the population. While the notes appear in the main not to discriminate by sex or class, they do seem to often focus their attacks on one particular man, Dr. Remy Germain (Pierre Fresnay). This surgeon is accused both of being an abortionist and of consorting with the youthful wife (Micheline Francet) of his older colleague Dr. Michel Vorzet (Pierre Larquey). There are other players here as well, though, among them a beautiful crippled girl who is in love with the younger doctor (Ginette Leclerc), her thieving younger sister (Lilian Maigne), and a righteous -- but narcotics purloining -- nurse that most suspect of being the author of the letters (Helena Manson).
While the suspense of the tale is all bound up in who is in fact the one person writing the gossipy notes, there's much more to this film than its tense trappings. Within the small society formed by the denizens of this village, the letters help to amplify extant misgivings and distrust and thus turn the town into a sort of World War Two version of Salem. Wariness and dislike are seemingly the dominant emotions stirred up by these nameless and insidious messages, and Clouzot delights here in depicting nearly all the interactions as venomous and corrosive. His jaundiced eye is not entirely humorless, however, as a number of scenes come complete with a bitterly cynical yet jesting tone that hold a number of venerable institutions up for ridicule. With this film, Clouzot's inimitable style first crystalizes into the signature withering glance that nearly all his later work would evince; a pessimistic yet insightful vision of humanity whose caustic sensibility would oft offend those of more sentimental bent.
The director's vision is not simply mean for the sake of being mean, however. Instead, Clouzot's gaze is its usual penetrating self as this provincial place is exposed for the den of lies and hypocrisy that it really is. It's in this picture of society that the filmmaker seems to really have most stirred the emotions of those that lived in Vichy France and its aftermath; the vehemence of the postwar reaction to Le Corbeau (as well as its concurrent striking popularity) demonstrates just how close to the bone this artistic view actually cut. Clouzot's harsh depiction of how a group can react to outside pressures could have been expected to strike a chord amongst those whose country had suffered from the brutalization of an dominating power; and that the anti-heroic nature of the events as they unfold onscreen would be a hard truth for such people to swallow should come as no great surprise.
This movie, then, stands on its own as Clouzot's first great work and delineates many of the trademark themes that would come to characterize the director's later work. That alone would make its release a cause for celebration -- but with Criterion behind the disc there is, of course, some more. The first notable thing here is the excellent quality of the transfer, which is simply beautiful. With this being a 60-year-old movie there are some unavoidable flaws, but the company has made sure to exercise their usual caution in getting the movie to digital, so in general the product looks visually spectacular. Also included on the DVD is a nice video interview with director Bertrand Tavernier, as well as excerpts on director Clouzot that have been culled from the 1975 documentary The Story of French Cinema by Those Who Made It: Grand Illusions 1939-1942. Lastly, not being ones to ignore the archaic analog medium, Criterion has also packaged in a 16-page booklet with a new essay on the film and two 1947 articles that eloquently illustrate the opposing viewpoints held in postwar French society on the filmmaker's work for Continental Studios.
While Henri-Georges Clouzot's great talent would need to mature some from the time of Le Corbeau before he would create his most brilliant work (that being the epic 1953 nitroglycerin jungle sprawl of The Wages of Fear), this earlier work of French cinema's biggest cynic shows that he held the seed of genius within him from the very first. The director's sensibility in this piece has led some to posit this one as an early work of film noir, that nebulously defined celluloid genre of darkness and intrigue. While that may be reading just a bit too much history into the nature of Le Corbeau, there's no denying that the murky motives of its poisonous personalities and its utterly unsentimental examination of societal iniquity presage the later flowering of that kind of postwar work. But whether or not the film can today be pigeonholed into a particular category of film history is simply a side issue; what's really important about this release is that a topnotch work by one of the best directors who has ever stood behind the camera is now available to be seen once more. That alone makes this one of the best DVD releases thus far of the year 2004.