Charley Bowers
By Chris Hyde
March 16, 2004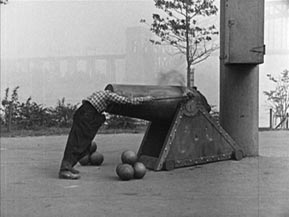 The rediscovery of the forgotten past is one of the great boons of today's technologies. For posterity, Image Entertainment digs up a few shards from a lost comic pioneer.
Given the unstable and flammable nature of the nitrate base of early film stock, much of the world's cinema past has vanished forever. However, there have always been celluloid archivists all over the globe who have preserved what pieces they could, be they newsreels, feature films or comedy shorts. With the advent of the digital age, it's now possible for the labor of these caretakers to be reassembled through the science of ones and zeros, allowing modern audiences to see the pillars upon which the entertainment of the 21st century is built. To that end, Image Entertainment and Lobster Films have now combined to bring back the work of Charley Bowers, a unique and entertaining figure from the movies' adolescence.
Though comedians such as Keaton, Chaplin and Lloyd are still well known enough today to be identified with just a surname alone, the history of comedy is littered with dozens of other gagmen whose monikers have since disappeared into the shrouded mists of time. Charley Bowers is one such personage who could easily have suffered the same fate as these anonymous slapstick contemporaries, but good fortune has allowed at least some of his idiosyncratic work to survive. Bowers first got his start in film as an animator, helming a series of some 250 black and white animated films based on Bud Fisher's popular Mutt and Jeff comic strip during the late teens and early '20s. In the later silent era, Bowers then moved into two-reeler comedy, appearing onscreen as a somewhat Keatonesque character often given to creating strange inventions. Once sound came in, the comic's engagement with film slowed substantially — though he would continue to create occasional pieces for the medium until his death in 1946.
The films of Charley Bowers were largely forgotten after his passing, and many undoubtedly suffered the ignominious fate of deterioration into their component parts. But some of the art of this one-of-a-kind personality managed to survive in the hands of European preservationists and various other collectors, most notably a few silent shorts that were found under the comedian's continental stage name of Bricolo by Raymond Borde of the Toulouse Cinématheque. It is these films that comprise the most interesting portion of the DVD release Charley Bowers: The Rediscovery of an American Comic Genius, a four-hour collection of the films of a man whose contribution to cinema has to this point been almost utterly neglected.
This compilation is a complete overview of the career of this comic artist, spanning his early cartoons right on through his last known sound films. Also included on the disk is an excellent short documentary titled Looking for Charley Bowers, which details some biographical information on the star as well as explicating the tribulations involved in unraveling the mystery of his discarded oeuvre. The 15 Bowers shorts that make up the bulk of the release display his uncommon approach to cinema, and while they vary in quality, all of the films featured help give an informed picture of an erstwhile individual from the history of the movies.
The straight animated films shown here are interesting mainly for their picture of what initial cartooning was like; otherwise, these primitive efforts are mostly forgettable slices of an episodic and not tremendously clever nature. The later silents that feature Bowers himself are far more fascinating, generally depicting the star as an eccentric gadget maker or hapless lover type. These two-reel shorts are of a completely distinctive bent, combining the comedian's deadpan mien with animated techniques such as stop motion animation and pixillation. The result is a peculiarly whimsical and offbeat style of entertainment; viewing these today, it comes as little surprise that one of the French champions of Bricolo was Andre Breton, the man who penned The Surrealist Manifesto. In films like Egged On, Say Ah-h! and He Done His Best one may not encounter Lautreamont's umbrella and a sewing machine on an operating table, but you're sure to see such rare bits of oddity as new automobiles hatched from chicken eggs or ostrichlike, metal gobbling wood puppets.
The range of invention shown in these silent shorts is wonderful to behold; and though the films are sometimes hit or miss overall, the strange combination of live action and animation has an allure all its own. Nearly all of the movies without dialogue that are on this DVD come accompanied by musical tracks, and Image has even gone so far as to offer alternate accordion, electronic and piano tracks for some. In addition to these earlier works, a portion of Bowers' later sound cinema is also featured on this disk. There's It's A Bird, his first venture into sonic territory, Pete Roleum and His Cousins (a Joseph Losey directed item created for the 1939-40 New York World's Fair that is the only film in color here) and Wild Oysters, the comedian's last known motion picture that was made for animation greats the Fleischer Brothers.
All of the material shown on this brand new offering of archaic cinema depicts an artist who certainly was nothing if not a true original, and for that reason alone this digital representation of his celluloid output makes a worthwhile contribution to the burgeoning digital archives of the silver screen. But Bowers' films stand not only as mere artifacts of a bygone age; they remain today entertaining and innovative examples of the origins of techniques that would later echo through the work of disparate animators like Rankin and Bass, Ray Harryhausen, Jan Svankmajer, and Aardman Animation, among many others. Still, though other creators have used similar modes of operation (and artists such as Wladyslaw Starewicz even predate Bricolo's signature art), the shorts encompassed here delineate a creative corpus that has few corresponding parallels in the history of what has sometimes been called the bijou. It's to our present benefit that the gatekeepers of 20th century antiquity saved these rough-hewn gems so that they might live again, and this invaluable collection is a powerful testament to the contemporary devices that allow us to glimpse the ineffable essence of what has gone before and may otherwise have simply disappeared into oblivion.