Zoolander

Review by Kim Hollis
October 3, 2001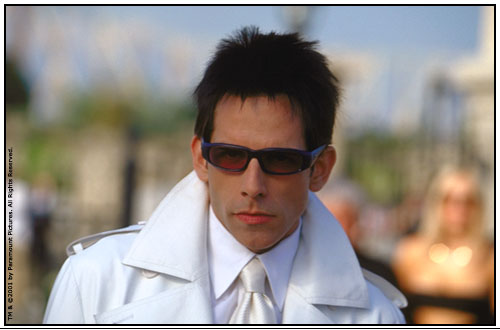 Derek Zoolander is a guy who is so ridiculously good-looking that he realized at a young age that the best gift he could bestow on the world is to become a male model.
But after he loses the VH-1 Fashion Awards Male Model of the Year title to up-and-comer Hansel, Derek decides that there must be more to life…like helping "kids who can't read good." Unfortunately, lurking in the background and wanting to use him for their own evil purposes is a syndicate of fashion designers, who need a stooge to assassinate the Prime Minister of Malaysia so that they can use child labor in that country again.
It's a fairly thin premise, to be certain, but Zoolander is still a lot of fun to watch, even though the film is ultimately forgettable.
Ben Stiller takes on directing, co-writing and starring duties in the movie, which is based on a sketch from the VH-1 Fashion Awards. The film is a bit of a wild mish-mosh that doesn't always flow smoothly, and the foundation for the story isn't really strong enough to carry an entire movie. Yet, Stiller and crew tackle the spoof with such gung-ho enthusiasm that I found myself having a blast anyway.
Stiller himself is really a riot as Derek Zoolander. He plays the role without an ounce of self-consciousness, infusing the character with an adorable wide-eyed innocence and vulnerability that I honestly hadn't expected. Oddly enough, he doesn't have much chemistry with Christine Taylor, who plays a reporter for Time and is his real-life wife. I found her to be somewhat shrill and annoying, and while her presence helped to advance the storyline, she didn't add much to the film itself.
On the other hand, Stiller's interaction with Owen Wilson's Hansel is downright hilarious. Hansel is a self-assured, hot young rising star, and Wilson is really a delight in the role. Of course, part of the humor of the film is that neither Stiller nor Wilson could hope to pass as a male model in the real world. The rivalry between the two is really just pure comedy, and I can only imagine that Wilson might have ad-libbed a number of his own lines.
Will Ferrell plays the evil Mugatu, and as always, I found him irritating. He continuously tends to be way too far over-the-top for my liking, and while this particular part certainly doesn't call for any level of restraint, he manages to go too far with it anyway. His delivery feels forced, and he simply gets too much screen time.
Also misused is Jerry Stiller, Ben's father. He plays Derek's agent, Maury Ballstein, and much of his time on-camera is spent discussing his various bodily functions. The senior Stiller is funnier than this, and deserves better than this caricature of a character.
One quality that does make the movie enjoyable is the numerous cameo appearances. It's a treat to try to spot them all, and in about five of the cases, they're used to absolutely comical effect. Unfortunately, the remaining cameos aren't especially funny, and seem more like they were just tossed in as if to say, "Hey! Look at all the famous people we were able to talk into doing this film!"
Still, there is no question that Zoolander is worth the price of admission for the one-two punch of Ben Stiller and Wilson. Additionally, there is an early scene involving Derek and his male model buddies that is so sublime in its silliness that I will always remember it fondly. I still giggle every time I remember the resulting scene that follows.
Zoolander isn't a film that is going to win any Academy Awards, and it assuredly will not be remembered as fondly as Stiller's surprise breakout hit of 2000, Meet the Parents. It is, however, silly on much the same level as the Austin Powers films, with much the same type of humor and self-effacing goofiness. The collaboration of Stiller and Wilson (this is the fourth film in which they have appeared together to date) only whets my appetite for the upcoming December release of The Royal Tenenbaums, which Wilson co-wrote and in which they both play prominent roles.