Whale Rider
By Kim Hollis
July 14, 2003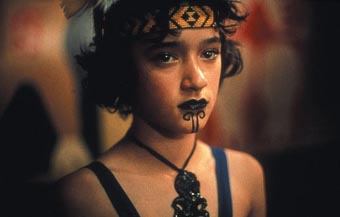 Sometimes, it's the quietest, most deliberate films that are the most affecting.
In Whale Rider, there are no big-name stars, the director is unknown, and the story is far from being mainstream, yet it's not quirky or strange, either. The movie is a simple celebration of spirit and courage with an emotional power unlike anything since The Iron Giant. It celebrates cultural mores even as it deconstructs them, using impacting performances, cinematography, music and themes to draw the viewer into its singular universe.
Based on a novel by transplanted New Zealander Witi Ihimaera, Whale Rider is the story of a 12-year-old girl named Pai, short for Paikea, a child of the Whangara tribe which habituates the Maori east coast of New Zealand. When Pai is born, her mother and twin brother die, a tragedy that also causes a very difficult and unfortunate situation. The Whangara people believe that their presence on the island results from the arrival of a single ancestor thousands of years earlier. That man, like our heroine, was named Paikea and he escaped death when his canoe capsized by riding to the distant shore on the back of a whale. After this historic event, the Whangara chiefs, who are considered to be the legendary figure's direct descendants, are always the first-born and always male.
Pai's survival in the face of her brother's death shatters this natural family line, and though the girl shows some unusual talents that might indicate that she has the makings of a chief, her grandfather Koro is bound by tradition to choose a male. It is this same unwavering devotion to the absolutes dictated by custom that has driven Pai's father to strike out on his own to become an artist.
The determined and unwavering Pai adores her grandfather and desperately yearns for his approval, but his beliefs cause him to dismiss her abilities out of hand. He loves spending time with her in a grandfather/granddaughter capacity, but a rift begins to develop when his obsession with finding a new leader comes to the forefront. He puts together a boys' school to teach some of the local young men the traditions and values required to become chief, and Pai is ultimately banished from attending. In the meantime, she learns the skills of the Whangara from her uncle (unable to become chief himself due to his second-born status). Despite the constant rejection from Koro, Pai is determined to prove her worth, and the movie shows her continuous struggle to defy convention to rise above the tribal-imposed limitations and lead her people.
With such a character-driven story, near-perfect casting was required for Whale Rider to be truly moving and heartfelt. Keisha Castle-Hughes gives the year's best acting performance as the teenager Pai, infusing the character with a self-possessed composure that belies her youthful vulnerability. One of the most beautiful little girls I've ever seen, Castle-Hughes is resilient and almost majestic. Her quiet confidence is most impressive for a girl of her age.
It might seem that making Koro a sympathetic character would be impossible, but Rawiri Paratene is definitely up to the task. Even as the viewer hates him for his seeming cruelty to his granddaughter, his obsessive drive is actually understandable. This is a man who wants nothing less than the best for his tribe, but realizes that they are stuck in a downward spiral. His dedication to his culture is admirable if misguided, but his wisdom eventually prevails despite his stubbornness.
Providing a strong, wise, female role model is Pai's grandmother Nanny Flowers, played by Vicky Haughton. A woman who is confident enough to stand up to her husband even when he is at his most obstinate and insistent, Nanny is supportive of Pai and encourages her to pursue her dreams. Haughton is delightful, a perfect foil of sorts for Paratene and an actress with a unique look.
In more of a supporting role, Grant Roa displays a deft sense of comic timing as Pai's Uncle Rawiri. He barely ever speaks in the film and conveys all his emotions with a perfect blend of body language and facial expressions. Also in a limited role as Pai's mostly absent father is Cliff Curtis, who is wonderful as the ambivalent man who wants to be more involved in his daughter's life but knows that life in the world of the Whangara just isn't for him. Youngster Mana Taumaunu turns in a surprisingly even performance as Hemi, the most talented boy in the village and the tribe's apparent best hope for a new chief.
Adding to the authenticity of the setting and the societal truths highlighted in the story are numerous local actors, many of whom fill in as extras, though some have parts that are more than just simple walk-on roles. In particular, two of Uncle Rawiri's friends are great for a few moments of levity, which is a great example of director Niki Caro's ability to keep the movie from ever growing too ponderous, particularly given the fact that Pai's tribulations are especially heart-wrenching at times.
Cinematography featuring a luscious New Zealand background is absolutely breathtaking and stands in rather stark opposition to the simple, unaffected homesteads of the characters. The score by composer former Dead Can Dance band member Lisa Gerrard is also perfectly in keeping with the contemplative and gentle action that makes up the body of the film.
All of these elements are creatively combined for a very unique film in the world of cinema today. By the time Whale Rider arrives at a fairly unorthodox and surprisingly suspenseful ending, the viewer will be so in love with the characters that the emotional impact is almost unsettling. Something this special is an absolute must-see and is recommended for the entire family.