Two Weeks Notice
Review by Kim Hollis
December 19, 2002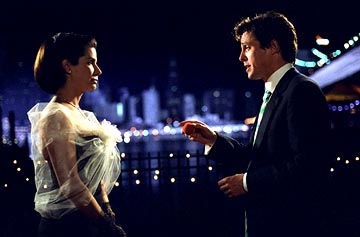 There's just something about Hugh Grant.
Whether he's playing the bumbling romantic or the unpardonable cad, he possesses a charm and vitality that simply leap from the screen. It's his presence that truly enlivens Two Weeks Notice, a movie that likely would suffer more from its occasional pitfalls if Grant wasn't one of the two main leads.
This month's model is a conglomeration of a number of his recent characters. It's easy to see the awkward, tongue-tied romantic of movies such as Notting Hill and Four Weddings and a Funeral; by the same token, the qualities of the materialistic, insensitive guys like the ones he played in both Bridget Jones' Diary and About a Boy are also present. In the case of Two Weeks Notice, he plays the wealthy George Wade, whose primary duty is to be the public face of a corporation co-owned and chaired by his stuffy older brother. An inveterate womanizer, his reputation for hiring inept female attorneys with law degrees from questionable institutions precedes him.
Enter Lucy Kelson (played, of course, by Sandra Bullock), a Harvard Law School prodigy with social issues at the top of her agenda. When George's brother instructs him to hire a "real" attorney, she winds up being the one to whom he makes the job offer. As time goes on, George finds himself more and more reliant upon his head of legal, and not just for her capabilities in jurisprudence. He values her opinions on everything from choice of clothing to upcoming speeches, and soon becomes such a nuisance in Lucy's life that she is compelled to give her two weeks notice. The story unfolds from here, and while it doesn't really tread much new ground and is fairly formulaic, the film is still a lot of fun and works well thanks to the chemistry that exists between its two leads.
Though Bullock is probably theoretically the main attraction here, the role is rather pedestrian and not particularly ambitious. She's certainly sweet enough, and the character is certainly admirable for her high moral ground, but at times she's just a little bit too overbearing in that regard. Her responses to the challenges that she faces (both in business and in love) are predictable, but she's a lot of fun to watch nonetheless. The same audience that embraced her in Miss Congeniality is going to really love her in Two Weeks Notice.
Naturally, the film doesn't live or die based on its concept or on thoroughly fleshed out character studies; it's really all about whether Grant and Bullock create sparks onscreen. In this regard, Two Weeks Notice succeeds. There are moments in the film that are incredibly tender, with a touch of the hand or a lingering glance frequently conveying much more emotion than dialogue ever could. This sweet connection carries the film straight through to its final act, where it falls apart somewhat. Some of this trouble is due to the inexplicable and completely unnecessary inclusion of toilet humor, along with a very contrived obstacle or two that annoy rather than help to build tension.
Still, even with its pitfalls, Two Weeks Notice is an engaging movie that gives Grant another chance to shine. It always seems as though he and Bullock are having a blast together, which stands out in stark contrast to the flat, nonexistent connection between J-Lo and Ralph Fiennes in this month's other rom-com, Maid in Manhattan. It's a fun little diversion and certainly worthy of a holiday trip to the theater.