Lara Croft: Tomb Raider: The Cradle of Life
By Kim Hollis
July 23, 2003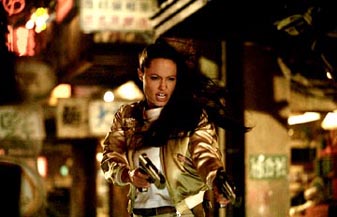 Lara Croft fans have had a rough time of it recently. The first video game-to-movie adaptation in 2001 was one of the worst films of its calendar year, and the newly released Playstation 2 game is being universally panned as an absolute failure for the series.
Enter Jan de Bont, the least likely savior I have ever seen. Yes, the man responsible for both Speed 2 and The Haunting was chosen as a replacement for the irrepressible Simon West, whose current television series Keen Eddie more than makes up for all of his past transgressions, particularly the unmitigated awfulness that was simply known as Lara Croft: Tomb Raider. That first introduction of the video game heroine to a more mainstream audience was a complete mess, with no story, bad acting, and long interminable spells of boredom.
In fact, probably the most damning thing about the first film is that I remember very little of it. Fortunately, that's not a requirement for Lara Croft: Tomb Raider: Cradle of Life (colon! colon!), which hits the ground running with all the flash and bombast one might expect from a director like de Bont. The movie opens with a village-destroying landslide (accompanied by the requisite special effects) before re-introducing us to our heroine, who looks lovelier than ever as she arrives on the scene on a Jet Ski®.
And truly, Cradle of Life is Angelina Jolie's film. Her feline demeanor is perfect for the role. She's smooth, sleek and has an air of the intellectual about her when she speaks. The English accent she adopts for the character is never distracting. At the same time, she's a total badass when she needs to be, whether it's a gunfight or a battle of wits. And let's just say it. She's an absolutely stunning woman and probably has never looked better than she does here.
But surprisingly, she's not the only eye candy in the movie. De Bont, who got his start in cinematography, constantly puts an emphasis on the glorious scenery that surrounds the action. From the mountainsides of Greece to Shanghai to the shining lights and striking cityscape of Hong Kong, he concludes the film on the African savanna. Although Jolie is always a commanding presence throughout the film, these cinematic feasts are an indication of the care that has been taken to make Cradle of Life incredibly visually appealing.
Jolie actually has a pretty decent co-star in the film; Lara Croft needs a mercenary expert to assist her in gaining access to a Chinese crime syndicate, so Scots actor Gerard Butler is along for the ride as heavy duty criminal Terry Sheridan. Apparently, Terry and Lara have a history together, and there are always undertones of that fallout in their interplay. Butler is very charismatic; he's the bad guy who you can't help but root for, though of course I am a sucker for a Scottish brogue.
The plotline isn't perfect, tight, or even consistent, which causes Cradle of Life to drag somewhat at points and to be laugh-out-loud silly at others. Still, it's a huge improvement over the first film, which had essentially no real story whatsoever and simply meandered from scene to scene with hopes that the action sequences and Jolie's gymnastics would keep audiences sufficiently entertained. In the case of the second film, there is, thankfully, a cogent storyline that is easy to follow; however, it's some of the more poorly written supporting characters that cause the film to suffer just slightly.
A case in point is "Big Bad" Jonathan Reiss (Ciarán Hinds), an uber-villain who is simply too comic-bookish to be believable. He's one of those guys like The Joker, hell bent on destruction for no good reason. Also, for people who missed the first Tomb Raider, the returning sidekick characters of Hillary (Christopher Barrie) and Bryce (the criminally underused Noah Taylor) won't make much sense, as there is an expectation that the viewer will just know who they are and as a result, they don't get much screen time.
But really, who cares? It's all about the hot action scenes (and they are certainly video game-inspired), the lush cinematography and Jolie's ability to believably step into the character. Cradle of Life exponentially exceeds its predecessor on all these counts and succeeds on its own merits. It's solid summer popcorn fun, no more, no less.