Songcatcher

Review by Kim Hollis
September 22, 2001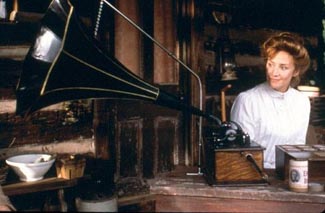 Music is life.
From the newborn child being sung a lullaby as her mother rocks her to sleep to the New Orleans jazz funerals, music fills our world with every passing day. Songcatcher is a film that illustrates this thought quite beautifully by taking the viewer to early 20th century Appalachia, where the mountain inhabitants held music close to their hearts and recognized its healing power for the soul.
Our eyes and ears for this lyrical journey belong to Lily Penliric, played by Academy Award-nominee Janet McTeer. Lily is a gifted and highly-qualified woman who is working associate professor in an East Coast university music department. When she discovers that she has been passed over for the position of full professor, she decides to escape for a bit. Her destination is the Appalachian Mountains, where her sister, Elna (the wonderful character actress, Jane Adams), has started a school for the local children.
Soon after her arrival, Elna and her partner (both in life and at the school) introduce Lily to Deladis, a teenage girl who has been left in their charge. When they ask the child to sing one of her "love songs," Lily recognizes it as having roots in songs that are being researched in Ireland and Scotland (by the individual who got her professorship, no less), and when she discovers that Deladis (Emmy Rossum) knows a host of other folk ballads, determines that she will record and catalog them for a book. Soon, the professor is trudging all over the mountain, lugging a wagon full of equipment, with the assistance of the recalcitrant Fate, a young man who does handy work around the school. She encounters various levels of friendliness and resistance from the locals, but manages to convince a number of them to sing the songs that have been handed down from family member to family member over the course of several generations.
And this is where Songcatcher succeeds. When the film is focused on the songs and the characters behind those songs, the movie is as engaging as any I've seen this year. Many of the songs are hauntingly beautiful, and those that aren't can be uproariously funny. The level of talent appearing in the film only adds to this enjoyment. Rossum has a lovely voice and nails the inflections perfectly. Also appearing are the talented Iris DeMent and Taj Mahal, though it would have been nice to see both individuals in more expanded roles. The music on the mountain illustrates both life and death, tragedy and triumph, and we laugh and are moved to sad silence as events warrant.
Additionally, Pat Carroll was just wonderful as Viney Butler, the first person Lily befriends outside of the school. She's a perfect combination of gruff, tender, independent and wise, and her songs tend toward the hilarious and raunchy. I was only one of many in my audience to be completely captivated by her performance.
Unfortunately, Songcatcher falls apart a bit in the final third or so of the movie. It basically became a formula film at that point, and it was always easy to predict what would happen next. There was a little too much "this is bad and this is good" moralizing done, where if some of the points were allowed to stay a bit more gray, I might have objected a bit less. I honestly believe that had the movie maintained just the simple focus on the importance of the music, it would have held up better, even though it may not exactly have been plot-driven.
Nonetheless, I certainly can't fault the performance of the two leads. McTeer makes Lily a strong, tough and enduring character who seems genuinely shocked and pleased at how much enjoyment she gets from her encounters with the people she meets on the mountain. I was skeptical as to whether Aidan Quinn would be able to pull off playing a mountain man with any degree of believability, but he was particularly well-cast in this film, as it turns out. I keep thinking back to one scene in particular where he is asking after the welfare of a mother and newborn child, and the emotion conveyed in his eyes when he receives his answers is extremely affecting.
Songcatcher isn't a perfect film, but I suspect it will wind up being one of my favorites of the year, and one that I will probably own on DVD. It's a movie that has its heart in the right place as the songs lead the viewer gently into the tale, and it always maintains a gentle grip as it keeps bringing those tunes back at precisely the right moments. It's telling that one of the most gripping points in the film is a sudden and unexpected solo that leads to several various characters taking different verses, which perfectly foreshadows an upcoming scene. When the music is allowed to tell the story, Songcatcher is undeniably an enchanting experience.
Postscript
October 1, 2001
One of the reasons I enjoyed Songcatcher so much was that it really made me think about my family and the music they love. Though my grandparents aren't from the Appalachians, they do live in Central Alabama, and my father's parents in particular lived on a mountain where the "inhabitants" seem to enjoy a similar sense of community to that of the characters in this film.
Only a couple of days after seeing this movie that put me so much in mind of family, on September 23, 2001, my grandfather, Buck Hollis, passed away after a 13-year battle with cancer. I will always have one song that I singularly associate with the man, because he absolutely loved to sing it. That song is Amazing Grace, and as the words to that song were going through my mind while I was standing outside on the day after his death, like a response to a call, I could suddenly hear the music from the song being played on bagpipes through the open window of a passing car. Again, it was the music that gave the comfort.
So, Buck, it seems most appropriate that I dedicate this review to you. You were an amazing man who was loved by everyone with whom you came into contact. May your gentle soul rest well.