Retro Reviews:
Fast Times at Ridgemont High
By Kim Hollis
August 30, 2003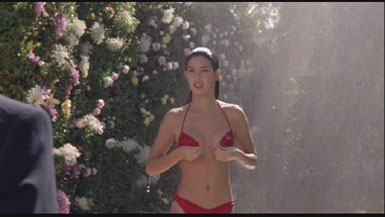 I am a child of the '80s in the strictest sense, having started junior high school in 1980 and working toward my final year of college in 1989. I suffered through Reaganomics (though blaspheming his name was a sin in a city that was less than a half hour from the man's childhood home), I watched the A-Team, Magnum P.I., Miami Vice and Riptide, I mastered the Rubik's Cube, played Pitfall and River Raid on the Atari, and wore Izod shirts and Jordache jeans. Even today, I'm a sucker for the music the era produced; from Depêche Mode to Orchestral Manoeuvres in the Dark, heavy metal hair bands to punk rock freaks, these were the formative years of my aesthetic taste.
Significantly, it was this decade when I fell in love with the movies of all sorts, though I didn't quite discover the joys of the art house until I took a graduate level 20th century drama class in college. Even so, it was during the '80s that I found John Cusack, David Lynch, Steven Spielberg, Terry Gilliam, Tom Hanks, and Bruce Campbell, not to mention my favorite director and screenwriter Cameron Crowe.
Now that Jelly-style shoes, Freddy Krueger, Jason Voorhees, the Terminator and the aforementioned Rubik's cube are all making comebacks, looking back in time (hello…McFly) has never been so much fun. So join me as I look back at the filmic masterpieces and missteps of that gloriously materialistic Me decade, starting with one of the seminal high school movies of the epoch, Cameron Crowe's screenwriting debut Fast Times at Ridgemont High.
As we learned from the semi-autobiographical Almost Famous, Crowe became a rather accomplished writer at a young age. As such, he was able to research a novel about high school students by blending into the crowd as a teenaged-looking young man. The result was a book entitled Fast Times at Ridgemont High, which ultimately begat both a movie and a short-lived television series. One of the iconic high school comedies of the era, Fast Times was significant for introducing audiences to a number of bright young stars and stands out as an example of the loose sexual attitudes that were pervasive before the AIDS epidemic. Even so, the various character studies were handled deftly thanks to the fine writing from Crowe and the directorial sensitivity of Amy Heckerling.
Probably the most memorable character from the film is the pot-smoking surfer/slacker Jeff Spicoli, played with wild abandon by Sean Penn. His epic battles with Mr. Hand (Ray Walston) are nothing short of legendary, from the classroom pizza delivery to Mr. Hand's sudden appearance at Spicoli's bedroom door on the night of the graduation dance. Spicoli's trademark Vans sneakers and Hawaiian shirts inspired a fashion trend for teenaged boys, and his "Totally awesome!" catchphrase was oft-repeated. It's an early and somewhat limited introduction to Penn's acting abilities, and is a touch incongruous with his other, more substantial roles. Nonetheless, it was a breakthrough performance that allowed him to take on parts that were very suited to his underappreciated talent.
The other two most noteworthy roles belonged to Jennifer Jason Leigh and Phoebe Cates. For many years, I actively disliked Leigh's disaffected Stacy Hamilton, a naïve youngster who is experimenting with her own sexual awakening in what can only be viewed in a destructive manner. The nuances of the performance have grown on me as time has passed, though. After losing her virginity to a man who is older than her by a decade, she then makes her way through a couple of the boys in her class, discarding a fairly sweet and demure relationship for one with the boy's "cooler" best friend. This encounter has disastrous results, but is a fairly strong representation of the attitudes that prevailed at the time.
Every red-blooded North American man has fond memories of the Phoebe Cates character, the self-assured and experienced Linda. She is Stacy's best friend and considers herself to be more mature than her classmates, partially by virtue of the fact that she is dating a college man. If her "banana lesson" at the beginning of the film didn't make male viewers hot and bothered, her swimming pool scene certainly did. Though she has mostly retired from acting in the years since her marriage to Kevin Kline (I guess she really does like the older men), she was a gorgeous young woman who probably made a number of laminated lists during that time frame.
Partially around as comic relief but also a terrific character study of a typical young man nearing graduation is Judge Reinhold as Stacy's brother Brad. He's exploring his potential life options as he moves about from one part-time job at a fast food joint to another, all the while wondering if he shouldn't also break up with his longtime girlfriend and play the field as a successful single guy. He's a lovable doofus in the role and though his character isn't the one that immediately springs to mind when remembering the film, his performance is definitely one of the strongest.
There are two other characters that are vital to the film, but have had mostly unremarkable careers since the glory days of Fast Times at Ridgemont High. Even so, both Brian Backer as the nerdy but heartwarming Mark Ratner and Robert Romanus as the slimy Mike Damone are critical to the film's story and are both stellar in their respective roles (and if you ever get a chance to catch Romanus in the '80s TV series, Fame, do yourself a favor and watch).
Aside from those major characters, there were a number of peripheral performances that are certainly worthy of attention, including Nicolas Cage as Brad's bud, Eric Stoltz and Anthony Edwards as Spicoli's stoner cohorts, Forest Whitaker as football star Charles Jefferson, Amanda Wyss (best-known for her roles in Nightmare on Elm Street and Better Off Dead) as Brad's girlfriend Lisa, and freaky-looking dude Vincent Shiavelli as Mr. Vargas. The future Mrs. Cameron Crowe (Nancy Wilson) also has a cameo as a hot chick in a sports car.
Tying everything together is a fantastic usage of music. It's impossible not to hear a number of the songs from Fast Times at Ridgemont High without recalling the related scene in the film. Numerous characters actually have theme songs -- Stacy's is Jackson Browne's "Somebody's Baby," Brad's is Joe Walsh's "Waffle Stomp," Spicoli gets Jimmy Buffett's "I Don't Know (Spicoli's Theme)," and Linda of course gets The Cars' "Moving in Stereo." Throw in a dash of Tom Petty, Sammy Hagar, Billy Squier and Oingo Boingo, and you've got a compendium of all of the types of music that typified the decade.
It all adds up to what I consider to be the greatest high school movie ever, as it illustrates a realistic cross-section of teenage life. It's a particularly auspicious start to the outstanding career of Crowe, who followed up by writing a mostly forgotten sequel (and probably rightfully so). The Wild Life focused on the real-world exploits of the minor character portrayed by Eric Stoltz in Fast Times, with Chris Penn taking his brother's place as the ultimate party dude (though he isn't named Spicoli). After that stumble, though, Crowe's career has seen nary a falter (though some would disagree with me that Vanilla Sky is an outstanding film). He directed his first film with 1989's masterpiece Say Anything, following up with excellent stuff like Singles, Jerry Maguire, and Almost Famous. Like these later films, Fast Times at Ridgemont High captures the spirit and emotion of an era and a generation, and I'll always have an affinity for the flick because it was released just as I was entering high school myself. Less slapsticky and punch-line driven than the John Hughes productions that also typify the '80s, it's an honest and genuine look at high school life in that period.