Pleasure and Pain
Review by Kim Hollis
November 28, 2002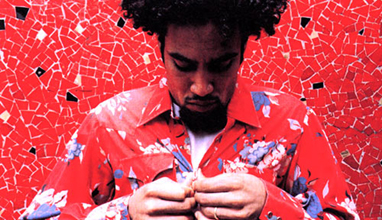 If you get your music kicks from MTV or the radio, you may not be familiar with the music of Ben Harper and the Innocent Criminals. As a particular revelatory moment in this terrific documentary makes clear, Harper hasn't cultivated his wide-ranging audience through airplay or other conventional means, but rather by word-of-mouth. Like the blues and reggae artists who so strongly influenced him, Harper is a growing success not because he bows to the demands of flavor-of-the-day audiences, but he instead embraces his eclecticism and fuses it together for a singular blend of music that includes jazz and blues and ranges from folk to funk, and reggae to rock.
Pleasure and Pain, an 89-minute portrait of the musician and his band, keys in on that diverse appeal and provides a wonderfully layered glimpse at the artist's life and work. The documentary, which is interspersed with actual concert footage, follows Harper's travels as he and the band embark on a concert tour and also delves a bit deeper into the musician's personal life - his views, his creative processes, and his relationship with his family.
Co-director/producer Danny Clinch is well known throughout the music world as one of the premiere photographers in the business. His work appears on numerous album covers and myriad magazines, and has given him the opportunity to work with artists as varied as Johnny Cash, Bruce Springsteen, Tupac Shakur, Metallica, Phish and Tony Bennett. The director is as creative in his motion picture photography as he is with still pictures, using color, shading and tone to illustrate the themes as they unfold.
But it's really the intimacy of the documentary that is most striking. Harper talks candidly about religion, race, and publicity. Though he's remarkably engaging in his frank discussions that take place throughout the film, he nonetheless has some (probably justified) run-ins with reporters who are looking to profile him during the course of his tour. Much like his music, many of his opinions diverge from the everyday, but definitely contribute to a complete picture of a man who is intriguing and unique.
The film is divided into four fairly distinct portions: first highlighting the U.S. tour, then moving on to Harper's home in Southern California. Next comes a discussion of blues guitar styles and methodologies before the final culmination at a huge sold-out concert with 20,000 fans in Paris. The section of the film that is most resonant is the home-life segment, where we see Harper as he spends time both at his mother's home and his grandfather's music shop. As we learn that Harper grew up in the shop, playing with the various instruments and watching his grandmother give music lessons, it's easy to see how music ingrained itself into the musician's life. More touching, though, is his relationship with his mother, who sings and plays the guitar just like her son. Easily the sweetest moment of the film (and there are a few) is a duet between mother and son as they play a Bob Dylan tune together. It's hard not to love a guy who calls that the highlight of his musical life.
All in all, the greatest compliment I can give to Pleasure and Pain is that despite the fact that I am not widely familiar with Harper's music (I like a number of individual tunes but don't have a great comprehension of his body of work), now that I've seen this documentary I am very interested in learning more about the artist and hearing his albums in their entirety. The documentary has just become available on DVD, but for those who enjoy a more communal movie-going experience, it will also be playing in a number of small venues in the upcoming weeks. Check the schedule below to see if it's coming to a theater near you.
Upcoming Screenings
Boulder, CO - December 4th
Saint Cloud, Minnesota - December 5th
San Luis Obispo, CA - December 5th
Memphis, TN - December 6th
Honolulu, HI - December 6th - 12th
San Francisco - December 12th & 13th
Pullman, Washington - December 13th & 14th
Boston - December 13th - 27th
Columbia, Missouri - December 14th & January 31st
Minneapolis, MN - January TBD
Humboldt State University, CA - February 13th