2001: A Box Office Review
Part Ten: October
By Kim Hollis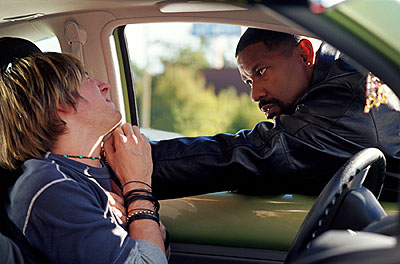 October is not a month that is particularly known for boffo box office, with a grand total of two films to open over $20 million. Generally, this slump is indicative of a perceived lack of quality, and 2001 was really no exception. Though late September showed us that post-9/11 audiences were hungry for escapism, for the most part October offerings simply didn't fit the bill, though the month total for 2001 was a much bigger success overall than that of Y2K, when Meet the Parents sat at number one on the charts all four weeks.
Still, surprisingly enough, October was the debut month for two Academy Award-nominated films, and a third of the releases can be considered strong successes relative to budget. From bad cops to bad dubbing to just plain bad movies, October offered a slate of 14 wide releases (and one limited release film that drew a lot of attention when yearly awards came around) in what turned out to be a very forgettable month.
October 5th-7th
Four new films hit screens on this weekend, with the most obviously noteworthy movie of the bunch being Training Day. The Denzel Washington starring vehicle had originally been planned for September 21st. but the studio (probably wisely) chose to push it back a couple of weeks as networks and cable channels were in full programming mode with few commercial interruptions due to the horrific events of September 11th. By moving Training Day back two weeks, Warner Bros. gained vital marketing time that allowed them to build fantastic awareness for this future Academy Award-nominated film.

Training Day actually moved into the slot abandoned by Collateral Damage, the Arnold Schwarzenegger movie with a terrorism-driven plot. At the time, Arnie's film was pulled from the schedule indefinitely as studios attempted to use sensitivity in the delicate and painful weeks following the terrorist attacks in New York City and Washington, D.C.

With an opening weekend of $22.6 million, Training Day became the second-highest opening ever for the month of October after only Meet the Parents, which premiered on the same weekend one year earlier. Training Day was also Denzel Washington's career highest opener, and eventually both he and co-star Ethan Hawke received Academy Awards nominations for their work in the gritty police drama. The film currently sits at $76.3 million in domestic earnings and has accumulated an additional $20.6 million internationally, which means it was a very profitable venture when compared to its $45 million budget, with excellent rental numbers likely looming large on its video street date.

Somewhat lost in the impressiveness of Training Day's bow is the fact that three other films debuted on this first weekend of October, though only one of them was bound for any real success. Serendipity, the romantic comedy from Miramax, opened in second place with a very respectable total of $13.3 million. The movie paired John Cusack and Kate Beckinsale, both of whom were coming off of sizable summer hits in America's Sweethearts and Pearl Harbor. Serendipity was a perfect example of lighthearted fare being offered at the perfect time, and it went on to gross $50 million in North America with an additional $14.4 million in international receipts. Since the film was produced for $28 million, the rental and video sales numbers to come later will only be gravy.

A movie that was produced for $23 million, Joy Ride started its theatrical run with a $7.3 million weekend. The thriller about a trio of young people (Paul Walker, Leelee Sobieski and Steve Zahn) who are terrorized by a vengeful trucker wound up with total box office of $22 million and no readily available numbers for international receipts. Once rental receipts start rolling in later this week, the film will cross over to being profitable, but it probably didn't quite perform up to Fox's expectations.

The final new entry for the first weekend of October was Disney's Max Keeble's Big Move. This comedy about a boy who plans for vengeance against bullies before he moves to a new town made only a small splash as it earned a slight $5.4 million in its first weekend on its way to $17.3 million total box office. With additional worldwide receipts of $11 million, the film was certainly profitable relative to its $12 million budget, but with the recent hunger for youth-oriented fare, Disney had to be hoping for a bit more. It will still have rental receipts to add to the total kitty, but these numbers are generally fairly insubstantial for live-action kid flicks.
October 12th-14th
Three new releases limped into theaters but couldn't steal the thunder of Training Day as it repeated at number one with $13.4 million. Bandits came close, though. The film launched in an astonishing 3,207 theaters but was only able to pull in a weekend take of $13.1 million. Put simply, this movie was a disaster for MGM. Its eventual $41.5 million gross didn't even come close to approaching its $80 million budget, and even adding in international receipts of $19.4 million doesn't make the situation much rosier. Even with the star power of Bruce Willis, Billy Bob Thornton and Cate Blanchett attached, the movie simply didn't play to a broad audience and lacked a real hook.

On the other hand, the other two new openers performed very admirably for their respective studios. Corky Romano, which starred Saturday Night Live cast member Chris Kattan, got off to a terrific start with a third place finish for the week and $9 million. It eventually wound up with $24 million total (but under a million in international receipts) and is a decent candidate for sleeper video success. Buena Vista produced the comedy about a veterinarian who goes undercover with the FBI to help his mob boss father for a mere $11 million, and must have been very pleased with the end results.

Miramax paid only $2 million to acquire U.S. theatrical distribution rights to the Hong Kong actioner Iron Monkey and the move was a resounding success. The studio was very wise in their promotion of the film, emphasizing that the 1993 HK production was directed by Yuen Woo-Ping, fight choreographer of The Matrix and Crouching Tiger, Hidden Dragon. Iron Monkey scored a $6 million debut and wound up with $14 million before exiting theaters and wound up being even more successful than other Hong Kong films such as Rumble in the Bronx, The Legend of Drunken Master and Black Mask, which featured higher profile stars in Jackie Chan and Jet Li. Miramax will attempt to capitalize on the current U.S. interest in Hong Kong cinema when it releases Zu Warriors later this year. They're already shrewdly positioning it in theatrical trailers as a Zhang Ziyi starring vehicle even though in reality she is basically a minor character in the story.

There is one other big story that comes from this particular weekend as Mulholland Drive made its first appearance in theaters. It debuted in 66 theaters and managed a strong weekend total of $587,591 for an impressive screen average of $8,903. Though the film hung around in theaters for a number of weeks to follow and wound up grossing a total of $6.95 million domestically against its $10 million budget (with an additional $4.7 million in international receipts), Mulholland Drive is of interest primarily for the critical attention it received at the end of the year. It was lauded by a number of critics' organizations, including the Chicago Film Critics Association, the National Society of Film Critics, the Online Film Critics Society and the Boston Film Critics, as best movie of the year. All of this critical attention led to only one Academy Award nomination for director David Lynch, but there is no question that the film is being widely discussed for its ambiguity and for the wonderful performance by lead actress Naomi Watts. I expect the video release on April 9th to be a moderate success.
October 19th-21st
Three new wide releases, three more disappointments. From Hell, Riding in Cars with Boys and The Last Castle failed to draw substantial audiences and none of them can be considered successes when taking budget into account.

Fox had high hopes for the Johnny Depp murder mystery From Hell. It had a hot trailer that was stylish and intriguing, and the talented Hughes Brothers seemed to have created a dark, foreboding atmosphere that was completely appropriate to what the film was trying to accomplish. Even so, the film performed quite a bit lower than many analysts expectations as it displaced Training Day for number one when it opened to $11 million in its first frame on its way to a $31.6 million total. Though international receipts added an additional $9.8 million, Fox was almost certainly hoping the film would exceed its $35 million budget by a great deal more. From Hell is another excellent candidate for renewed life on video and should add some decent receipts to its tally once it is released in that format.

A bigger disappointment would be Sony's Riding in Cars with Boys, which stars Drew Barrymore as a young woman whose life changes after an accidental pregnancy. The film was produced for $48 million and had a decent first weekend total of $10.4 million, but unfortunately the support primarily came early in the movie's run. It wound up with $29.8 million, which is good for a 2.9 open-to-final box office multiplier. Considering that previous Drew Barrymore films such as Never Been Kissed and Ever After managed multipliers of 4.7 and 7.7 respectively, it wasn't necessarily illogical to hope that she had a certain fan base that might show up to support her film later in its run. It may manage to barely turn a profit once rental receipts are in.

Yet, Riding in Cars with Boys wouldn't be the biggest letdown of the weekend. That honor goes to DreamWorks The Last Castle, which opened in fifth place with a weekend total of $7.1 million. The movie starred Robert Redford as a decorated military general who is sent to a military prison and leads an uprising against a hard-hitting warden (played by The Sopranos' James Gandolfini). The marketing was very vague and gave the film an almost patriotic appearance, but audiences weren't buying it. The Last Castle managed to gross $18.2 million by the end of its run against a hefty budget of $60 million. You probably would have forgotten the movie completely had I not mentioned it here.
October 26th-28th
The final weekend of October was a substantial one for two new openers. K-Pax took the top spot with $17.2 million, which is good for third-best opening ever for the month. The movie starred Kevin Spacey as a psychiatric patient who claims to be an alien from a faraway planet, and was produced on a budget of $48 million. Over the course of its domestic run, K-Pax wound up grossing $50.2 million for Universal, which isn't exactly eye-opening relative to production costs but is still a nice, tidy little sum nonetheless. Once rental receipts and international numbers are added to the tally, it should wind up being a profitable venture for the studio.

Warner Bros.' second collaboration with Dark Castle Entertainment, Thir13en Ghosts, finished in second for the weekend with a very solid total of $15.2 million. The film was perfectly timed as a Halloween scarer and had an absolutely terrific trailer that was targeted to precisely the right audience. With a final box office total of $41.9 million, Thir13en Ghosts was quite lucrative in comparison to budget figures of $20 million even without rental numbers and worldwide box office added to the overall number.

The other two debuts were just barely blips on the radar screen. Both featured stars who are more famous for music than for acting, both had budgets of approximately $10 million, and both made less than $3 million for the entire weekend. The first of these is Snoop Dogg's Bones, a criminally underrated little horror flick that was able to pull in $2.8 million over three days. Since the film was actually released on Wednesday the 24th, it already had $800,000 in the kitty, but the New Line release wound up with an awful opening-to-final multiplier of 2.3 for an eventual total of $7.31 million.

On the Line was even worse. The debut for N'Sync's Lance Bass wasn't even able to match the dismal total of joke-of-the-previous-month Glitter. The latter debuted with $2.4 million, but On the Line's opening weekend total amounted to only $2.3 million. Making matters worse, the Miramax production was out of theaters before a month could even pass, and its opening-to-final multiplier was a pathetic 1.9. Apparently, the only people who wanted to see this flick were teenage girls - and they rushed out during opening weekend to do so.

By he time all the numbers were in, October of 2001 was good for an impressive 5.7% increase over the previous year. 2002 looks to offer much more of the same, including two films that look to be dump jobs in Undisputed and Knockaround Guys, a couple of possibly decent films that have shifted around the release schedule in Stealing Harvard and A View from the Top, and finally Ghost Ship, Dark Castle's next offering.

<% sqlstr = "SELECT * FROM box WHERE y=2001 AND m=10 ORDER BY open DESC" max = 200 header = "Films that opened in October 2001" tstyle = "release" skin = "bop" x = Drawtable(sqlstr,max,header,tstyle,skin) %>