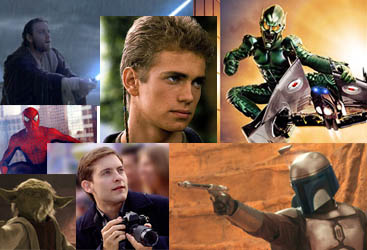 May Forecast: Iron Exec!
By Kim Hollis
"Tell me what you watch, and I'll tell you what you are." --Brilliant Savant

Fugu: Five years ago, a man's fantasy became a reality in a form never seen before: Studio Stadium, a giant movie distribution studio. The motivation for spending his fortune to create Studio Stadium was to encounter new, original movie offerings which could be called true artistic creations. To realize his dream, he secretly started choosing the top performers from various schools of producing, and he named his men the Iron Execs, the invincible men of theatrical, managerial and monetary skills. Iron Artiste Australian is Rupert Murdoch. Iron Artiste American is Michael Eisner. Iron Artiste Armenian is Alex Yemenidjian. And Edgar Bronfman, Jr. is Iron Artiste Canadian. Studio Stadium is the arena where Iron Execs await the challenges of other master executives from around the world. Both the Iron Exec and the challenger have two hours to put together a movie so tantalizing that audiences will be unable to resist. Using all their senses, skill and creativity, they are to prepare artistic novelties never seen before. And if ever a challenger wins over the Iron Exec, he or she will gain the people's ovation and fame forever. Every battle, reputations are on the line in Studio Stadium, where master executives pit their artistic creations against each other. What inspiration does today's challenger bring? And how will the Iron Exec fight back? The heat will be on!
---
Chairman Kang: If my memory serves me correctly, a young upstart named John Calley was instrumental in the launch of television network NBC's very first nighttime programming schedule. His career evolved quickly into the realm of film, where he developed and produced such hits as Ice Station Zebra and Catch 22. After joining Warner Bros., he became highly successful, and was responsible for all of the films from Clint Eastwood and director Stanley Kubrick during a long period which began in the 1960s and lasted all the way through the early '80s, not to mention that he was heavily involved in a little film known as Superman.
Eventually, Calley would become head of Sony SPE, which has been a wonderful studio with a number of movie hits, such as Crouching Tiger, Hidden Dragon, Charlie's Angels, Big Daddy and Men in Black. With a stunning track record of success, Calley's Sony SPE is considered a world leader in cinema. Now Calley wishes to enter Studio Stadium to pit his incredible abilities against the masterful creations of…The Iron Execs!
Welcome to Studio Stadium, Calley-san. It's our pleasure to have you challenge one of our Iron Execs.
Calley: Thank you. I will do my best, and I think I will win.
Chairman Kang: Very well. Now I must ask you…who is the Iron Exec that you wish to challenge today?
Calley (pointing): Murdoch-san!
Fugu: Ah, Iron Artiste Australian is Rupert Murdoch, a media mogul who was born in Melbourne, Australia, and started out in the newspaper business, where everything he touched turned to gold. Now he dominates all forms of media as the chairman and chief executive officer of News Corporation, a company that includes 20th Century Fox and the Fox Network. His studio has produced five huge hits over the course of the last three years, and knows how to do summer blockbusters! Can the Iron Exec maintain his record over today's challenger? Time will tell!
Chairman Kang: This is the month of May, which in Kyoto is known as the Festival of the Greasy Fan-Boy. Though the sun is shining, the flowers are blooming and the smell of spring is in the air, these enigmatic creatures stay inside their homes, pondering over picture books and plastic action figures, with the only occasional sightings occurring when these strange individuals venture out of the home to go to the nearest McDonald's or Kentucky Fried Chicken.
To celebrate, we unveil a special theme ingredient that matches perfectly with this time of year, and you should both find creatively incorporated into your productions. Today's theme is…
Greasy Fan-Boy Icons
[the challenger and the Iron Exec exchange huge grins]
Chairman Kang: Allez-cinemaaaaaaaaah!
Fugu: Bang a gong and we are on. I'd like to explain the importance of the Greasy Fan-Boy icon, because you have to understand that these unique people known in some communities as GFBs have enthusiasm for different comic-book heroes or science-fiction/fantasy films and series that far exceeds that of a normal human being. They hold these icons, like Batman and Captain Jean-Luc Picard, most dear! Let's go down to the action, and the challenger has knocked the Iron Exec down to get to the table and he has selected…ah, he's looking through the Marvel Comics section and yes, he's selected the web-slinger known as Spider-Man. That's a strong choice.
Dr. Frinkori: And a bold one, Fugu-san, especially considering that there are many other super-heroes and other icons who are far less geeky and much more interesting.
Fugu: This is the Iron Exec's realm of expertise, and he has wisely gone with a very familiar GFB icon…Star Wars.
Dr. Frinkori: Not a very bold choice, but certainly one that will win over the judges if done correctly. Let's see how our two players prepare their masterpieces. Glavin.
Fugu:
But first, let's introduce our panel. Over to my right is Dr. Frinkori -
Dr. Frinkori: Mm-hai.
Fugu: And joining us is Inani Actrici
Inani: *giggle*
Fugu: And now let's head out to the stadium to see what's going on. Let's take a look at the challenger's side, and he's working with Spider-Man here. If I can get a closer look...yes, he's chosen Sam Raimi as the director of this piece.
Dr. Frinkori: That's a terrific selection, too. Raimi has done some unique work in the past, and is famous for his early start with the Evil Dead series of motion pictures. He's never really done a big budget film before, so it's certainly a bold choice, but I think it will be a popular one with our judges. Mw-hurgn-whey.
Oh-to: Fugu-san, dude
Fugu: Hit it, Oh-to.
Ohto: Man, this challenger guy is really smart. Sam Raimi is, like, the Evil Dead dude and all that. Also, he says Aerosmith is on the soundtrack. All right!
Fugu: Thank you, Oh-to, and now we move over to the Iron Exec's side, where he has made the obvious choice of George Lucas as the director. He's sticking to tradition, but will it work for him versus the new style of the challenger?
Inani: Oooh…what's that he's doing now? Is he looking for a Skywalker? I think he should go with an unknown young man.
Dr. Frinkori: The role is mine, with the acting and the groupies, with the light saber and the vwing vwing vwing vwing.
Fugu: That's not how you vwing.
Oh-to: Fugu-man!
Fugu: Yes, Oh-to.
Oh-to: The Iron Exec has added a lot of things to the mix, including a youngster named Hayden Christiansen as Anakin Skywalker-
Inani: See? I told you!
Oh-to: -and the dude has also added some clone things that should provide some real zest. He says he's going to stick mostly to tradition, though.
Fugu: Okay, and we're almost at the halfway point, so let's take a look at what the challenger is doing.
Dr. Frinkori: Sweet glayven! The challenger has selected Tobey Maguire to play the hero!
Fugu: That is a bold choice, but he seems to have gone even a bit wilder with the design for that Green Goblin costume.
Inani: Why would he do that?
Fugu: Not sure, Actrici-san, but that one might not sit well with our judges.
Dr. Frinkori: The Iron Exec has thrown the flayven in with the Jangos and the Jar Jars and the Darth Tyrannosaurus Rex.
Fugu: That's right, Dr. Frinkori, and this creation appears as though the Iron Exec is going to break from tradition somewhat and go kind of heavy on the love story. I don't know how our judges are going to react to that, but the challenger has got some action scenes going and they involve a lot of web-slinging and some wet T-shirt effects. They've both worked very hard, and we're almost to the end of our battle-
Disembodied female voice: Ten seconds to go…five seconds…three, two, one.
Fugu: And there's the bell, our Execs have finished and this Greasy Fan-Boy icon battle is ov-ah!
[Oh-to interviews the challenger]
Oh-to: Dude, how do you think you did out there, Calley-man?
Calley: I did my best. I think I will win.
[Oh-to interviews the Iron Exec] Oh-to: Whoa, that was a tough battle there today, and you're looking at some heavy judging. How do you feel?
Murdoch: I feel like I did my best. I think I will win. Crikey.
JUDGING
Fugu: Today's panel…Former Lower House member Banky Brodie, actress Inani Actrici, and comic-book store owner Bilbo Bagund.
Challenger Calley: I tried to put together a creation that would please the fan-boys in particular, but that would also give the public some background into the story of Spider-Man, if they are unfamiliar with this superhero.
Inani: It's like the movie is dancing in front of my eyes! Tobey Maguire is cute!
Banky: Kirsten Dunst is all wrong for the part of Mary Jane, even though she's cute. Why does the Green Goblin look so fucking stupid? Can I go now? I want to play Final Fantasy X.
Bilbo: Oh, this is truly a momentous occasion. You have taken all the best parts of Spider-Man and brought them to life before my very eyes. I had only hoped that I would be able to see something like this before my dying day. I cannot wait to re-enact the scenes with my action figures…wait…that would mean I would have to remove them from their packaging. Oh, sweet irony!
Iron Exec Murdoch: It's a Star Wars movie, mates. I don't know what else to say, except I abso-bloody-lutely guarantee you're going to love it!
Inani: Wow, I can't believe how the movie dances before my eyes. Ewan McGregor is cute!
Banky: The person who created the character of Jar Jar should be shot. What the hell were you thinking, making this a love story, anyway? It's fucking Star Wars, man! I want to see light sabers and pod races and Death Stars and where the fuck is Darth fucking Maul, anyway? Also, can druids have sex?
Bilbo: Oh, I am crying at the wonder I see before me! The movie simultaneously scared and delighted me, and this is by far the best Star Wars movie ever. HOLY JESUS! What a thrill ride. It is precisely the action/romance/science-fiction/fantasy epic that this world needed. I can't wait to do scenes from the film with my convention friends. Now, where is my Jango Fett doll?
RESULTS
Chairman Kang: This has been a monumental battle that will live on in our hearts and memories for a very long time. The challenger has fought bravely and hard, and I am impressed with his abilities and creativity. The Iron Exec proved once again that he is the master with his marvelous creation, and our judges were left suitably amazed by both men. Now, the results.
[piano music plays] Fugu: This was a battle for the history books, set about the mystical Greasy Fan-Boy Festival of Kyoto, with an impressive challenger forced to match wits with an Iron Exec who's willing to put almost anything on the line. The challenger was able to produce a wonderful creation with an icon so loved by the fan-boys that you could see them salivating on the sidelines even before the match was complete. Iron Exec Murdoch was so confident in his own abilities that he went with an old standby, but he seems to have been able to be the talk of all the slobbering geeks, anyway. But the Iron Exec is immensely stubborn and is determined to stay with tradition and cancel Futurama like a bonehead. But who will win it? Whose cuisine reigns supreme?
Chairman Kang: Iron Exec Rupert Murdoch!
[wild applause]
Fugu: There it is, a win for the Iron Exec! A historic battle with huge impact on the box office that will be remembered for years to come!
Oh-to: Are you disappointed about the results, Calley-dude?
Calley: I did my best. I thought I would win.
Oh-to: And you, Iron Exec guy. How do you feel?
Murdoch: Unreal! I gave it a fair go and now I'm a winner! [closing credits]

Oh, yeah. Some other movies open this month and stuff. Here's how I think they'll stack up.
May Forecast (No, really)

Projected
Rank

Film

Rank at IMDb Pro

Rank at Yahoo

Estimated Opening Gross (disclaimer: these are very rough guesses

1

Star Wars Episode II: Attack of the Clones

(not applicable)

13

84.5

2

Spider-Man

4

1

78.8

3

Insomnia

13

18

41.2

4

The Sum of All Fears

116

--

38.7

5

About a Boy

12

--

35.7

6

Spirit: Stallion of the Cimarron

138

--

31.1

7

Undercover Brother

593

--

21.1

8

Enough

55

11

20.7

9

The New Guy

70

12

12.4

10

Unfaithful

88

--

10.7
Read Tim Briody's May forecast
Read Walid Habboub's May forecast
Read David Mumpower's May forecast
Read Noah Schuchman's May forecast
Read Reagen Sulewski's May forecast