1. Resident Evil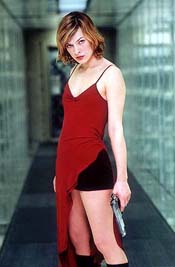 I am as surprised as anyone that I have selected this film as number one for the month of March. It's based on a video game, is directed by a guy who was not the fanboys' first choice, and has no real star power.
None of that matters. I mentioned The Mummy's ad campaign when I was discussing The Time Machine earlier, and I am astonished at how deftly Universal is handling the marketing for Resident Evil. It's not being billed as "based on a video game." In fact, if I hadn't played the game myself, I would have no idea that this was the case. The special effects look good. The story that is presented in trailers and commercials is hot and the two actresses who have been selected to carry the load are perfect in their respective parts. Milla Jovovich looks amazing as she is the primary lead but I suspect that the up and coming Michelle Rodriguez (who wowed audiences in 2001's The Fast and the Furious) as a badass will interest fans as well.
The commercials are playing with some regularity already and hit an excellent demographic as they are being played during shows like Angel, Buffy the Vampire Slayer and Roswell. This film appears as if it can go past that smaller target audience, though, and I would definitely expect Universal to give this one a heavy push. If they're smart, they'll continue omitting the fact that Resident Evil is based on a game.
Now come the astonishing statistics. Resident Evil, still three weekends out, is the highest rated of our March releases at IMDb pro with a ranking at #7. It is the number one most downloaded trailer at Yahoo. It is the third most requested preview page at Upcomingmovies.com -- behind only Matrix Reloaded and Terminator 3 (perhaps you've heard of them).
The basic fact of the matter is that when I set out to write this column, I had no intention of placing Resident Evil even within my top five. After doing a little research, I had to reevaluate and I did so to the point where I came to truly believe this film will burst onto the scene in a completely unexpected manner. Look for March to be an entertaining and noteworthy month for forecasters as it all plays out.