2001: A Box Office Review
Part Seven: July
By Kim Hollis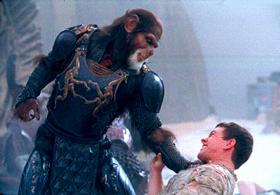 The summer of surprises continued in July as two movies unexpectedly captured the top spot in their respective debuts, but the real story for the month (and one that carries over for the entire year) is the seemingly sudden trend where blockbusters tend to massively front-load on their opening weekends.
Traditionally, July has been a tremendous month for mammoth openings. Since 1989, five films have opened over $50 million, seven to more than $40 million and a whopping 16 have topped the $30 million mark during the month of July. Add to those stats the fact that one out of every four post-1989 July wide releases has taken in $20 million or more on opening weekend and it becomes quite apparent that crowds hunger for movies and will vigorously support those with a blockbuster aura (in many cases, even when the films in question look awful).
July 2001 blew this notion away as a staggering five of the nine films to receive wide release opened higher than $20 million, with Jurassic Park III and Planet of the Apes actually exceeding $50 million. One of these two would become the second-largest opener of all-time, while the month's biggest surprise would come in the form of a Chihuahua-carrying, pink-clad blonde.
June 6th-8th
Two films took opposite corners during the extended Independence Day holiday weekend and the winner of the bout was a bit of a surprise when a beagle named Lou led an assorted bunch of talking animals to box office supremacy over a sequel to a surprise hit from 2000. Cats and Dogs managed a stunning $21.71 million over three days and a five-day holiday total of $35.8 million. The children's film was a big hit in that clearly underserved demographic, eventually topping out at $93.4 million before it left theaters. With additional worldwide receipts of $107 million, the Warner Bros. flick was hugely profitable relative to its $60 million budget.

Scary Movie 2 was the big loser for the weekend, as its $20.5 million three-day take was less than half that of the original, which amassed a shocking $42.3 million in July of 2000. The poorly received sequel took in $34 million over the long holiday period and managed only $71.3 million in domestic box office (compared to Scary Movie's $157 million final tally). The news wasn't totally grim for Miramax, though. With worldwide receipts of $67 million and outstanding rental numbers of $84.9 million to date, the spoof had no trouble recouping and easily surpassing its $45 million budget.

The other film that debuted in wide release kicked into action on Friday rather than the holiday. Jet Li's action/thriller had a respectable $13.3 million and finished fourth behind the previous week's winner, A.I.: Artificial Intelligence. Kiss of the Dragon was eventually a drastic victim of the trend of massive depreciation seen throughout the year, and wound up with a final box office tally of only $36.8 million. Nonetheless, the film was profitable even before rental receipts of $41.9 million and international box office numbers totaling $18.1 million since it had a smallish budget of $25 million.

Speaking of massive depreciation and A.I., the June holdover didn't celebrate the holiday happily as it suffered a tremendous slide in its second weekend, dropping 52% from its initial opening of $29.35 million. David Parker discusses the reasons for the film's overall mediocre performance in his analysis for the month of June.
July 13th-15th
Bending and snapping into first place in its opening bow was the Reese Witherspoon comedy, Legally Blonde. The film easily exceeded the expectations of most forecasters with an eye-opening $20.38 million. Considering the fact that the film's budget was only $18 million, it was profitable by the end of its first weekend at the box office. Add very solid rental numbers of $59.70 million and additional international box office of $36.8 million and it is all but assured that MGM breathed a sigh of relief as they finally had a hit in a dismal year that basically had only two high points (with Hannibal being the first).

Robert DeNiro's star power helped drive The Score to the second spot for the weekend as the R-rated heist flick collected $19.02 million. The film co-starred Ed Norton and actually is the second best opener of DeNiro's career (behind only Meet the Parents in 2000). Produced for $68 million and costing Paramount an additional $18 million for distribution and marketing, The Score wouldn't be profitable until international receipts and rental figures were added to the final domestic box office tally of $71.1 million. Those numbers totaled $43.6 million and $46.40 million, respectively.

In what was surely one of the year's most notable let-downs, the big-budget animated film Final Fantasy: The Spirits Within debuted in a disappointing fourth place (behind Cats and Dogs) with a meager $11.4 million over three-days. The film actually opened on Wednesday and had a very strong start with $5.01 million on that first day. By the end of its fifth day, it had accrued only $19 million. Obviously, it was heavily front-loaded as fans of the game were the first (and basically only) people in line to see this Square Pictures production. At a reported cost of $137 million (including $45 million for a state-of-the-art computer animation studio in Hawaii), there is almost no way to paint a rosy picture where Final Fantasy's profitability is concerned; however, with final domestic box office of $32.1 million, international numbers of $42.3 million and "worldwide rentals" of $79 million, the film somehow winds up barely in the black.

The trend for heavy drop-offs continued for the prior week's openers. Cats and Dogs slid 45%, Scary Movie plummeted 53% and Kiss of the Dragon plunged 55%. Add to this carnage the fact that A.I. fell another 63% and the notion that crowds rush out to see major blockbusters right away begins to gain some credibility.
July 20th-22nd
Two films opened higher than $30 million on the same weekend for only the second time in history (the first two were Sleepy Hollow and The World is not Enough). Jurassic Park III was able to stomp its way to $50.77 million over three days and attained a colossal five-day total of $81.4 million. Though it was unable to come anywhere near the then-record total of its predecessor, Universal had to be very pleased with these totals nonetheless. The film was easily profitable over its budget of $93 million as its domestic box office was nearly double that at $181 million, international receipts totaled $183 million and rental numbers sit at $63.5 million.

That wasn't the only good news for the studio, either. Jurassic Park III helped Universal to become the first studio in history to release three consecutive films to openings of $40 million or greater. Earlier in the summer, The Mummy Returns set records for individual days with its eventual weekend take of $68.1 million and The Fast and the Furious shocked forecasters when it opened to $40.1 million. Amazingly enough, as you'll see in the upcoming August analysis, Universal wasn't quite content to let the record stand at three.

Also finishing above the $30 million mark was John Cusack's best opener ever, America's Sweethearts. Okay, I'll admit that the film might have received a bit of a boost by having Julia Roberts' name on the marquee, and in fact it winds up being her second best debut behind The Runaway Bride. The Sony/Revolution Films picture was able to draw viewers to the tune of $30.2 million. Unfortunately, reviews were bad and word-of-mouth was middling, knocking the legs right out from under the film as it finished with domestic office of $93.6 million. Still, with rental revenue of $55.4 million and an international total of $30.5 million, America's Sweethearts proved to be a profitable venture for Joe Roth's fledgling studio relative to its budget of $48 million.

Continuing our examination of week-to-week depreciation, Legally Blonde fell 46%, The Score tumbled 43% and Final Fantasy dropped a bewildering 68%. Other July holdovers didn't fare much better with Cats and Dogs falling an additional 43%, Scary Movie 2 dropping 53% and Kiss of the Dragon dipping 52%. The trend was becoming noticeable as more than just a brief box office development and would garner more interest in the weeks to follow.
July 27th-29th
The final week of July delivered the year's biggest opener (up to that date) when Tim Burton's "re-imagining" of the 60s sci-fi film Planet of the Apes delivered a remarkable $68.53 million debut at the box office. Not only was this film the year's largest blockbuster at the time, but it also happened to be the second biggest opening weekend ever behind only The Lost World, which opened to $72.1 million over the long Memorial Day holiday in 1997.

Planet of the Apes was set loose in a huge number of theaters, with 3,500 venues and approximately 5,800 prints. Its monstrous screen average of just under $20,000 per location helped it to easily become the best July opener ever over the previous record holder, X-Men, which tallied $54.5 million on its release in 2000.

Taking a look at the film's daily numbers, its first-day total of $24.61 helped it to the biggest Friday ever (at the time, of course). Before two other box office behemoths hit theaters in November, it was also the fourth largest single-day total ever and its Saturday number of $24.37 million would have been the seventh largest. With a budget reportedly in the area of $100 million, Fox was all but assured an outstanding profit and it certainly managed outstanding numbers, but once again front-loading was a huge factor in the film's final box office. It wound up with an opening-to-total multiplier of only 2.63, which gives us an ending figure of $180 million for North America. It also earned an additional $178.9 million internationally and a phenomenal $89.8 million in rental revenue (to date).

The dinos of Jurassic Park III naturally suffered heavily at the hands of the apes, crashing 55.6% from its previous weekend. America's Sweethearts also had heavier-than-normal depreciation for a romantic comedy, sliding a hefty 49%. Drop-offs for the remaining July holdovers were somewhat less severe in this final weekend of the month, with Legally Blonde showing some staying power with a slight 18.9% decrease, while The Score fell 34.5%, Cats and Dogs slid down another 32.2% and Scary Movie 2 tumbled 39.9%. The numbers continued to be awful for Final Fantasy: The Spirits Within, though. It had another precipitous drop of 64.4% and fell out of view at this time.

Despite the amazing numbers that occurred throughout the month, total box office for the month of July was down two percent from the previous year with both years seeing the exact same number of new films in wide release; however, more favorable depreciation for 2000 films such as The Kid and What Lies Beneath and leggy June holdovers such as The Patriot and Chicken Run stack the deck a bit. Look for 2002 to be jump-started over the Fourth of July weekend as the sequel to Men in Black hits theaters, followed by Stuart Little 2, Austin Powers 3 and a number of other potential hits in movies like Harrison Ford's K-19: The Widowmaker and Disney's The Country Bears.

<% sqlstr = "SELECT * FROM box WHERE y=2001 AND m=7 ORDER BY open DESC" max = 200 header = "Films that opened in June 2001" tstyle = "release" skin = "bop" x = Drawtable(sqlstr,max,header,tstyle,skin) %>