Iron Monkey

Review by Kim Hollis
August 18, 2001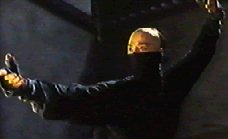 Released in Hong Kong in 1993, Iron Monkey is a movie that will soon see a wide theatrical release in the United States, thanks to a glowing reception at the Los Angeles Film Festival. The film is directed by Yuen Woo-Ping, the choreographer behind the wire-fight scenes in both The Matrix and Crouching Tiger, Hidden Dragon, and it is a more than worthy predecessor to those two pictures.
Like most other movies of this genre, the plot is uncomplicated and is a variation on the Robin Hood mythology. In a city where crops won't grow and common folk are poverty-stricken, a corrupt government rules. But the officials have a problem. The Iron Monkey steals from them and redistributes their wealth to the poor. A traveling doctor and his young son arrive in town and are immediately arrested on suspicion of being the Iron Monkey when they take down an unruly gang with no assistance whatsoever. To save his son, the doctor agrees to hunt for the Iron Monkey himself, but quickly decides to join the outlaw to try to defeat the real villain of the story.
Iron Monkey moves at a lightning-fast pace, and is packed not only with action, but is also hilarious and touching (it even has a terrific wok cooking scene). In fact, the frenetic energy and humor start almost at the outset of the film, with the Iron Monkey (Yu Rong-guang) taking on a corrupt local-government official as well as his entire police force.
It's a pleasure to watch Yu Rong-guang in action, but the real eye-candy comes from Donnie Yen, who plays Wong Kei-Ying, the traveling doctor. Yen is absolutely fluid and graceful, and displays some of the best footwork I've ever seen in a martial arts film. The wirework used for all the stunts is tremendous, though I do have one minor complaint. Occasionally some of the action is sped up, and I always find that to be cheating a bit. I will also offer another caveat: if you found the wuxia pian fiction employed in Crouching Tiger, Hidden Dragon troublesome, Iron Monkey is not for you. There's a great deal of fantasy in this film as well, with characters flying as they battle and running over the rooftops, not to mention an extremely over-the-top villain.
Something that bears mentioning is that Iron Monkey is a prequel of sorts to Once Upon a Time in China, featuring Wong Fei-Hung (the character played by Jet Li in the Once Upon a Time series and Jackie Chan in the Drunken Master films) as the young son of Wong Kei-Ying. The sweet relationship between father and son is really an unexpected element that adds a great deal to the movie. It's interesting to note that young Wong Fei-Hung is actually played by a girl named Sze-Man Tsang, and her blossoming kung fu skills are so impressive that I was disappointed to discover that Iron Monkey has been her only film.
The assortment of different villains in Iron Monkey do lend the film a comic book quality, especially the evil, disgraced Shaolin monk who arrives in town to try to defeat the Iron Monkey and take all the available riches (and women) for himself. Despite the fact that he has only a limited amount of screen time, he is portrayed as a formidable opponent with a killer instinct.
All of the action leads to an absolutely magnificent climax, which ranks as one of my two or three favorite martial arts fight sequences ever. I can give this scene no higher praise other than to say that I could happily watch just that portion of the film over and over again.
Iron Monkey is simply tremendous fun from start to finish. For fans of the genre, it should be a must-see as it hits the big screen.