Hollywood Homicide
By Kim Hollis
June 13, 2003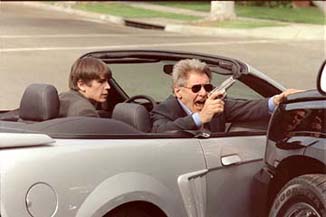 Hollywood Homicide is the most pleasant surprise of the summer season so far.
It's really a shame that the advertising and marketing has been confusing, not knowing exactly how to sell the film. Is it humor? Is it a cop drama? It's really a combination of the two, but one that offers a suggestion of the Lethal Weapon films with an entirely new spin that befits the 21st century.
The movie also has shades of Bull Durham, too, which makes sense thanks to the direction and script writing from Ron Shelton, the man responsible for the baseball classic. The dialogue sparkles in a very similar manner, and while much of that is due to the actual screenplay and direction, Hollywood Homicide really succeeds on the strength of its two stars, Harrison Ford and Josh Hartnett.
This revelation is especially shocking because frankly, it's been years since I enjoyed Ford in anything. At some point, he decided that he was a Serious Actor, forgetting that the roles where he really radiated charisma were the ones where he allowed his humor to shine through. Not coincidentally, these are also his biggest box office hits and the movies that are remembered fondly by critics and movie fans alike. When Ford played Indiana Jones and yes, even Han Solo, part of his appeal was his rugged good looks, but it went much further than that. He was funny. In Hollywood Homicide, the veteran actor finds new life by allowing himself to go back to those roots.
For some actors, this would only lead to roles that are sad caricatures of what they once were (Kevin Costner and Eddie Murphy, I'm looking in your direction). But for skilled performers like Ford (and similarly in About Schmidt, Jack Nicholson), it's a bittersweet throwback, with emphasis on the sweet.
The story isn't at all what you might expect from a film that is headlined by Ford. A rap group called H20 Klik is gunned down at a Hollywood club, leading an oddly mismatched pair of homicide cops (Ford and Hartnett) to be assigned to investigate. Since being a cop doesn't pay the rent (or the alimony), both cops have side careers. Ford's Joe Gavilan is a real estate agent, albeit not a very successful one, while Hartnett plays K.C. Calder, an aspiring actor who teaches yoga on the side.
Not only are they dealing with some pretty unscrupulous villains, portrayed by Isaiah Washington and Dwight Yoakam, but Gavilan and Calder are also being scrutinized by Internal Affairs due to the fact that the older cop's financial records just don't add up.
It doesn't necessarily sound like the stuff that humor is made of, but Hollywood Homicide is remarkably hilarious nonetheless. As mentioned before, Ford displays a deft comic touch in his role, allowing himself to both play his age and be made the occasional butt of the joke. He's not a super cop, and in fact is an anti-hero if anything. Even when he's being a weasel, he's still a lovable loser who you can't help but root for.
Hartnett continues to show why he's one of the premier young actors working today as the goofy, new age lothario K.C. Somehow, his character is the more sensible and centered of the two, making him the surprising straight man in this pairing. As such, he has a brilliant sense of timing and a great ability at physical comedy in particular.
This skilled duo is backed up by an extraordinarily solid supporting cast. The aforementioned Washington and Yoakam ooze evil as a spiteful record studio mogul and the mercenary cop who does the dirty work. Also playing an antagonist this time around is the talented Bruce Greenwood, who heads up the IA in its examination of Gavilan and Calder. Even in the somewhat limited role, Greenwood shows some strong acting chops.
Probably the best featured performer, though, is the always-incredible Lena Olin, who has a delightfully loopy appearance as Gavilan's girlfriend Ruby, who also just happens to be a psychic with a radio show. She emanates sexiness and confidence and is truly a perfect female counterpart to the frantic aging cop.
There are also a number of actors that show up for great, one-hit, bit roles throughout the movie. The funniest of these is rapper Kurupt, whose song plays in the background during his scene even though he doesn't actually play himself. Also joining the fun are Master P, Gladys Knight, Eric Idle, Lou Diamond Phillips, and Smoky Robinson. Martin Landau is also onboard to play a movie producer, but his performance falls a little flat, unfortunately.
The movie isn't absolutely perfect. It does drag slightly in the middle before hurtling towards its action-filled finale. Even with the slight lag, though, the film recovers quickly and never becomes overly self-serious.
It's bolstered by a great soundtrack that combines today's rap artists with Motown classics. The two different musical styles are synthesized just as skillfully as the opposing characteristics of its stars.
Following in the footsteps of other outstanding popcorn flicks like X2, The Matrix Reloaded and The Italian Job, Hollywood Homicide is another fantastic dish in what is shaping up to be a great summer buffet.