Hearts in Atlantis

Review by Kim Hollis
September 23, 2001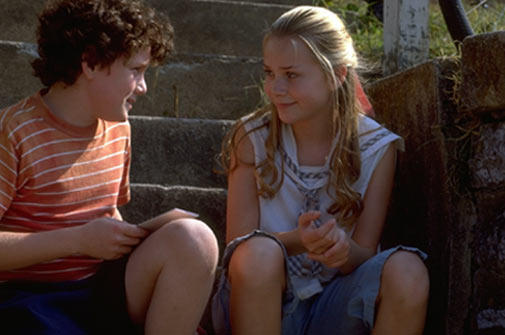 Hearts in Atlantis is a film that is perfectly timed in wake of the tragic and horrific events to which the American public has been witness these past couple of weeks. Reminiscent of Stand by Me (which, like Hearts in Atlantis, was based on a work by Stephen King), the movie is heartfelt and ultimately uplifting, and audiences will love it.
For me personally, it's a little too saccharine, but I mostly enjoyed the film nonetheless.
The movie is framed in much the same way as the aforementioned Stand by Me. It starts by introducing us to Robert Garfield (David Morse, who also played Brutal in The Green Mile), a late forty-ish, gray-haired man who has just received a baseball mitt in the mail, along with a letter informing him of the death of a friend named Sully. He takes what is clearly a cherished photograph of a young girl out of a picture frame, puts it in his wallet, and heads to the funeral.
After the funeral, Garfield speaks to the attorney who had mailed the letter and asks about Carol Gerber, the girl from the picture, who was a friend to both Sully and himself when they were children. When the attorney sadly informs him that she has passed away, Garfield returns to a dilapidated house and reflects back to his childhood, which brings us to the real story in the film.
As a child, young Bobby Garfield is a typical 11-year-old boy. He has two great friends with whom he spends a lot of time, and he dreams of having the perfect bicycle. Unfortunately, as his mother likes to remind him, since his cad of a father passed away, they just can't afford nice things. Driving this point home, she gives him a library card for his birthday. As his friend Sully points out, though, she does manage to find enough money to buy new dresses.
She's also fairly distrustful when Ted Brautigan (Anthony Hopkins), the new upstairs tenant, arrives. Anyone who carries his belongings in paper bags must be dishonest, she tells Bobby. Undaunted, Bobby befriends the man anyway, and is soon earning a dollar a week for reading him the entire newspaper. More importantly, Ted asks him to keep an eye out for "low men," whose appearance will be signaled by flyers on posts and big, loud cars. While Bobby thinks this request is somewhat crazy, he certainly recognizes that Ted is unusual.
Dwelling on many more of the plot points reveals a bit too much of the story, but the really wonderful thing that Hearts in Atlantis does is the same thing that a number of Stephen King's tales are able to do: remind adults how precious and rare childhood memories are. Although the Sully character is given fairly short shrift in the film, the relationship between Bobby and Carol is extremely touching, and slightly evocative of Kevin Arnold and Winnie Cooper in The Wonder Years. The two children have a nice chemistry with one another, and both actors (Anton Yelchin and Mika Boorem) do a tremendous job of portraying the innocence and purity of youth.
In what may be my favorite performance of his ever, Anthony Hopkins gives Ted Brautigan an air of gentle mystery and kindness, yet when the situation calls for him to be slightly menacing, he doesn't just simply pull out Dr. Hannibal Lecter. Instead, he gives an understated performance, never allowing himself to be the center of attention, but rather letting his story to be told through Bobby's wholesome eyes.
And to be fair, perhaps that's the real reason the story is too sugary for my taste. It is told through the wide eyes of a child, and children view the world differently and with more naiveté than adults. For youngsters, bullies and boogiemen are scary in and of themselves, not their motives or angles. Hearts in Atlantis does a wonderful job of evoking that feeling.
The film itself is beautifully shot. Director Scott Hicks (Snow Falling on Cedars, Shine) has done an amazing job of bringing the late '60s to life. From the soundtrack to the set design, all of the pieces fit perfectly to give the story an air of authenticity.
My only real wish is that some more of the supernatural elements from King's original story had been allowed to remain. Since the film already ventures into a few dark, scary places, I do believe it could have been enhanced and might have felt somewhat less on the overly-sweet side had it explored those aspects of Ted Brautigan's character a little more.
Still, Hearts in Atlantis succeeds by being an unobtrusive, thoughtful look at the importance of friendship and loyalty through the youthful eyes of a highly-appealing and thoroughly likeable young character. It's a lovely respite from the realities we're facing today and in our very near future.