Weekend Forecast
for February 22-24, 2002
By Kim Hollis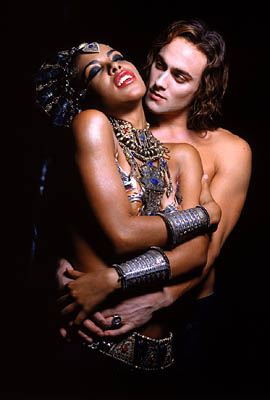 I'd like to take you on a little trip through the past to November of 1994. The "Rachel" hairdo was just becoming all the rage, ER was a surprise television hit, some guy named Hootie was taking control of the music charts…and one of my most highly-anticipated movies ever was about to hit theaters.
Having been a long-time fan of Lestat and Anne Rice's Vampire Chronicles, Interview with the Vampire was the biggest event picture for me since…okay, the Lion King just earlier that year, but let's just disregard that little tidbit. The point I'm trying to drive home here is that even eight years later, I so thoroughly remember the experience of seeing Lestat and Louis in all their cinematic glory that it remains an impacting episode even today. The theater was sold out with many of the fans dressed for the occasion, and it remains one of the few movies I have attended in which the crowd broke out in applause when the credits started rolling.



Looking back, the film certainly had an all-star cast. Tom Cruise had been golden at the box office prior to the release of Interview, and his supporting cast featured an A-list group which included the likes of Brad Pitt, Antonio Banderas, and Kirsten Dunst…
…except none of those co-stars were big names at the time. Pitt had a minor part in Thelma and Louise before moving on to such classics as The Favor, Kalifornia and True Romance. His best starring role at that point had surely been the wonderful A River Runs Through It, but that quiet little film was by no means an eye-opening blockbuster.
Likewise, Banderas was an actor on the verge of a breakout at the time, having had a prominent role in Philadelphia after a long string of work in Spanish cinema and before crossing over to American films with The Mambo Kings. As for Dunst, she was a mere 12 years of age and had received no real attention prior to getting the part of Claudia, child vampire (for which she was nominated for a Golden Globe).
So, taking note of the fact that this film was truly Tom Cruise's to carry if we base it solely on star power, we should think to ourselves that he would be enough to propel Interview with the Vampire to a stellar opening, right? Honestly, we can't analyze the audience intent with any real accuracy, but it does bear noting that Anne Rice vehemently protested the casting of Cruise in this part yet to all outward appearances, fans of the books were okay with the choices made. Whether they attended for the curiosity factor, the Tom Cruise element, or just because they like Vampires, Interview was a blockbuster film, earning $36.4 million in its opening weekend on its way to $105.6 million final box office.
What is the point of all this? Queen of the Damned is the ostensible sequel to that first film, though the studio has wisely chosen to promote it on its own merits, limited though they may be.
Probably the most important element of interest for QoD is that it was singer/actress Aaliyah's final role before she was tragically killed in a plane crash in August of 2001. She was an actress poised for big things, having appeared in the moderately successful Romeo must Die and scoring the part of Neo's love interest in the upcoming Matrix sequels. Queen of the Damned would have been the first film where Aaliyah was the real marquee name and though early buzz on the movie was negative to the point that it was even rumored to be going straight-to-video, QoD remained a film that seemed to have solid and constant interest. Additionally, almost throughout the production of the film and during the promotion, the author has been a very positive force, keeping all of her comments about QoD toward the upbeat (for Rice, anyway).
So again we have a movie based on a beloved novel, featuring one "name" performer with a group of relative unknowns providing supporting roles, but which has the added benefit of appealing to the African-American demographic that propelled Romeo Must Die to decent box office results. The marketing I've seen has been steady though unspectacular but I do believe they Warner Bros. has hit precisely the right demographic with television ads during shows like Buffy, Angel and on the BET network. Tack on the folks who are morbidly curious to see Aaliyah in her last movie performance and you have all of the ingredients for an unexpected breakout.
I'm not naïve enough to believe that we're looking at anything close to the heights achieved by Interview with the Vampire. The Cruise effect simply cannot be disregarded, and besides that, Interview actually turned out to be quite good (to my unexpected delight). I have similar low expectations for the quality of Queen of the Damned (critical consensus is not particularly wonderful), but I'm still one of those lunatic Anne Rice fans who will be there opening night nonetheless. I expect other fans to feel the same and that their intense interest along with the Aaliyah factor will help push QoD to an opening weekend just over $20 million as it hits 2,511 theaters.
Moving on to this weekend's other opener, Dragonfly is pushing a formula that feels a bit stale and trite after the numerous Sixth Sense imitators over the past two years. Audiences have become somewhat jaded to the "big surprise ending!" push and frequently look upon films that are billed as such with suspicion (a fortunate exception is The Others, though that film should honestly be more appreciated for its style and build-up rather than its climax).
Piling on Dragonfly's troubles is the fact that star Kevin Costner has certainly lost his luster in recent years, appearing in a number of notable dogs (other than Thirteen Days, which was a very good film that performed quite respectably for its genre). Most importantly, and a bad omen for this movie's long-term prospects, it is receiving absolutely horrific reviews, with a score of 3% at Rotten Tomatoes as of this writing (for those of you keeping score, that's one positive review out of 39).
It's been proven in the past that reviews generally have little real effect on opening-weekend numbers, which is obviously quite a fortunate thing for this film; however, the marketing has been confusing and not intriguing in the least. For a movie with the script that was once mentioned as the best unproduced screenplay in Hollywood, Universal has to be concerned, particularly when one takes note of Dragonfly's $75 million budget. The film's ad schedule has undoubtedly seen plenty of frequency, though, so I would expect potential audience awareness and closet Costner fans to help this one struggle along to an opening around $10-11 million (hell, the less-accessible 3000 Miles to Graceland did $7.2 million) as it opens with a decent venue count of 2,507. Expect a quick box office death to follow.