Forecast for December 13-15, 2002
By Kim Hollis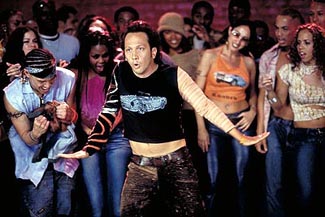 After a dreadful weekend at the box office one week ago, today brings four new wide releases to theaters, all of which have spectacular possibilities for financial success. Each of the different movies reaches a target demographic that is unique and special, giving theaters and studios an outstanding chance to recover from the post-Thanksgiving fallout.
The film most likely to break out big at the starting gate is, of course, Star Trek: Nemesis. This tenth film in the storied franchise also may mark the final chapter for the Next Generation crew (the movie poster's tagline is "A Generation's Final Journey Begins," but it's entirely possible that this journey could spread out over multiple films). Final box office results are probably going to be a huge factor in any decisions made with regards to continuing with this series or transitioning on to either Deep Space Nine or Enterprise.
There's pretty good precedent for such uncertainty. The films in the series have been wildly inconsistent, both in terms of quality and as far as financial success. Coincidentally enough, the result has been that approximately every other Trek movie has been good, leading to the "insider" adage that only even-numbered Star Trek productions are worth watching. The chart below illustrates the box office point:
<% sqlstr = "SELECT * FROM box WHERE" sqlstr = sqlstr + " movie like '%Star Trek%' " sqlstr = sqlstr + " ORDER BY date DESC" max = 100 header = "Star Trek Films since 1989" tstyle = "release" skin = "bop" x = Drawtable(sqlstr,max,header,tstyle,skin) %>

It's a little bit silly to hedge our bets on the fact that Nemesis is an "even-numbered" sequel, so instead we'll consider the measurable driving forces. Foremost amongst these is the fact that the film looks great. Commercials and trailers have been truly compelling, emphasizing the yin/yang quality that is the real basis for the story. It's also been a good little while since Insurrection, the last Star Trek feature, was in theaters. Four years later, the possible end to the Next Generation crew's story is perfectly set up to draw in legions of fans. And obviously, that fanbase is the built-in push that's going to propel the movie to a certain level of success, even regardless of quality. Opening in 2,711 venues, Star Trek: Nemesis should be able to take in $32 million for the three-day weekend.
Second place should belong to a film that may not win the weekend, but will certainly win the battle of longevity. Maid in Manhattan, a modern-day Cinderella story, is poised to be the romantic comedy event of the season. Starring the ubiquitous Jennifer Lopez, this story about a maid who aspires to bigger and better things and finds them in a rich political candidate should do very brisk business throughout the three days, and good audience reaction (I saw this film a few weeks ago and the crowd loved it) should propel it to excellent final results
J-Lo has been a very visible persona in recent weeks; her engagement to Ben Affleck is akin to a royal marriage in its coverage by the press, and she also has a hit single that emphasizes her Bronx roots (Jenny from the Block). She's done a tremendous job of promoting this film, and Sony can also take credit for a finely targeted and perfectly executed marketing plan. Maid in Manhattan debuts in 2,838 theaters and should be able to draw in women and happy couples for a $21 million weekend.
Our next new film is all about a different kind of hot chick; played in this case by one Rob Schneider. Inconceivably enough, the Saturday Night Live alum's films have always been solid box office performers, drawing plenty of fans both to the theater and the video stores. In December of 1999, his Deuce Bigalow: Male Gigolo surprised box office prognosticators by pulling together an opening weekend total of $12.2 million before going on to tally $65.5 million in total domestic receipts. By the time The Animal came out, forecasters were still discounting the comedian, never taking into account that Deuce Bigalow was a favorite at rental stores, taking in an impressive $75 million additional revenue. The result? The Animal wound up with an almost $20 million debut weekend, though its final results were somewhat disappointing as it could only finish with $56 million.
His appeal may be mysterious, but The Hot Chick appeals to a much wider demographic than the first two pictures. While Deuce and The Animal primarily targeted young men, The Hot Chick is geared toward their female counterparts as well. This new release also looks a lot better than the first two movies, and Touchstone has done a fine job of hitting the audience with trailers that started running as far back as October. Since The Animal opened in the month of June (when movies have a tendency to attract bigger audiences early), The Hot Chick probably won't quite attain the same lofty heights this weekend, but should still be able to manage $14.5 million from 2,217 theaters.
Drumline is the final film that will hit wide release this weekend, and if any movie is lacking respect from forecasters, this is it. The title describes exactly what the film is about; a drumline from a show-style marching band at a Southern university. It bears noting that not only do these particular bands attract huge audiences at competitions, but they also merit television coverage due to their popularity. Along with that X-factor, the trailers and commercials that have run for the film are terrific and hit both their direct target audience along with any red-blooded American male who enjoys watching cheerleaders with pom-poms and short skirts. In this case, the girls aren't cheerleaders, but instead the dancers who accompany the music of their respective bands. There hasn't really ever been a film like it before, so it's difficult to draw good comparisons (though a lot of people are noting a definite "Bring It On" feel). It may be the odd man out, but my gut tells me Drumline is going to provide a bit of a shock when estimates come out on Sunday. Look for healthy per-screen averages from 1,836 venues to help this movie march its way to about $11 million this weekend.
Looking to make waves in awards discussions are three films that hit limited release this weekend, one of which looks to be Academy catnip thanks to the critically lauded performance of Jack Nicholson. About Schmidt tells the story of a retired insurance man who realizes he wasted his own life while trying to interfere in his daughter's affairs. Nicholson is almost a certain lock for a Best Actor nomination at this point if reviews and insider comments are to be believed. This film has excellent long-term prospects as audiences enjoy seeing the actor in these neuroses-filled roles (see: As Good As It Gets). About Schmidt will see moderately wide release in January and should be a factor at the box office by the time it's all said and done.
Other limited releases include Evelyn, starring James Bond himself, Pierce Brosnan, along with Intacto (starring Max von Sydow), The Jimmy Show (with Frank Whaley and Ethan Hawke), and Morvern Callar, which may draw some awards-type notice for Samantha Morton. Opening for a one-week Academy Award qualifying release is The Guys, which stars Sigourney Weaver and Anthony LaPaglia in a film about emotions and heroism in the wake of the tragedies of 9/11.
Forecast: Weekend of December 13-15, 2002

Rank

Film

Number of Sites

Change in Sites from Last

Estimated Gross ($)

1

Star Trek: Nemesis

2,711

New

32.0

2

Maid in Manhattan

2,838

New

21.0

3

The Hot Chick

2,217

New

14.5

4

Drumline

1,836

New

11.0

5

Die Another Day

3,377

+30

8.5

6

Harry Potter and the Chamber of Secrets

3,025

-362

6.9

7

Analyze That

2,635

No change

6.5

8

The Santa Clause 2

2,207

-149

4.0

9

Treasure Planet

2,192

-1,035

3.4

10

Adam Sandler's 8 Crazy Nights

2,177

-326

2.8