Weekend Forecast
for November 30 - December 2, 2001
By Kim Hollis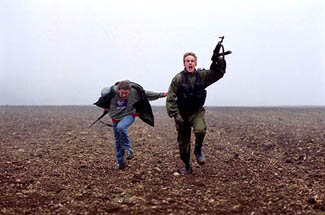 Historically, the weekend that follows the more box office-friendly Thanksgiving long holiday has been unkind to new releases. In fact, studios have chosen to avoid opening any films whatsoever during this same period in recent years, with the most recent one being 1998's frame-by-frame remake of Psycho, which managed to grab $10 million.
20th Century Fox bucks that trend this weekend by releasing Behind Enemy Lines, a film starring…wait for it…Owen Wilson. There is little doubt that Wilson has a legion of devoted fans (and I include myself among that number); however, his name on the marquee isn't enough to draw crowds to the theater. Add another mid-level star to the mix, though, and Wilson's films have opened fairly impressively.
<% sqlstr = "SELECT * FROM box WHERE movie like '%Haunting, The%' OR movie like '%Meet the Parents%' OR movie like '%Zoolander%' " sqlstr = sqlstr + " OR movie like '%Shanghai Noon%' OR movie like 'Armageddon' ORDER BY open DESC" max = 100 header = "Owen Wilson with other name actors" tstyle = "release" skin = "bop" x = Drawtable(sqlstr,max,header,tstyle,skin) %>
In recent years he has co-starred with the likes of Ben Stiller, Jackie Chan and Catherine Zeta Jones and continues that trend by appearing alongside Gene Hackman in this weekend's sole wide release.
Fox has claimed that the reason they chose to move Behind Enemy Lines' release date up from January is that is was receiving remarkable response from test audiences. Trailers and commercials definitely have taken the "patriotic" approach, which only makes sense from the studio's standpoint though some people may find it somewhat distasteful. Given this push and a decent venue count (2,768), Behind Enemy Lines has a chance to break out; however, I do believe the appeal is somewhat limited. I look for a three-day total in the area of $12 million.
A film that has been tossed around the schedule uncounted times, Texas Rangers is getting a nominal release in 402 venues. Rangers reeks of dumpage, as it not only lacks screens but also has a nonexistent level of marketing. This movie will be lucky to make $750,000, let alone crack the top ten for the weekend.
The box office juggernaut that will maintain its tight grip on first place is, of course, Harry Potter and the Sorcerer's Stone. Potter definitely performed under my expectations last weekend with a somewhat heady 33% drop (particularly in comparison to similar films in the genre). I actually fear a steeper drop this weekend in the area of at least 50-55% as I'm starting to get the odd feeling that Potter was much more frontloaded than I initially was willing to believe. A weekend total of $25-28.5 million is my current estimate.
Monsters, Inc. held up quite nicely last weekend; however, I expect it to depreciate significantly (though slightly less so than Potter). The post-Thanksgiving long weekend trending generally has shown that almost any film, including family fare, will fall heavily in this frame. Just for comparison's sake, How the Grinch Stole Christmas fell 48%, Toy Story 2 dropped 51%, Rugrats in Paris dropped a staggering 61%, The Rugrats Movie fell 63% and 102 Dalmatians depreciated 58% from the Thanksgiving holiday weekend to the next. I'll be generous since I adore the Monsters and go with an estimate of $14.3 for the weekend.
In fact, I foresee similar results for the remainder of last week's top films, with the possible exception of Spy Game, which has received outstanding reviews and decent CinemaScores. Spy Game may be able to pull in $13.5 million, while the remaining films will likely see larger drops.
The other anomaly would be Amélie. The film has been ever so slowly augmenting its venues in recent weeks and its per screen average actually increased last weekend, though I doubt this can happen again since it is now stagnating as far as expansion is concerned (with an addition of only one theater). $1.7 million is a fair expectation.
Forecast: Weekend of November 30 - December 2, 2001

Projected
Rank

Film

Estimated Gross ($)

1

Harry Potter and the Sorcerer's Stone

26.8

2

Monsters, Inc.

14.3

3

Spy Game

13.5

4

Behind Enemy Lines

12.2

5

Black Knight

4.7

6

Shallow Hal

4.1

7

Domestic Disturbance

2.0

8

OutCOLD

1.8

9

Amélie

1.7

10

Heist

1.6