Weekend Forecast
for August 15-17, 2003
By Kim Hollis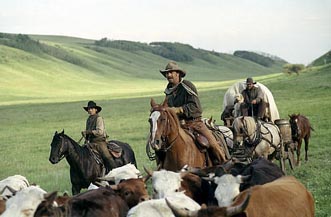 The summer movie season truly starts to wind down this weekend as kids are already back in school in some areas and the studios release four wildly different films with very specific and splintered demographic appeal. As such, only one of the new releases has any real shot at a breakout debut, the battle of celebrity slashers Freddy vs. Jason.
Given the performance of similar splatter genre films in recent years, the format is pretty clearly one that is in serious decline due to lack of original ideas and a complacency amongst distributors which meant that poor quality was perfectly acceptable as long as these sorts of movies made money on their bare bones budgets. Such contentment with the status quo resulted in blink-and-they're-gone flicks as Jason X, Halloween: Resurrection, and an assortment of copycats that range from Valentine to Wrong Turn to Jeepers Creepers. All of these films share a commonality: they open somewhat decently, but the audience that really wants to see them shows up early on opening weekend, allowing them to turn a small profit before fading fast.
Evidence of this trend finds strong support in the box office performance of films featuring the "Big Three" movie monsters -- Michael Myers (who's the odd man out here), Jason Voorhees, and Freddy Krueger. The most enduring of the villains has actually been the Myers character, with his movies showing the best overall results even within the past couple of years. Meanwhile, Freddy's films have been sporadic in appearance and slight in overall box office, and Jason's have really been nothing short of consistent, opening between $6 and $7.5 million and totaling between $12 and $15 million during their theatrical runs.
Clearly, these franchises needed a jump start, and at some point, the Freddy vs. Jason idea was tossed out. Despite the fact that such a movie had all the hallmarks of being a fun concept with loads of potential, it languished in development hell for years before finally going forward under the guidance of New Line and Hong Kong director Ronny Yu (who has had some experience in the genre with Bride of Chucky). It's a humor-laden and creative idea that has been heavily anticipated by longtime fans of the two series, but also has had good buzz among people who left the Freddy/Jason movies behind long ago. As a result, an opening weekend rush should result in a solid though likely not spectacular crowd, and $18.1 million in the kitty prior to a quick exit from theaters -- it's just the nature of the beast (or beasts, as it were).
The remaining openers for the weekend are all going to be grappling for dollars from some very targeted crowds. Hoping to strike a chord with the family/chick flick bunch is the delightful Uptown Girls, which features the underrated up-and-comer Brittany Murphy and youthful acting savant Dakota Fanning. Neither has been the focal star of a movie before, though both young actresses have attracted attention for their talent over the course of the past year or two (Murphy for her supporting roles in 8 Mile and Spun, and Fanning in I Am Sam and the Steven Spielberg-produced miniseries Taken). Having seen the film at an early screening with a rambunctious and excited bunch, I do think Uptown Girls is a movie that will strike a chord with its intended audience and should have some decent staying power. However, due to the fact that it is debuting at a fair number of screens rather than a huge opening and considering that women generally don't mind waiting a week or two to see a film, Uptown Girls will see a modest opening under $10 million and might be able to find $8.5 million from Friday-to-Sunday.
Hating Kevin Costner has been a popular sport that has trumped the actor's bankability since the dismal domestic performance of twin bombs Waterworld and The Postman. With the emergence of backlash against Ben and Jen and their recent disaster Gigli, Costner has taken a bit of a back seat in that regard, but Hollywood watchers will have their eyes on him this weekend as his self-directed Western Open Range hits theaters. Debuting in a very limited number of venues and carrying a substantial running time, the film is going to rely on its fantastic word-of-mouth (including particularly strong recommendations from broadcast duo Roger Ebert and Richard Roeper) to carry it to a $7.7 million bow and perhaps a decent long-term run. Comparisons to Clint Eastwood's Academy Award-winner Unforgiven certainly bode well; unfortunately, the genre is not a popular one these days.
The remaining new release this weekend is a teen-oriented sk8tr boy flick called Grind. It's a dumb teen comedy with no real big-name stars (though Adam Brody has been a treasure on the WB television series Gilmore Girls) that has naturally received the bulk of its exposure on youth-oriented channels like MTV, UPN, TNN and the WB. It's going to be a film that specifically appeals to young men and will generate very limited crossover appeal. Like so many August comedies, it will see a debut of less than $6 million and then be forgotten.
Forecast: Weekend of August 15-17, 2003

Projected
Rank

Film

Estimated Gross ($)

1

S.W.A.T.

18.5

2

Freddy vs. Jason

18.1

3

Freaky Friday

14.4

4

American Wedding

9.1

5

Uptown Girls

8.7

6

Pirates of the Caribbean: The Curse of the Black Pearl

8.5

7

Open Range

7.7

8

Seabiscuit

7.1

9

Spy Kids 3-D: Game Over

6.4

10

Grind

5.7