Down with Love
By Kim Hollis
May 12, 2003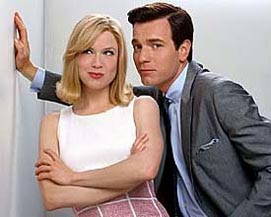 Down with Love is one of those films that will leave many audience members scratching their heads while still managing to find a small, passionate group that adores it (see: Moulin Rouge). For anyone who is unfamiliar with the Rock Hudson/Doris Day romantic comedies of the '60s and other similar movies from the genre, the onscreen antics aren't going to make much sense contextually. But for those who enjoyed classic movies in the vein of Pillow Talk, Down with Love offers pure joy from start to finish.
The concept of the film is such that it could threaten to be just a bit too precious, but director Peyton Reed pulls off the combination of celebration and send-up with dexterity. From the colorful, stylish opening titles to the duet that accompanies the end credits, Down with Love is a rollicking good time with oodles of laughs.
The basic story is one that would be de rigeur for any battle of the sexes-style farce. Barbara Novak is a young, single girl from small-town Maine who has just arrived in the Big Apple to work with her publisher on the promotion for her new novel, Down with Love. Barbara's book is all about women making a life on their own without the pitfalls of love. The ultimate goal is sex without obligation or attachment, empowering the female reader to take control of her career and personal life.
To help her get publicity for her novel, Barbara's editor Vikki schedules her for an interview with one of the best-known magazine writers in the business, Catcher Block. Catcher just also happens to be an inveterate playboy, exactly the kind of man that Barbara's book warns its readers against. Anyone who has seen Pillow Talk or other films of its ilk should know how the rest of the movie unfolds, except for the fact that Down with Love turns convention on its head as it approaches its numerous payoffs.
The movie works so well for countless reasons, not the least of which are game performances from both Renée Zellweger and Ewan McGregor in the lead roles. Both actors embrace their characters with relish and display a sense of comedic timing that perfectly suits the pace of the film. Supporting turns from Sarah Paulson and David Hyde Pierce are equally vital to Down with Love's success. Paulson, who has received limited attention in a career primarily devoted to television roles, shows that she's an actress who is deserving of more attention, while Hyde Pierce is absolutely perfect in a part that was reserved for Tony Randall in the earlier Day/Hudson films. Randall himself makes an appearance as a book publishing titan, which is just an extra little in-joke for those in the know.
And then there's the fashion parade. Down with Love offers a cornucopia of '60s style, with brightly colored attire and assorted hats that were all the rage during the era taking center stage. Accenting the capricious clothing is a terrific soundtrack made up of standards from such performers as Judy Garland, Frank Sinatra and Bebel Gilberto, along with some wonderful instrumental tracks from composer Marc Shaiman. In the midst of all the dazzling hues and toe-tapping music, director Reed gives nostalgic conventions such as the split-screen telephone conversation a tongue-in-cheek treatment that shines with humor.
Most importantly, Down with Love fulfills its true promise with a screenplay that sparkles with wit and joie de vivre. The characters bat droll repartee back and forth with an ever-present awareness of the silliness and enchantment of it all. While some of the action and dialogue might seem ludicrous to a viewer unfamiliar with the movies to which Down with Love pays homage, it's really perfectly in keeping with the true spirit of the genre, never taking itself at all seriously.
The greatest compliment I can give the film is that I smiled and laughed the whole way through, so much so that my face hurt by the time the credits rolled. In fact, Down with Love is so much fun that I can hardly wait to see it a second time - and that's saying a lot in a week where The Matrix Reloaded will see release at long last.