Dirty Pretty Things
By Kim Hollis
May 26, 2003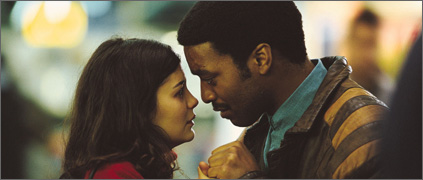 A movie about "the people you do not see," Dirty Pretty Things combines elements of noir, black comedy and social commentary into a film that is reminiscent of director Stephen Frears' earlier work, such as The Grifters and My Beautiful Laundrette. Ever atmospheric and exceptionally well-acted, the movie takes the viewer deep into the heart of London, but not the London we're used to seeing portrayed. Instead, the story delves into the backgrounds of the invisible people behind the scenes, the illegal immigrants who make up a sizable portion of the city's working class, a dirty little secret that travel promoters would probably never acknowledge.
Though Frears is somewhat of an underground favorite thanks to a number of great films like High Fidelity, Liam, Dangerous Liasons and the aforementioned The Grifters, the real draw for Dirty Pretty Things is likely to be Audrey Tautou, who captured the hearts of people on both sides of the Atlantic for her engaging performance in Amélie. She plays a character of a very different sort in Dirty Pretty Things, and though she is the female lead she is not the film's true star.
That honor belongs to Chiwetel Ejiofor, providing the movie's moral and narrative backbone as Okwe, a Nigerian immigrant who works days as a cab driver and fills his evenings with his night porter job at a posh London hotel. Okwe almost never sleeps, and we begin to suspect that there might be more reasons for that insomnia than simply being overworked.
Our protagonist shares a flat with Tautou's Senay, a Turkish woman who is seeking asylum in Great Britain. As a condition of her residence, she is not allowed to receive any income from employment or rent, but she nonetheless works illegally as a housekeeper at the same hotel where Okwe earns his living. Because she must make money in order to survive, she is also in serious danger of being deported. It's little wonder, then, that Senay is emotionally frantic and more than a little desperate.
A strange series of events is set into motion when Okwe is called to a prostitute's room to investigate a blockage in the plumbing. What he finds sets in motion a mystery of sorts as he works to uncover what shady undertakings are going on behind the hotel's closed doors.
While the story unfolds, hints about Okwe's possibly shadowy past work in strange opposition to his almost overly ethical current persona. Oddly, despite being as honest and principled as any character you're likely to ever see in a noir-styled movie, his acquaintances are almost completely made up of scoundrels and criminals, from the prostitute Juliette (Sophie Okonedo) to doorman Ivan (Zlatko Buric), not to mention his coworkers at the cab company. Ejiofor plays the character brilliantly, with a quiet inscrutability that accentuates a singularly contemplative personality.
Tautou provides a peculiar, frenetic complement to Ejiofor's stoic resonance. She's a long way from the gamin Amélie here, gritty and determined, yet vulnerable and a frequent victim of her own poor decisions. It's her first English-speaking role and as such, she has a very heavy accent that is occasionally difficult to understand, but one has to admire the young actress for her determination to choose such a subversive role when it would be easy to continue as the young Audrey Hepburn-type who captures everyone's hearts.
Also vitally important to the story is Spanish hotel manager Sneaky, marvelously depicted by Sergi Lopez. He's the stylish and appealing rogue to whom people can't help being drawn. If Okwe is the angel on one's shoulder, Sneaky is surely the devil.
Another particularly notable performance comes from Benedict Wong, who plays Guo Yi, a morgue worker with whom Okwe enjoys playing chess. Probably one of the more stable characters in the film, Guo Yi is Okwe's confidant and advisor, never fully comprehending why his friend follows such a strange path.
The remarkable acting is bolstered by a fantastic script, surprisingly written by the co-creator of Who Wants to Be a Millionaire? Steven Knight has fashioned a deliciously quirky little story that never hesitates to explore the dark corners and hideaways that might normally make his countrymen uneasy and ashamed.
The strong payoff to the story is not at all typical, and the overall tone and themes explored are so dark that the film may have some difficulty finding a very wide audience. It's a credit to Frears that he remains willing to explore socio-political subjects even while finding great stories with which to evince his concepts. From the amusingly misleading title to the idiosyncratic humor to the far from storybook romance, Dirty Pretty Things is a perfectly constructed and deliberately paced film that draws the viewer in and maintains the intrigue from start to finish. Simply put, it's one of the best films of 2003.