Bend It Like Beckham
By Kim Hollis
July 13, 2003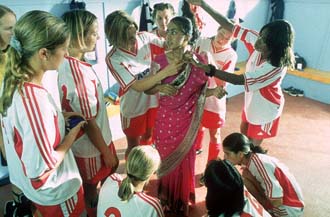 After the wild breakout success of My Big Fat Greek Wedding, female empowerment flicks are all the rage at the box office these days. Happily, this successful niche marketing has resulted in some terrific little films, including the audience-pleasing and truly delightful Bend It Like Beckham.
Don't let the odd title put you off. For many North American viewers who know next to nothing about soccer, neither the concept of "bending it" nor the name David Beckham mean anything. The beauty of this film is that such knowledge is unnecessary. The story isn't about "football;" it's rather a coming-of-age tale that focuses on marching to one's own drummer despite convention and cultural ideals.
The central character in the story is Jesminder Bhamra (Parminder K. Nagra), known simply as Jess to her friends. The youngest daughter in an Orthodox Sikh family, she is a teenager on the verge of college and many things on her mind. Her parents push her to study hard so that her grades will enable her to study law, but her real love is the game of soccer, which she plays in the park with boys who she outshines by far. Her family doesn't really approve of the hobby, but other than a bedroom decorated completely with posters of soccer idol David Beckham, the sport doesn't cross over into Jess' personal life to any significant degree as far as they are concerned.
That all changes, though, when Jess meets Jules (Keira Knightley), an athletic girl who has a similar interest in soccer. Jules is a member of the local girls' soccer team and because she recognizes that Jess is enormously talented, encourages her to join as well. The trick is that Jess has to play behind her parents' backs, because they will surely make her quit if they learn what she's up to.
What follows is a cute comedy and chick flick of sorts that highlights Jess' efforts to keep her involvement on the team a secret, even as she learns important lessons about her own culture, such as cooking, marriage, and how her actions affect her entire family. In the midst of it all, Jess develops a crush on her coach, which only complicates matters because it is verboten for her to have a relationship with anyone outside of her nationality and religion.
Much of the movie's appeal lies in its variety of noteworthy performances. Nagra's portrayal of Jess is obviously critical among these, and she delivers on all counts. This young actress has a composure and strong sense of self that translates very well to the independent and unconventional character that she plays. Nagra has a unique look in that she is both classically beautiful but also extremely athletic in appearance, and this singular combination along with her soft and subtle acting abilities should result in the actress finding parts in larger productions.
Knightley has already hit the big time, of course, as her Pirates of the Caribbean is the summer's pleasant surprise and a breakaway hit at the box office. Her character in Bend It Like Beckham is different yet not altogether unrelated from her part in Pirates; both girls are headstrong, self-reliant, and capable of taking care of themselves, yet her Jules is substantially more tomboyish than the more demure, feminine Elizabeth Swann. Either way, the two films have solidly established Knightley as a hot new star to be reckoned with, and she still has the ensemble comedy Love Actually on her plate later this year.
The movie has a number of excellent supporting players, and primary amongst them is Jonathan Rhys-Meyers as Joe, the coach of the girls' soccer team. It would have been very easy for this character to be one-dimensional, either colored as an overly demanding, hard hearted workhorse or a too-easygoing, blank hottie. Instead, he's exactly what one might expect a man in his situation to be – a coach who wants his team to win and uses various proven tactics to attain that result. His blossoming relationship with Jess is handled nicely, from the getting-to-know-you portion to the age difference to the cultural taboos that forbid them to develop feelings for one another.
As for the members of Jess' family, Mrs. Bhamra (Shaheen Khan) is rather one dimensional and never comes across as anything more than a woman who wants her children to make her look good among her peers. Mr. Bhamra (Anupam Kher) is the more sympathetic character as he is more ambivalent and understanding about Jess' dreams. Jess' sister Pinky (Archie Panjabi) can be annoying and is a bit of a one-joke character that gets carried too far.
In a small but wonderful performance, Ameet Chana is charismatic as Jess' "mate" Tony. He's the boy to whom Jess might have been promised in the old days, but in a modern world they recognize that their differences, independence, and personal preferences simply don't match up.
Thanks to director/co-screenwriter Gurinder Chadha, elements of both the soccer field and the Indian culture are meshed seamlessly for a very appealing and charming experience. Pop music from Britain is blended with terrific stuff from India/Asia for a blast of a soundtrack, too. Of particular note is a scene that switches between a soccer game and a glorious Indian wedding, an odd combination to be sure, but in this movie it just seems natural.
Simply put, Bend It Like Beckham is a lot of fun and a worthwhile viewing experience for the entire family, but particularly for mothers and daughters to see together. It's a fairly slight introduction to a different culture, but perhaps those who develop an interest can find some other terrific options in the great offerings from Bollywood.