Drawn That Way:
The Emperor's New Groove
By Kim Hollis
June 29, 2003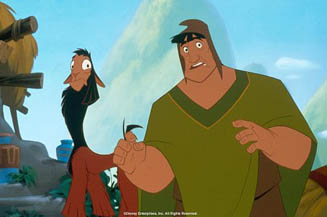 This is the story of The Little Movie That Could.
Originally planned as an Aztec adventure re-imagining of Mark Twain's The Prince and the Pauper titled Kingdom of the Sun, the production wound up being shut down for several months as the story was reworked almost completely. The developers realized that what they had was far too serious in tone and that a humorous approach was far more appropriate.
As a result, reports that rumbled through the press about the project being extremely troubled were accurate, and Disney execs basically wrote the film off as a dud and put very little marketing effort behind its opening weekend despite the fact that The Emperor's New Groove had cost $80 million to make. The movie opened to a dreadful by Disney standards $9.8 million on its release in December of 2000, and the judgment of the suits looked dead on. Then, something wonderful happened. Against all odds, The Emperor's New Groove picked up speed as it stayed in theaters over the holidays, winding up with an amazing $88.8 million in final domestic box office, adding an additional $125 million from video sales and rentals in 2001.
The movie succeeded for good reason. It's a truly hilarious and under-rated little film that is a blast for all ages despite an unlikely storyline. An egocentric and selfish young emperor named Kuzco is basically a jerk to everyone, including his subjects and his staff. After telling a peasant named Pacha that his hilltop home will be eliminated so that Kuzco can build himself a summer home, he fires his advisor Yzma in a spot of unreasonable anger. We don't feel too bad, though, because Yzma is a nasty piece of work herself.
In fact, Yzma plots with her manservant Kronk to kill the emperor and take over the kingdom. These plans go very awry when the inept Kronk uses the wrong vial, serving Kuzco a potion that turns him into a llama rather than poisoning him. What results is a constant comedy of errors as Kuzco winds up relying on the previously ill-treated Pacha to help him return to the palace and regain his true form, with Yzma and Kronk doing everything in their power to prevent him from coming back.
Because it's fairly goofy, The Emperor's New Groove relies almost completely on its humor to carry it. In the hands of lesser skilled performers, the movie would probably have fallen flat, but thanks to an outstanding voice cast with nearly impeccable comic timing, it rises above convention to be a wicked and subversive little gem.
There is probably no actor better suited to play the self-centered Kuzco than the sarcastic and darkly cynical David Spade. His trademark smarminess is used to its fullest advantage here, making it easy to laugh at his tribulations even as it's strangely impossible not to root for him. Because Kuzco is the narrator, frequently breaking the third wall to address the audience directly, it is vital to have an actor who can almost instantly impart the fact that his character is despicable yet completely entertaining, and Spade truly delivers on all counts.
Most people know that John Goodman is a fine voice actor due to his touching performance as Sully in Monsters, Inc., but he's also well cast in The Emperor's New Groove as Pacha, the enormous llama herder with a heart to match his size. Goodman's grumbly but gentle tones match up quite naturally to the earnest and big-hearted Pacha.
The deliciously evil Yzma is portrayed by former Catwoman Eartha Kitt, whose growling and low voice naturally suits the villainess. Her comic sensibilities are surprisingly strong, as it's definitely Yzma who provides the most incendiary moments of humor in the film.
But the actor who really steals the show is Patrick Warburton as Kronk. While most people probably know Warburton as David Puddy from Seinfeld, he's proven to be a fantastic if lesser-known actor in numerous shows and movies from The Tick to Big Trouble to News Radio. In the Emperor's New Groove, his Kronk is a giant, accident-prone dope who is loyal to his evil mistress but really has the spirit of a great heart. His deadpan delivery easily provides the biggest laughs and makes me wish he got more attention for his consistently excellent work.
In many ways, it's quite easy to understand why Disney barely marketed the film in the days before its release. The Emperor's New Groove is probably much more closely related to the classic Looney Tunes shorts from Warner Bros. than any Disney animated flick that came before. There are lots of pratfalls and plenty of silliness, but the film shows an intelligence and wit that is on a par with near-perfect stuff like What's Opera Doc? And Rabbit of Seville. Even the musical number that masquerades as one of those typical Disney staples is delightfully inflammatory. Lines like "Years of such selective breeding/Generations have been leading/To this miracle of life that we all know" are belted out by none other than the incomparable Tom Jones. It's an almost surreal moment that jump starts the film.
To some, The Emperor's New Groove may feel a tad mean-spirited, but I'd actually say that the humor is just brilliantly sharp. The visual comedy is nothing short of spectacular (be sure to watch for the map chase scene) and unlike so much recent animated fare, it's never crude and doesn't resort to jokes about flatulence.
In retrospect, it's really rather amusing that DreamWorks gets so much attention and credit for its send-up of Disney fare in Shrek. The folks responsible for The Emperor's New Groove did it first and they certainly did it better. Along with Lilo & Stitch, ENG is easily the best non-Pixar Disney flick since The Lion King, and a testament to the fact that quality product can find an audience.