Drawn That Way:
Sinbad: Legend of the Seven Seas
By Kim Hollis
June 19, 2003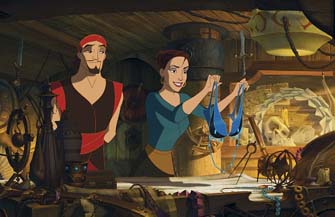 Over the past few years, DreamWorks has pushed its way into what was presumed to be a very limited animation market. With traditionally animated movies like Prince of Egypt and Road to El Dorado, they had fairly limited success, but they certainly broke out in a big way in 2000 with Chicken Run (which came from Aardman in Great Britain) and followed up in a big way with 2001's Shrek. That film dominated the box office for the summer, and eventually beat even Pixar as it won the Academy Award for Best Animated Film over the delightful Monsters, Inc. Last year, the shift was to a combination of traditional and digital animation, a mode called "tradigital" by studio head Jeffrey Katzenberg. Spirit: Stallion of the Cimarron was the first of these to be released, a movie that was mildly successful in 2002, but certainly was profitable by the time DVD sales, rentals, and overseas box office totals were added in.
Admittedly influenced by the Japanese anime style, Spirit was a departure from typical animation in that it featured several 3D pieces that included foaming river waters and in particular, an out-of-control train. The studio follows up that style of animated film with its newest animated offering, Sinbad: Legend of the Seven Seas. It's a process that works remarkably well for the specific story and action that take place during the course of the film.
Even more than in its predecessor, Sinbad is clearly descended from the anime tradition. This inspiration is most evident in a plot that is rife with action and adventure, but also in the fact that the movie is almost deliberately artistic in quality. Additionally, Sinbad is considerably darker and more mature in tone than a typical animated film from the U.S. studios.
Most people are at least familiar in passing with the story of Sinbad. There have been numerous classic flicks that featured the character (most notably those by Ray Harryhausen), and he has even crossed over into cartoon interpretations in episodic series like Popeye. Just as some of the DreamWorks movie's vision comes from Japanese animation, so does a portion of it come from the Harryhausen rendition. This throwback is accomplished by making the movie monsters digital while the human characters are traditionally animated. Yes, it is somewhat jarring, but the effect is such that one always remembers that this story is fantastic and somewhat unbelievable.
Even with that result, Sinbad is still kept grounded thanks to its exemplary voice performances. Sometimes all-star casts work, sometimes they flop pathetically, but in the case of the marvelous trio of Brad Pitt, Catherine Zeta-Jones and Michelle Pfeiffer, the characters are so carefully designed that they even physically resemble the people who play them. As Sinbad, Pitt is able to convey that his character is a noble rogue, and the facial reactions and body language that accompany the words sync up admirably.
Pfeiffer is likewise deliciously evil as Eris, Goddess of Chaos. I was frequently reminded of her similar villainous turn as Catwoman, especially in her ability to be both throatily sexy and deeply cruel. She's a double-dealing vixen with an agenda, and she manipulates her way through the world with no regard for humanity at all.
Straight off an Academy Award win, Zeta-Jones may be the biggest current name in the cast. Her Marina is the character with probably the closest ties to the anime format; she's an ordinary girl who just happens to be mightily impressive and singularly special. Not content to sit aside and let other people take control of her destiny, Marina is full of determination to follow her own path.
Also contributing voices for some smaller roles are Joseph Fiennes and Dennis Haysbert, who play Proteus, Prince of Syracuse, and the sailor Kale, respectively. Both actors do a terrific job with their roles, limited though they may be.
Another character that is sure to make viewers smile is Spike the slobbery dog. An eleventh hour addition to the cast, Spike is simply adorable, but not in an overly saccharine way. His sweet face conveys a tremendous range of emotion and quickly endears him to the audience. Kids in particular are going to love him.
Some crucial portions of the Sinbad story are the aforementioned monster battles. In this animated version, they're handled with a wink and a nod to the current popularity of extreme sports, but also with some remarkable digital effects. From a giant octopus to the Sirens to the giant bird Roc, Sinbad's quest for redemption is rife with peril, which gives him ample opportunity to prove that he's perhaps not the scoundrel he would have everyone else believe.
The action is bolstered by a rip-roaring score by Harry Gregson-Williams, who previously worked on other DreamWorks animated fare like Shrek and Chicken Run. I was humming the main theme on the way out, which for me is the surest mark of a strong, effective and memorable musical accompaniment.
As important as the marvelous characterizations and story is the artistic merit of the film. Sinbad bears a number of similarities to last year's Spirit in that regard. The actual human characters are wonderfully animated, with extremely expressive faces that represent a wide range of cultures. Eris is especially well-rendered, with her godly abilities conveyed by the fact that she is able to shape shift and morph to whatever form suits her needs.
Adding to the fluidity and seamlessness of the production are the spectacular landscapes and ocean views. A number of times when Sinbad and Co. are sailing on the ocean, the water is natural and soothing when appropriate, but also angry and violent during the stormy scenes. One negative that stands out when compared to the careful animation from the first hour of the film is that once the finale is reached, the backgrounds are much more primitive and not in keeping with the high standards that are achieved early on. The effect is a bit jarring, especially since the scene is one that is meant to be fairly poignant.
That minor quibble aside, Sinbad: Legend of the Seven Seas is definitely a lot of fun, with great performances and an exciting story. Though it's probably not appropriate for children under seven (one mother left with her two children probably ten minutes into the film and never came back), I do strongly recommend it as a must-see this summer.