Jeepers Creeps into Number One
John Hamann's Weekend Wrap-Up
September 3, 2001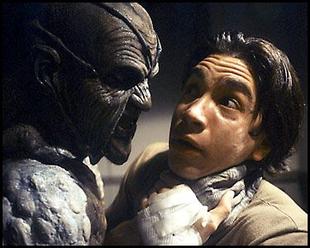 In Hollywood, huge money is invested trying to get a handle on how much cash will be spent over the weekend at the box office, and the big money this weekend was wrong, wrong, wrong. The studios pay research companies a pretty penny to gauge the marketplace, which helps the studios make marketing calls and provides estimates on how their films are looking to perform over the weekend. This weekend the trade paper The Hollywood Reporter said that Jeepers Creepers would not be seen by many peepers, and that the Lions Gate release "O" looked like the stronger film of the two, and boy, were they ever off.
Jeepers Creepers, the no-name, garden-variety teen horror film, blew away Labor Day records; it grossed an estimated $15.84 million over the four day-long weekend. Previously, the highest Labor Day achiever was another bizarre choice; it was The Crow: City of Angels, which had a four-day haul of $9.79 million back in 1996. If August is a dumping ground for films, the Labor Day weekend is the landfill. Hollywood studios never want to gamble on Labor Day - the history of the holiday forbids it - but what they struggle to accept is that any film can open on any date if it's marketed correctly, and North American audiences want to see it.

<% sqlstr = "SELECT * FROM box WHERE movie like '%Crow:%' OR movie like '%First Kid%' OR movie like 'Highlander:Endgame%' " sqlstr = sqlstr + " OR movie like '%Chill Factor%' OR movie like '%Outside Providence%' OR movie like '%Knock Off%' " sqlstr = sqlstr + " OR movie like '%Fire Down Below%' ORDER BY open DESC" max = 100 header = "Labor Day Release History" tstyle = "release" skin = "bop" x = Drawtable(sqlstr,max,header,tstyle,skin) %>

Jeepers opened Friday to an estimated $4.32 million and, surprisingly, held its audience on Saturday, grossing $4.527 million (estimated). Often, these teen-oriented horror films will open strong on Friday, but then see their grosses slip away as their target audience has all gone to see the film on Friday night. To figure out how front-loaded - or non-front-loaded, for that matter - a film is, studios will divide the Friday-night gross by the total gross to give a film a Friday-night multiplier. Usually, this type of film will receive between a 3.3 and a 3.8 over a four-day holiday time frame. This is the case here, as the weekend gross of $15.84 million gives Jeepers a 3.6 multiplier, which is quite strong considering the release date and demographic in attendance for this film.
MGM laid Jeepers out on an impressive 2,994 sites, giving it a per-screen average of $5,379. This was a shrewd move by MGM; if they had opened the film a week earlier or a week later, they would be fighting three other new releases in the market, and would have struggled to come up with 2,994 venues. MGM has had an interesting year. Off with a bang with Hannibal (they split grosses with Universal), they then had a moderate hit with Heartbreakers, fell back into the MGM mold with What's the Worst That Could Happen, then had a big hit with Legally Blonde, back to crap with Original Sin, and now here we are with Jeepers Creepers. Not bad for a studio that had a brutal 2000, where their biggest hit was either Return to Me or Autumn in New York.
<% sqlstr = "SELECT * FROM box WHERE movie like '%Jeepers Creepers%' OR movie like '%Original Sin%' OR movie like '%Legally Blonde%' " sqlstr = sqlstr + " OR movie like '%What''s the Worst that%' OR movie like '%Heartbreakers%' OR movie like '%Hannibal%' ORDER BY date DESC" max = 100 header = "Recent MGM Releases" tstyle = "release" skin = "bop" x = Drawtable(sqlstr,max,header,tstyle,skin) %>

The other surprise this week was the legs on the rest of releases in the marketplace. After a summer of zero legs, it's good to see some films branching out beyond opening weekend instead of collapsing weekend after weekend after weekend. In fact, only one film had such a collapse this weekend, Dimension's Jay and Silent Bob Strike Back.
In a second place surprise was Rush Hour 2, which out-grossed American Pie 2 for the first time since the teen flick was released. Rush Hour 2 grossed $11.8 million on 176 screens less than it had the weekend before; its screen count now stands at 2,825. That brings the Jackie Chan/Chris Tucker total to $199 million. New Line will be looking for RH2 to break $200 million on Wednesday, and end up around $215 million, making it the second-highest grossing film of the summer season. Rush Hour 3 seems to be a no-brainer at this point.
Down two spots to third is the more demographically-challenged American Pie 2. Universal's AP2 couldn't hold off the advances of its sequel compatriot, which had been sneaking up on its back over the last few weeks. AP2 grossed an estimated $11.69 million in its fourth weekend on 3,115 venues. This venue count is another indication that the summer is slowing; AP2 is the only film in release that still garners over 3,000 screens. Its total now stands at an impressive $125.6 million.
Universal will be crowned the number one studio of the summer after this weekend. It is the studio with the hottest marketing department and the one that made the smartest choices this summer. Its team of The Mummy Returns, The Fast and the Furious, Jurassic Park III, American Pie 2 and Captain Corelli's Mandolin put it in the top spot for the season. Putting aside Corelli, Universal herded its films to all open above the $40 million mark, ensuring profitability for the summer, and most likely for their entire year. The studio executives at UP should have a comfortable fall, as their 2001 schedule has had combined opening weekends of $250 million. Autumn will start favorably for Universal as well; next up for UP is The Musketeer, which already is generating some pre-release buzz.
<% sqlstr = "SELECT * FROM box WHERE movie like '%Captain Corelli%' OR movie like '%American Pie 2%' OR movie like '%Jurassic Park III%' " sqlstr = sqlstr + " OR movie like '%Fast and the Furious%' OR movie like '%Mummy Returns%' ORDER BY open DESC" max = 100 header = "Recent Universal Releases" tstyle = "release" skin = "bop" x = Drawtable(sqlstr,max,header,tstyle,skin) %>

In fourth, and confirming its status as a summer sleeper, is The Others from Dimension Films. The Others grossed an even $10 million this weekend on 2,716 screens, increasing its box-office take to $59.8 million. Dimension continues to handle this release quite shrewdly, increasing the screens again this week by adding 280 venues. Nicole Kidman may have an outside shot at an Oscar nomination, if the Best Actress category is weak and if Dimension can get The Others to $80 million. If we just look at the three-day portion of the weekend, Friday through Sunday, The Others was down approximately two percent compared to last week's gross of $8.57 million. Here's a chart with some other horror/supernatural films that opened similarly to The Others, but may or may not have the legs of the Kidman starrer.
<% sqlstr = "SELECT * FROM box WHERE movie like '%House on Haunted Hill%' OR movie like '%I Know What You Did Last Summer%' OR movie like 'Se7en' " sqlstr = sqlstr + " OR movie like 'Pet Sematary' OR movie like '%Stigmata%' OR movie like '%Haunting, The%' OR movie like '%Sixth Sense%' " sqlstr = sqlstr + " OR movie like '%I Still Know%' ORDER BY open DESC" max = 100 header = "Horror/Supernatural Film Comparisons" tstyle = "release" skin = "bop" x = Drawtable(sqlstr,max,header,tstyle,skin) %>

Settling for fifth was another film that shouldn't have legs but does, Rat Race, the comedy release from Paramount Pictures. Rat Race managed another $9.20 million in its third week on 2,551 screens. Often, films like Rat Race can fall through the holes due to genre and demographic appeal, but this release has managed to build fairly on its $11.66 million open, most likely due to an impressive marketing campaign by Paramount. CinemaScores for Rat Race are the highest of any film currently in the top end of its release. Its box office total now stands at $37.8 million. Again, looking at only the three-day portion of the weekend, Rat Race was down only 11% compared to last week.
Up one spot to sixth is the Disney flick that is paying the bills this summer, The Princess Diaries. Julie Andrews should be given a lot of credit for the strength of this release, as it has obviously expanded demographically and held well in the weeks since it opened. In its fifth week, Diaries continued to hold strongly, grossing $7.57 million on 2,690 screens, after losing 59 screens compared to last week. Its total has reached $92.8 million. Surprisingly, Princess Diaries now has a clear path to the $100 million mark. Let's have another look at how that compares to some other kids' releases over the last couple of years:

<% sqlstr = "SELECT * FROM box WHERE movie like 'Atlantis%' OR movie like '%Parent Trap%' OR movie like '%Recess%' " sqlstr = sqlstr + " OR movie like '%Honey I%' OR movie like '%Spy Kids%' OR movie like '%The Kid%' OR movie like '%Doug%' ORDER BY open DESC" max = 100 header = "Recent Kid Flicks" tstyle = "release" skin = "bop" x = Drawtable(sqlstr,max,header,tstyle,skin) %>

In seventh, we have our other new release this week, Tim Blake Nelson's "O". The teen version of Othello is not a disaster, even though it opened to $6.9 million on 1,434 screens over the four-day weekend. "O" was dumped by Miramax due to the violent content in the film; Lions Gate picked it up for a song, and has now opened a tough-to-market film fairly. This is not the first time this has happened. Miramax dumped the similarly-controversial Kevin Smith film Dogma to Lions Gate back in November 1999. In that case, Lions Gate opened Dogma to an "O"-like $8.67 million on 1,269 screens. Oddly, CinemaScores were not available for "O", so it will be interesting to see how it plays in the weeks to come.
Eighth place goes to the most recent Kevin Smith film, Jay and Silent Bob Strike Back, which opened last week in the number three spot, grossing $11 million. This week saw Jay and Silent Bob's fortunes plummet, as the film grossed only $6.4 million in its second session, bringing its total to $21.9 million. We're a fickle bunch of moviegoers, aren't we? Jay and Silent Bob lived up to its own hype; front-loaded opening weekend due to the Kevin Smith fan base, followed by precipitous drops in the following weeks. Fortunately for Dimension Films, they have The Others in release right now as well.
In ninth this week is Summer Catch. I hate Freddie Prinze, Jr., so much I'm not even going to comment. It fell hard, grossing $4.98 in its second weekend. Enough said.
The tenth spot goes to Nic Cage and Captain Corelli's Mandolin. Personally, I'm surprised this release is still on the chart. Captain Corelli grossed $4.08 over the Labor Day weekend, bringing its total to $19.8 million after three weeks in release. Maybe the Corelli demographic was waiting for the teens attending American Pie 2 and Planet of the Apes to leave the cineplex, making the movie theatre more blue-hair-friendly. Who knows? Look for Corelli to depart the top ten after this weekend, as four new releases hit cinemas next week.
The legs of late-summer 2001 are again shown through a 24.46% increase this year compared to last year, as the top 12 grossed $94.65 million. Last year the top 12 films over the Labor Day long weekend grossed $76.05 million. Look for these increases to hold in the upcoming weeks, as some of this session's leggier films should be around for a few more weeks to come.
As stated above, the September 7th weekend has four new releases, Universal's The Musketeer, starring Tim Roth and Mena Suvari, probably looks the strongest at this point; however, look for Mark Wahlberg's Rock Star to challenge along with the urban dramedy, Two Can Play That Game and the teen horror flick Soul Survivors.
Top 10 for Weekend of August 31 - September 3, 2001

Rank

Film

Number of Sites

Change in Sites from Last

Estimated Gross ($)

Cumulative Gross ($)

1

Jeepers Creepers

2,944

New

15.84

15.8

2

Rush Hour 2

2,825

-176

11.80

199.0

3

American Pie 2

3,115

-2

11.69

125.6

4

The Others

2,716

+280

10.00

59.8

5

Rat Race

2,551

No change

9.20

37.8

6

The Princess Diaries

2,690

-59

7.57

92.8

7

"O"

1,434

New

6.90

6.9

8

Jay and Silent Bob Strike Back

2,765

No change

6.40

21.9

9

Summer Catch

2,335

No change

4.98

14.5

10

Captain Corelli's Mandolin

1,610

-2

4.08

19.8